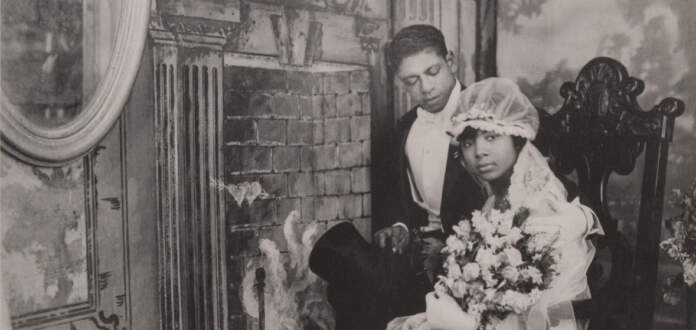 In honor of Black History Month, we put together a list of 10 black photographers who shaped (and continue to shape) American History. Much like our short list of contemporary artists to watch, this list is in no way complete; hundreds if not thousands of black photographers were intrinsic in documenting and shaping our country's history. However, for today we will review and reflect on the lives and work of James Van Der Zee, Ernest Withers, Carrie Mae Weems, Gordon Parks, Michelle V. Agins, Don Hogan Charles, Lorna Simpson, P.H. Polk, Florestine Perrault Collins, and Roy DeCarava.
1 James Van Der Zee
Early Life
James Van Der Zee was born in 1886 and grew up taking photographs in his home town of Lenox, Massachusetts. He graduated from developing film in a makeshift darkroom in his family's basement to working as a photo assistant in Newark, New Jersey. A year later in 1916, he moved to Harlem with his wife and launched the Guarantee Photo Studio.
The studio was incredibly profitable. During WWI Van Der Zee had a flood of business taking portraits and photographing social engagements. However, he didn't really hit his professional stride until the 1920s and 30s.
The Harlem Renaissance
Van Der Zee was not only the de facto documentor of the Harlem Renaissance but also a prominent member of the movement. As a result, his body of work is a veritable who's-who of celebrities including the poet Countee Cullen, dancer Bill "Bojangles" Robinson, Bishop Charles M. "Daddy" Grace, boxer Joe Louis, entertainer Florence Mills, and the black nationalist leader Marcus Garvey.
His experimental artistic vision was well suited for the time. He excelled at retouching glamour shots that radiated an ora of perfection and would use double negatives to extend the meaning of his work.
In 1969, his collection "Harlem On My Mind" went up at New York City's Metropolitan Museum of Art. To believe the retelling, Van Der Zee's first internationally recognized exhibition was largely due to a stroke of luck; in 1967 Reginald McGhee found Van Der Zee's Harlem studio and casually asked if he might have any photographs from the 1920s and 30s. He, of course, had hundreds. To this day, Van Der Zee is considered to have created one of the most comprehensive documentations of the Harlem Renaissance.
2 Ernest Withers
Early Life
Ernest C. Withers was born in Memphis, Tennessee in August 1922. He started taking photos in high school when his sister gifted him a camera that she was given by another classmate. However, it wasn't until World War II that Withers had a formal artistic education at the Army School of Photography.
After the war, Withers returned to Memphis and became one of the state's first African-American police officers before going into business for himself and starting the Withers Photography Studio with his family. He was an incredibly prolific photographer; anywhere between 1 and 5 million images are attributed to his career.
Life In Memphis
Withers and his camera became an omnipresent staple of post-World War II African-American life in Memphis. His work extends from everyday slices of life to in-depth documentation of the segregated South, Negro League baseball, the explosive music scene, and—now notoriously—the Civil Rights movement. According to his daughter, Withers had three cameras with him at all times: the first roll of film went to the white press, the second to the black press, and the last one for was his personal archives.
It wasn't until the Freedom of Information Act in 2013 that Withers was implicated as an FBI informant. This accusation discredited him and his work in the eyes of many who once elevated him as an ally of the Civil Rights movement. However, his work remains arguably the most complete documentation of this time period by any individual.
3 Carrie Mae Weems
Early Life
Carrie Mae Weems was born in Portland, Oregon in 1953. By her mid-20s, Weems had already experienced enough to fill an entire lifetime. She studied modern dance in San Francisco; had her first and only child; worked in restaurants, offices, and factories; spent time in Mexico, Fiji, and New York; and started her long-term commitment to grass-roots socialist politics.
It wasn't until 1974 that she picked up her first camera and fell in love. After studying photography at the California Institute of the Arts, she went on to get an MFA in fine arts from the University of California, San Diego. Afterward, she participated in a folklore grad program at UC Berkeley. This timeline suggests a kind of superhuman drive that eliminated the need for sleep, food or any kind of rest.
As so often happens with artists who have multi-practice backgrounds, Weems' work crosses the "traditional" lines of demarcation between photography, video, written texts, and textiles.
Expanding The Arts
Weems started out working within the genre of documentary photography; her first public series, Family Pictures and Stories, explored the dynamic of her immediate family. However, it's larger purpose was to explore the diaspora of black Americans out of the Southern United States to the North. Later, she read The Sweet Flypaper of Life by Langston Huges and Roy DeCarava (listed below). It became a defining point of inspiration; the book helped her explore how language, politics, and the questioning of dominant racial paradigms could be further integrated into her work. This is especially evident in her 1987 exhibit Ain't Jokin'.
Fully delving into all of Carrie Mae Weems accomplishments would require a piece much longer than this one. Her still-expanding body of work explores the dark and joyful facets of family and relationships as well as cultural identity, sexism, class, political systems, and the consequences of power (you can find a full list of her shows here).
4 Gordon Parks
Early Life
Gordon Parks was an activist, writer, filmmaker, waiter, Hollywood consultant, and a piano player in a brothel. The man lived a life. All that said, we are here to discuss his photography.
Parks was born in Fort Scott, Kansas in 1912. He was the youngest of fifteen and his mother died when he was still a child. In addition to a rocky home life, he was also constantly stifled by Fort Scott's strict segregational practices and habitual violent, racism. At age 15, Parks left his family and struck out on his own; by 25, he decided to become a photographer.
A Hero's Journey
Parks' rise to success reads like something out of one of the Hollywood scripts he would later help develop. He was a self-taught photographer and when he went to develop his first roll of film, the photo clerks said his work was exceptional and encouraged him to pursue photography professionally. As a result, he sought out a job taking photos for a nearby women's clothing store. Shortly after, Marva Louis, wife of boxer Joe Louis became a fan of his work and advised him to move to Chicago and start his own business. So, he did. If the basis of the American Dream and Cinderella were combined into one timeline, the result would be Gordon Parks' journey.
In Chicago, Parks established himself as a photographer for wealthy socialites. However, his true passion was capturing the people he encountered day-to-day in the city. His poignant and often haunting portrayal of black Americans earned him the Julius Rosenwald Fellowship. Later, this lead to a photography job with the Farm Security Administration to document America's social conditions.
This is only one facet of Parks' truly massive and varied body of work. You can find more of his art at The Gordon Parks Foundation website. 
5 Michelle V. Agins
Early Career
Michelle V. Agins was born in the South Side of Chicago. She got her start in photography at the age of eight when her grandmother gave her a camera as a means of getting her out of the house. She began by taking photos of people from her neighborhood, those passing through, and local gang members.
The city of Chicago continued to be an integral part of her life as she formally began her career. Agins started as an intern with The Chicago Daily News; it took less than a year for her to be promoted to a sports photographer. Later, she taught at the collegiate level for two years before working for the City of Chicago as a visual specialist and then as the mayor's office photographer in 1983.
To say that those few lines only scratch the surface of Agins' career is a vast understatement.
Body of Work
According to her current employer, The New York Times, Agins has received two Pulitzer Prize nominations. The first came in 1990 for her coverage of the Bensonhurst, Brooklyn protests, during which she was struck in the chest and hospitalized.
The second Pulitzer Prize nomination was in 1995 for her work on the Times series "Another America: Life on 129th Street." The piece was written over the course of a year. During that time, Agins formed incredibly close relationships with her subjects that proved hard to sever. "It was bad at the end," Agins said of her experience during a 2004 interview. "It was time to wrap things up and leave. Sometimes you can get so embedded that it's hard to come out. The Times helped me work that out. Unfortunately, the story didn't turn out like [the residents] wanted it to. The reporter and I had to leave town for a while; they sent the boys after us."
Pulitzer Nominations
Finally, in 2001 Agins won a Pulitzer Prize for National Reporting for their reporting series "How Race is Lived in America." An ambitious undertaking, Agins and her colleagues set out to "capture the cultural landscape of the nation in provocative, eye-opening articles following people from all backgrounds and every corner of society."
All of this, and I haven't even mentioned the time she almost got blown up by outlaws in Haiti. Michelle V. Agins is thankfully in one piece and currently working as a photographer for the New York Times.
6 Don Hogan Charles
Don Hogan Charles was born in New York City in 1939. He began his career studying engineering at the City College of New York before dropping out to pursue photography. His work was published in several publications as a freelancer (including Ebony Magazine) before he was hired as the New York Time's first black photographer.
Over the course of his career, his capacity as a staffer extended well past a photographer's typical scope. He captured moments in the lives of John Lennon, Kareem Abdul-Jabbar, and Muhammad Ali. However, the work he created early in his career during the civil rights movement is arguably the basis for his legacy.
The Civil Rights Era South
He risked his personal safety to take photos of the Civil Rights era South (he reportedly always checked his tailpipe for bombs) and New York. His ability to adapt gave him the opportunity to take incredibly poignant shots of key players from the era; Charles photographed Malcolm X as the political leader fought to defend his life and Coretta Scott King with her family as they mourned during her husband's funeral.
Those peak moments aside, Charles worked to capture something less elusive yet notably underrepresented in the media: the beauty and tight-knit community central to everyday life in Harlem. In the words of Aaron Bryant, curator of photography and visual culture at the National Museum of African American History and Culture, "while he's telling the story of New York from the mid-1960s to 1980s, he's really documenting the black community at the same time."
7 Lorna Simpson
Lorna Simpson a living legend. Born in Brooklyn in 1960, Simpson's love of the arts was instilled in her by her parents. Her educational journey began at the School of Visual Arts in New York followed by extensive traveling in Europe and Africa where she discovered she wanted to use photography as a means of challenging her viewer as well as engaging them. She went on to get her Master of Fine Arts from the University of California where she further honed the signature style that led her to notoriety in the 80s and 90s.
Simpson's work spans a wide array of mediums including collages and films. However, she is perhaps best known for her photo-text installations and anti-portraits. Regardless of the medium, the theme of her work most often tackles society's relationship with race. In the latest phase of her career, she is branching out into painting.
You can see more of her work at her website here.
8 P.H. Polk
P.H. Polk was born in Bessemer, Alabama in 1898. At the age of 18, he enrolled in the Tuskegee Institute with the intention of becoming a painter. However, after some discouraging words from the dean and a motivational assembly featuring Tuskegee's official photographer, Polk decided to pivot to photography. The rest, as they say, is history.
Polk went on to become the head of the Tuskegee Institute Photography Department. Outside of the school, the artist took extensive portraitures of both ends of the societal spectrum at the time; one of his most famous series, "Old Characters," is comprised of portraits of ex-slaves in Macon County, Alabama.
Honesty & Dignity
Regardless of their social standing, Polk photographed his subjects in sharp relief; his style was a departure from the style of the time which favored a softer, more flattering portraiture. In contrast, Polk set out to portray the people who sat for him more honestly while maintaining their dignity. Some of his well-known subjects include agricultural scientist George Carver, composer and pianist Duke Ellington, novelist Ralph Ellison, activist, multi-talented performer Lena Horne, and founder of Ford Motor Company Henry Ford. Polk also famously photographed First Lady Eleanor Roosevelt during her visit to the Tuskegee Institute in March 1941.
9 Florestine Perrault Collins
Florestine Perrault Collins
Florestine Perrault Collins was born in 1895 and began her career as a photographer at the age of 14. The oldest of six, she helped add to her family's income working as a photography assistant in New Orleans. During her first few years of employment, she had to pass as white in order to get steady work and establish herself in the industry.
Finding Identity
After her first marriage, Collins opened up her own studio and was able to fully own her identity as a black, female photographer; out of only 101 African-American women who identified themselves as photographers in the 1920 U.S. Census, Collins was the only one in the New Orleans area.
Over time, she built up a large client base and following in New Orleans by running engaging newspaper ads that set her apart from her male counterparts. She photographed families, weddings, parties, and individual portraits, adeptly leveraging her success to keep her family afloat during the Great Depression. Her career lasted roughly 30 years during which time she thoroughly documented the lives of New Orleans' Creole community.
You can read more about Collins' life in Picturing Black New Orleans: A Creole Photographer's New of The Early Twentieth Century and the documentary Through a Lens Darkly: Black Photographers and the Emergence of a People.
10 Roy DeCarava
Roy DeCarava was born in Harlem in 1919. After a litany of odd-jobs, DeVarava found photography and with it his life's work. Like Polk, he started out as a painter before he got behind a camera and became one of the most prolific documentarians of the Harlem Renaissance. In addition to chronicling day-to-day happenings on the streets of Harlem, he also chronicled the lives of jazz masters including Duke Ellington, Billie Holliday, and John Coltrane.
An unfortunate pitfall of being an artist is that your work is often not publicly recognized until after your death. Fortunately, DeCarava did not suffer that fate. In 1952 his work garnered him the prestigious Guggenheim fellowship making him the first black photographer to receive the honor. He was also an international success; DeCarava was the subject of more than 25 solo exhibitions and dozens of international group exhibitions. These are just two in a litany of accomplishments DeCarava achieved during his life-long tenure as an artist.
If you're interested in seeing more of Roy DeCarava's work, we recommend his book: The Sweet Flypaper of Life. The text was first published in 1955 in conjunction with writer Langston Hughes and then again in 1984 by Howard University Press. We highly recommend
##
We also used blavity.com and everydayeyecandy.com to help source content for this piece.