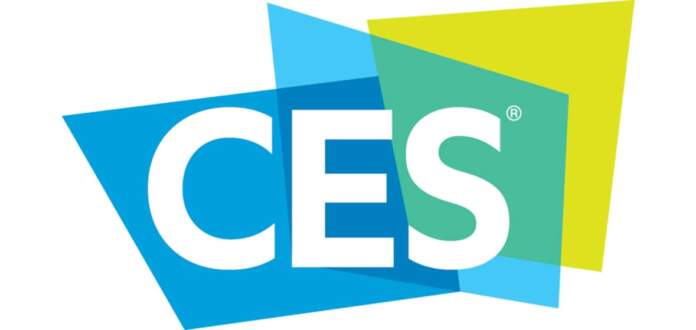 Canon
Canon saw considerable success from its concept cameras during CES 2018. They were a notable departure from the camcorders that Canon usually releases during this time of year and the press took notice. It appears that the "more fun please?" message stuck; Canon brought three very playful concept cameras to CES 2019.
The Frame Outdoor Activity Camera
This is a conceptual outdoor adventure camera. At its core, this is a carabiner camera made for moments when having a strap around your neck is impractical or impossible (think rock climbing, kayaking, hiking). The carabiner clips onto your belt loop or a backpack so you can take it anywhere and use it hands-free. It's waterproof, shockproof, and made to take a beating.
This is a simple, streamlined version of an adventure camera; it has a shutter button, a lens, and a mode dial on the back. That's it. There is no screen. Instead, Canon is giving the device WiFi connectivity so you can edit and view footage from your phone.
For additional connectivity, the bottom of this model currently has a micro USB port. However, because this is still a concept, Canon is floating around additional options including an SD card slot or a tripod mount. Speaking of physical features, this camera also includes an option for a "magnetic face jacket" which is exactly what it sounds like: an interchangeable magnet that sticks to the front of the device so you can give it some personality.
Canon is aiming to keep the price low at around $100. The goal is to keep it affordable without losing important features (the eternal struggle).
Cannon's Frame Outdoor Activity Camera
The Intelligent Concept Camera
The Canon Intelligent Concept Camera is a device with many names. First, it was "PT" for Pan-Tilt Camera. Then, it was the "AI Camera." Now it's simply "Intelligent"
There is no shortage of small, compact video cameras out there. However, Canon is trying to outsmart them all. This camera can rotate around 360° (left and right) and tilt 110° (up and down). It's smart enough to recognize faces, pans to keep its subject in the frame, and has a built-in zoom lens. As if that wasn't enough, you can pair multiple Intelligent cameras, place them around the room, and they will automatically film using the camera that has a face pointing in its direction.
From the description, this sounds like a camera that would be good in static situations like desktop blogging, and it is. You can mount it to the top of your computer and it tracks your face and provides accurate autofocus. However, it's made for travel and mobile vlogging.
The camera connects to a tripod with a shutter release and a start/stop button. It also has a "lanyard mount" that you can use to strap the camera to your body. Because of its advanced image stabilization, you can run, jump, fall or sprint and still get clear footage.
Much like its would-be competitor, GoPro, this device has voice recognition. It is also constantly learning which situations are best to take pictures and automatically go into record mode.
Canon's Intelligent Concept Camera
The Kids Mission Camera
The Kids Mission Camera will introduce children to photograpaphy while they're young; the current target is ages six and up. It has an intuitive design, is lightweight, and has a large screen and buttons perfect for little ones who are still working on their motor skills. While it may look cartoonish, this camera isn't really a toy; it's a learning tool that will teach kids how to execute simple tasks in photography, in addition to identifying colors, emotions, and animals.
The camera is WiFi and Bluetooth enabled. As a result, it can transfer photos to a printer or the Canon Kids App on an adult's phone. This not only helps parents and guardians keep a closer eye on their kids, but also lets them easily share the child's creations on social media.
Canon's Kids Mission Camera
Wacom
Design nerds, rejoice. Waycom—a major player in the creative tablet space—released a new, affordable alternative to their legacy Cintiq Pro line. The new Wacom Cintiq 16 Creative Pen and Touch Display are almost $900 less than the original Cintiq Pro 16. The new tablet does a great job bridging the gap between hobbyists and professional designers. It's geared toward people who are beginning to make the transition from screenless, pen-based tablets to drawing on the screen itself. Plus, the price also makes it a great fit for students who aren't quite financially prepared to drop almost $1,500 on a tablet.
So what are you losing by investing in the Cintiq 16? Color precision and screen resolution. The new model has a 2K display while all of the other models in the Pro Line (Pro 16, 24, and 32) are 4K. However, unless you're working on big-screen animation, these downgrades aren't extreme enough to deter potential buyers from investing in the new model. Click here to pre-order yours now.

Audio-Technica
True Wireless Buds
Audio-Technica is trying their hand at true wireless with two new products: Wireless In-Ear Headphones (ATH-CKR7TW) and SonicSport® Wireless In-Ear Headphones (ATH-SPORT7TW). Both have built-in controls so you can adjust your music or field calls. They also come with a portable charging case that re-charges your buds on-the-go.
Like all Audio-Technica gear, the daily-use Wireless In-Ear Headphones (ATH-CKR7TW) provide accurate, high-fidelity audio. The company packs dual-layer isolation structures, brass stabilizers, and stainless steel acoustic mesh resistors into an absurdly small footprint. These buds provide 6 hours of continuous use on a full charge and the charging case supplies an additional 9.
The SonicSport buds sacrifice some sound quality for IPX5 sweat-resistance and an ergonomic non-slip fit. However, our favorite feature is the switchable hear-through function that lets the wearer hear the ambient noise around them. This is especially helpful for runners and bikers who need to be mindful of traffic. The SonicSport Wireless In-Ear Headphones only offer 3.5 hours of continuous use on a full charge. That said, the case also offers a quick charge function that gives users an extra 45 mins of playback from only 10 minutes of charging.
Professional Monitor Headphones
The Audio-Technica M Series is internationally lauded in the pro-audio world, and the M50x is heralded as the best of the bunch. This year at CES, the company announced a new wireless addition to the M Series: the ATH-M50x professional monitor headphones. These headphones are exactly the same as the wired M50x without the hindrance of cords (unless you want that—there is an option for detachable cables).
Turntables
How many turntables is too many? This year Audio-Technica released seven new turntables during CES 2019. The ones getting the most attention are two wood-based, belt-drive models (AT-LPW40TN, and AT-LPW30TK). It's not that they're more powerful—all seven boast over-the-top Audio-Technica quality. The wooden ones are just…very pretty.
You can find the full list with links to their site here. Be advised, these are so new that even Audio-Technica isn't taking preorders yet:
AT-LPW40WN

– a manual belt-drive turntable with wood base

AT-LPW30TK

– a manual belt-drive turntable with wood base

AT-LP140XP

– a direct-drive turntable for professional DJ/home use

AT-LP120XUSB

– a direct-drive turntable with USB

AT-LP60XHP

– a fully automatic turntable/headphones bundle

AT-LP60XBT

– a fully automatic wireless belt-drive turntable with Bluetooth technology

AT-LP60XUSB

– a fully automatic belt-drive turntable with USB

AT-LP60X

– a fully automatic belt-drive turntable
If you're not intrigued by any of the new models (or don't want to wait for their release), we suggest you check out the AT-LP60 Wireless Turntable. If you want something more heavy duty, we'd recommend the Direct-Drive Professional Turntable.
Audio-Technica Turntables
Sony
The Master Series
A lot of 8K rumors were flying about Sony prior to CES. Photographers were hoping for the launch of a new camera and instead got… a TV. Sony's Master Series is a range of televisions that includes a (freaking huge) 85-inch 8K LED TV. This isn't exactly what we were hoping for, but it's still pretty cool. The screen is slated for release in the second half of 2019 and boasts virtually no pixel differentiation.
So, where is the new 8K camera? Sony made it clear during their 2019 CES event that they want (and have) a hand in every step of the content lifecycle from ideation and filming, to the in-home viewing experience. Our hope is that an 8K TV will naturally lead to a new 8K camera sometime in 2019. Our bet based on the emphasis Sony puts on the "Be Alpha" campaign is that we'll get our wish in the form of the a7S III.

Nikon
Nikon Nikkor Z 14-30mm f/4 S
The competition to create the ultimate full-frame mirrorless camera is heating up, and it's resulting in some truly excellent new Nikon camera gear. Today, Nikon announced the latest addition to its Z-series lens lineup: the Nikkor Z 14-30mm f/4 S. This is the first ultra-wide zoom for the Z series. It's also the world's first filter-attachable, ultra-wide-angle zoom lens.
Nikon is touting the Nikkor Z as having an ideal focal length for landscape, travel, event and architecture photographers. The sample photos we've seen are pretty impressive, but we can't wait to test this one out in Brooklyn. The Nikkor Z 14-30mm f/4 S boasts 4ED glass elements to correct chromatic aberrations; according to Nikon, the elements nearly eliminate flare and ghosting as well as spherical and axial aberration.
This lens is decidedly honed for both stills and video; it's a great pairing for the Nikon Z7 and Z6's already impressive 4K ultra HD video resolution.

Nikon Z6 Filmmaker's Kit
Between the newly announced Nikon Z6 Filmmakers Kit and Sony's not-so-subtle advancements in filmmaking, the turf war is on for who will own mirrorless in Hollywood. The new Nikon Z6 Filmmaker's Kit (priced at $3,996.95) includes:
Z6 24-70mm Lens

Mount Adapter FTZ

Atomos Ninja V 4K Recording Monitor (coiled HDMI cable included)

Vimeo PRO Plan (1-year free subscription)

Moza Air 2 3-Axis

Handheld Gimbal Stabilizer

RøDE VideoMic Pro+
Nikon did a great job putting together a bundle of high-quality essentials that any new or experienced filmmaker or vlogger would find useful. The Vimeo PRO plan is also a great touch; the unmistakable message here is "get out there, shoot some 4K UHD productions, and start showing off how capable the Z series truly is."
Updated Firmware: CFexpress support, Eye AF, and ProRes RAW
ProRes RAW
This is arguably the most important firmware update; it adds the ability to output 'ProRes RAW' video to an Atomos Ninja V. This update makes the Z6 and Z7 the first stills and video hybrid cameras to support Raw video output. If there was any doubt that Nikon is making big moves into video before, there definitely aren't now
CFexpress Support
Nikon is expanding the capabilities of the Z6 and Z7's memory card slots to include CFexpress. Prior to the firmware update, the Z series only supported XQD cards. Yes, XQD is widely acknowledged as the faster card. However, CFexpress is still favored by a large enough segment of the Nikon community that its absence in the Z series was met with frustration and woe. This is a very welcome update.
Eye AF
Yay eye autofocus! This was already a feature included in the Sony a7R III and we're glad to see it added to the Z series. As the name indicates, this feature makes focusing on eyes easier when photographing portraits, street and event photography.
Blue
Blue established itself as an industry standard with its Yeti microphones. Yesterday the company announced its newest product, Ember. Ember is a condenser microphone designed for YouTubers, podcasters, musicians, and audio professionals looking to upgrade their home studios.
The new microphone has a few key differences from its predecessor. First, Ember uses an XLR connection instead of USB. While this gives you a bit less flexibility on what you can connect with to record, XLR boosts your recording quality. Ember is also more compact and features a side-address design that looks great on camera and feels good in your hand. It's a versatile new addition to the Blue line; you can plug this little guy into a Zoom and do on-the-go interviews or use it for stationary podcasting. Either way, we're excited to give it a try.
Panasonic
The Lumix S1 and S1R—Panasonic's first full frame mirrorless cameras—were announced with much fanfare during CES 2018. We waited (almost) patiently for the release date. We stared at our phones and refreshed TechCrunch hoping for news. But no news came. That is, until yesterday. Panasonic finally set a tentative release date for March 2019 and announced the addition of two new features: High-Resolution Mode and High Dynamic Range (HLG Photo). If we're going to wait we might as well get some new tech out of it, right?
According to a statement released by the company, High-Resolution mode enables the camera to take eight consecutive images that automatically synthesize into a single, hyper-realistic, detailed image. This feature is ideal for shooting anything with fine characteristics like the great outdoors or artwork.
The second addition, HLG Photo, also helps the S1 and S1R produce stunning, realistic images. This feature allows photos to be shot with a wider dynamic range. It also reproduces and corrects glaring lights and dark shadows, and allows for precise color expression. The result is images that are as close as you can get to what we experience with the naked eye.
Panasonic also made waves this year talking about their newest advancements in autonomous vehicles.
DJI
It's no secret that at Focus Camera we are a little bit obsessed with the DJI Mavic 2. Naturally, when we found out it was getting a fancy new remote control we were very excited.
The DJI Smart Controller is a 5.5-inch 1080p screen with an incredibly bright display that works in any condition even in direct, bright sunlight. In terms of specs, it's equipped with OcuSync 2.0 Full-HD video transmission technology and switches between 2.4 GHz and 5.8 GHz. For those of you who aren't as overly-invested in drones as we are, that will reduce the influence of environmental experience on drone operation and footage quality.
The controller works in conjunction with SkyTalk and the DJI GO 4 app so you can take to the skies faster and more confidently than ever. It also automatically connects with your DJI Mavic 2 when both are on and in range so there's no setup required.
In addition to the Smart Controller, DJI also released a Mavic Remote Controller Cable to connect the remote to a mobile device via USB Type-C port.
Regular price: $649.00

Regular price: $649.95