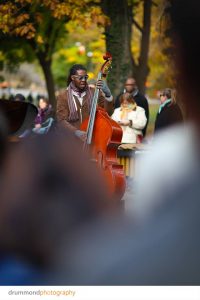 Photo by Photographer Shane Drummond 
Although street photography is about spontaneity and having an eye for a good shot as you walk around, planning and thinking ahead can make every street photography outing more successful. Planning ahead helps you prepare for what you will encounter so you can have the appropriate approach to getting the right shots. It also helps you make important practical decisions about gear and strategies. Most pros offer tips about how to behave once you're out there so you get the shot. These tips help you get ready; from digital SLR Cameras to what to put in your camera bags to how to deal with people, consider these tips before you go.
1. Learn the laws and local culture.
Local laws and culture have a big impact on what you'll be able to do, especially if you want to photograph people. Assuming you're shooting in the United States, you have a decent amount of legal leeway in public, but you never know when you'll meet an overzealous or ignorant police officer, or a misinformed person on the street who gets offended or worse. So it's good to know the local culture as well. This goes double for shooting abroad, where people might have different opinions about public privacy, gender interactions, and a host of other things that could create a problem.
The point of learning all these things is to be able to make informed decisions about your behavior and photography strategies. In some places, it will be best to be secretive and furtively snap shots before nonchalantly walking away. In others you'll be able to scout a location and set up camp so to speak, waiting for the right elements to walk through your frame. You need to know where you're shooting before you can really figure out how to shoot there.
2. Pack light for the street(s) you're visiting.
All pros will tell you to pack light. So light, in fact, that unless you have a very good reason, many advocate just a lightweight mirrorless system with a fast, wide-angle lens that fits in a pocket or your hand. And nothing else. This can be the right call if you don't already own a digital SLR camera you're not fond of replacing. But if you do have a DSLR – which will be larger and noisier – you can still pack a small lens to be quicker and less obvious.
And either way, it's often worth packing a few other things even if you don't go for a big camera bag. These should include simple things like a cloth and a plastic bag in case of bad weather, a replacement battery and an extra memory card, and a lens cleaner. Conveniently, you can fit all of these items in a small pocket to stay light and convenient.
3. Scout backgrounds and locations with the kind of action you want.
Regardless of the kinds of street photography you like, you can still scout the town. If you're going to be shooting architecture and other stationary elements, you want to find the best time of day for light. You might realize that most places you want to shoot look best in early morning, but not have time to get photos of all of them on one day, so the scouting will help you know when to come back. Or you may be looking to shoot people and a certain type of dynamic shot. Scouting will help you figure out where to shoot so your photos have interesting and relevant backgrounds, and so you know what time of day to show up for the best shots.
Preparation and these tips can help you prepare to take better photos and improve your craft. Because in the world of street photography, digital SLR cameras are for once not kings – timing and attitude sit on that throne.