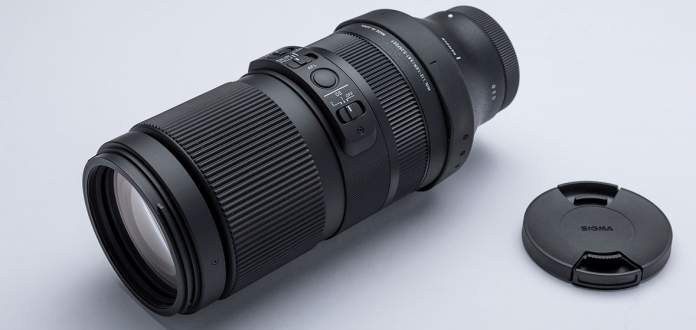 In its product drop today (watch the replay of the livestream at the bottom of the page), Sigma announced several new lenses. The highlight? Its first ultra-telephoto lens for full-frame mirrorless cameras. Part of its "C" (Contemporary) series, it's a 100-400mm DG DN series lens with an aperture range of f/5 to f/6.3.
This Sigma 100-400mm F5-6.3 lens, available July 10, combines super-high image quality with a compact frame, and it sports some other neat features such as an AFL button, a focus limiter switch, and a zoom lock switch. Read on for more:
What We Know About the Sigma 100-400mm F5-6.3 DG DN OS
This new ultra-telephoto lens is lightweight and compact (40 ounces and under 8" long) and features an impressive image quality comparable to Sigma's standard zoom lenses, such as the 24-70mm F2.8 DG DN | Art. The smooth bokeh and compression effect made possible by an ultra-telephoto lens should be a boon for field photographers. It's part of the DG DN series, designed for cameras with short flange back distances.
Here are the full specifications:
Focal length: 100-400mm

Aperture range: f/5-6.3

Minimum aperture f/22-29

Format: For full-frame mirrorless cameras

Optical Image Stabilization: Yes

Lens construction: 16 groups, 22 elements (1 FLD and 4 SLDs)

Angle of view: 24.4° – 6.2°

Number of diaphragm blades: 9 (rounded diaphragm)

Minimum focusing distance: 44.1" (W)-63.0" (T) 

Maximum magnification ratio: 1:4.1 (at 400mm)

Filter size: φ67mm

Maximum dimensions x length: φ3.4 × 7.8"

Weight: 40oz
Some other features include a stepping motor system optimized for both phase detection AF and contrast AF, edge-to-edge high resolution, and powerful image stabilization capabilities. It's compatible with high-speed autofocus and lens-based optical correction. It features a dust- and splash-proof bayonet, a 9-blade rounded diaphragm, and a zoom lock switch. The lens comes in two AF mounts: Leica's L-mount and Sony's E-mount. It comes supplied with the LH770-05 lens hood and the PT-31 protective cover.
What Else Is New?
Sigma also announced three other lenses and multiple accessories, including a teleconverter, two tripod sockets, and two USB docks (compatible mounts vary).
TC-1411/TC-2011 Teleconverters
Using the teleconverter with the 100-400mm F5-6.3 lens actually upgrades it to a "super telephoto" angle of view and a focal length of up to 800mm. It also doesn't interfere with AF performance, so those willing to shell out a few hundred bucks on it will get nothing but benefit.
UD-11 USB Docks
Connecting the lens (L-mount only; sorry, Sony users!) to the new UD-11 USB dock allows adjustment of focus movement when operating the focus ring on Sigma's Optimization Pro software. Specifically, this feature is useful for MF mode.
Full List of New Releases
Here's the full list of Sigma's announced products, including the Sigma 100-400mm F5-6.3 lens (see them all here):
100-400mm F5-6.3 DG DN OS Contemporary Lens (Leica L/Sony E)

Focal Length: 100-400mm

Aperture Range: f/5-6.3

Price: $949.00

Mounts:

Leica L

,

Sony E

TC-1411 Teleconverter

Price: $399.00

Mount:

Leica L

TC-2011 Teleconverter

Price: $429.00

Mount:

Leica L

Lens Hood for #750

Price: $35.00 (supplied with 100-400mm F5-6.3 lens)

Mounts: Leica L, Sony E

Protective Cover for #750

Price: $17.00 (supplied with 100-400mm F5-6.3 lens)

Mounts: Leica L, Sony E

Tripod Socket TS-111 Kit for #750

Price: $130.00

Mounts: Leica L, Sony E

16mm F1.4 DC DN Contemporary Lens

Focal Length: 16mm

Aperture Range: F1.4-16

Price: $449.00

Mounts:

Leica L

30mm F1.4 DC DN Contemporary Lens

Focal Length: 30mm

Aperture Range: F1.4-16

Price: $339.00

Mounts:

Leica L

56mm F1.4 DC DN Contemporary Lens

Focal Length: 56mm

Aperture Range: F1.4-16

Price: $479.00

Mounts:

Leica L

56mm F1.4 DC DN Contemporary Lens

Focal Length: 56mm

Aperture Range: F1.4-16

Price: $479.00

Mounts:

Leica L

UD-11 USB Dock (Leica L/Canon EF-M)

Price: $59.00

Mounts: Leica L, Canon EF-M