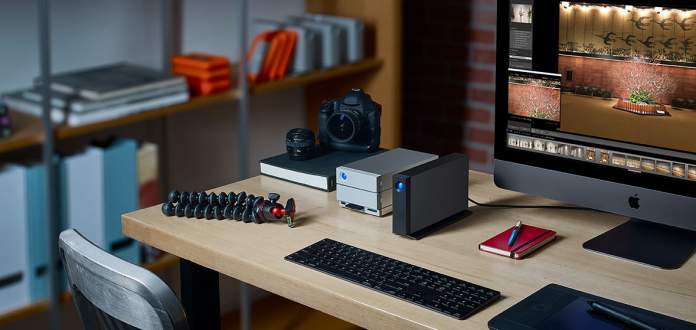 Buying an external hard drive can be more complicated than it seems. Ten or fifteen years ago, the selling points of most hard drives were mainly size and affordability. Nowadays, hard drives are purpose-built for different applications. Whether using it as a tool for a passion project or to support one's job, people are using external hard drives in customized ways. The abundance of choice is great, but having more options means having to do more research. And picking the best LaCie hard drive or solid state drive can be subjective.
To save our readers some of that leg work, we thought it would be useful to go over some common uses for various hard drives from the catalog of one of our favorite brands, LaCie. Photographers, graphic designers, musicians, students, and office workers of all stripes: Heed this guide well to ensure you get the optimal drive for your needs.
Best LaCie Hard Drives for Graphic Designers
Graphic designers and amateur or hobbyist photographers usually don't need a large amount of bandwidth compared to serious or professional photographers, which expands their options. People who just need a place to store their photos and image editing projects will be fine with a basic portable hard drive. One benefit of these is that they're bus-powered, not plugged into the wall. This makes them much easier to wield and transport.
LaCie Rugged Mini Hard Drive
LaCie's version of the basic portable drive is called the Rugged Mini series and is noted for its iconic orange, water-resistant rubber bumper. The Rugged Mini hard drives feature transfer rates of about 130 mb/s, slower than some others on the market today. Video editors working with anything higher than 720p (enough for YouTube videos or blogging) should look for something faster. But what it lacks in speed and capability it makes up in convenience. It is an ideal drive for moving files around and backing them up. It's also easy to carry on the go.
The travel-friendly Mini has been LaCie's best-selling drive for a decade, a sign that plenty of people find that it gets the job done. A 2TB drive goes for a very reasonable price of less than $100.
Best Hard Drives for Photographers
Advanced and professional photographers and videographers will need more under the hood than hobbyists or casual users. They will need more capability than even the largest or best LaCie hard drive in the Rugged Mini series can provide. A photographer who regularly needs to do heavy organizing and editing in an app such as Adobe Lightroom simply needs more space than that.
d2 Professional Hard Drive
One offering from LaCie that is a better fit for a seasoned photographer is the d2 Professional External Hard Drive. The d2 Pro is a stand-up drive that is twice as fast as LaCie's portable drives and comes in sizes from 4TB to the new 14TB model. The d2 Pro opens up more possibilities by offering considerably more space and allowing editing directly from the hard drive. This prevents the tedious process of first moving files to a computer, then editing them, and then transferring them back onto the drive. One downside to consider is that the d2 Pro is bulkier than a portable drive and must stay plugged into wall power.
big Series Hard Drives with RAID
For more resolution, it is worth considering taking another step up to a LaCie 2big or 6big Hard Drive with RAID (more about that later). A drive such as the 20TB 2big Dock allows compatibility with much higher resolution files, including 4K footage. The 2big also doubles the speed of the d2 Pro, transferring files at up to 440 mb/s. It's also much bigger than the d2 Pro and eliminates any level of portability.
Rugged SSD & SSD Pro
Some might prefer the happy medium of the LaCie Rugged SSD and Rugged SSD Pro. The Rugged SSD (solid state drive) shares the orange bumper look of the Rugged Mini and is also barely larger than a business card, but it offers incredible file transfer speeds of up to 900 mb/s. Rugged SSD Pros can handle 4K and 6K video and, when used with a Thunderbolt 3 connection, can transfer at the mind-numbing rate of up to 2,500 mb/s. The Rugged SSD Pro provides a whopping ten times the performance of the d2 Pro.
The Rugged SSD and SSD Pro allow for up to 120 fps and 6K editing available on the fly, something that used to require a gargantuan piece of equipment hooked up to a PC and a nearby wall, plus time spent transferring to the internal hard drive. But there is a tradeoff for videographers. Where using the 6big or 12big to edit high-res video gives them a huge amount of space to work with, these portable drives only come in 1TB or 2TB options. SSDs are faster, smaller, and lighter than hard drives, but they're also more expensive and don't allow as much space. Still, they're popular for the unbelievable pound-for-pound abilities they provide.
The Best Hard Drives for Musicians
Musicians and producers will want different drives depending on their needs. If they're using the drive mostly for listening to their tracks, they won't need the most advanced hardware on offer. But if they're mixing multiple tracks together or doing other high-level work, they should consider a desktop drive that offers more speed such as the d2 Pro or a 2big.
Portable SSD
Another more travel-friendly option is the LaCie Portable SSD. Distinguished by its black exterior with a red lining, the Portable SSD is faster than the fastest 2big at 500 mb/s. But, like the Rugged SSD, it comes only in 1TB and 2TB options. This drive is a great choice for editing videos at higher resolution including 1080p. Also, its high speed means that it shines with audio mixing.
The Best Hard Drives for Office Use
Obviously, office work is a very broad category that encompasses a whole spectrum of non-artist professions, so we can't generalize too much about which hard drive is best for office use. But the (shall we say) average professional's needs might be somewhere in the middle of what we've discussed so far.
For office needs, many will prefer something more than the low-bandwidth, low-capacity portable hard drives but also want some portability. One smart arrangement could be to use two. For in-office work, hooking up the PC to a 6big or other big series drives provides extra safety thanks to RAID technology that "mirrors" files. Since the 6big is stationary, though, a Rugged SSD Pro makes it possible to move some of those files around while retaining the firepower provided by the 6big.
In fact, we can't recommend this approach enough, because it also creates a backup of those files. Having important files in multiple places is the only way to keep them safe. We'll get into that next.
Archiving vs. Backing Up Files
The death knell of many consumers is that they think they have backed up their files when they haven't. Don't confuse archiving files for truly backing them up. Some creatives will work on a project, offload the files to the trusty external drive they bought, and delete them on the original device to save space. This is a great way to create an archive of your work, but it is never a good idea to keep important work in only one location!
All hard drives and solid state drives are prone to failure. Files can be corrupted or damaged, and the entire drive can be damaged or lost. In the case of SSDs, though some people think they are indestructible, they can be destroyed by heat. And unlike hard drives, storing them for the long-term without using them can cause them to fail. The moral of the story: Unless you are keeping your files in at least two places simultaneously, you are taking the risk of putting hours and hours of work to waste.
What About RAID?
We promised to talk more about RAID, so here we are. RAID is a truly fantastic technology that allows for bigger workflows, higher bandwidth, larger space, better performance, and redundancy (the ability to withstand a hard drive failure). RAID drives, such as those of the LaCie big series, feature two drives in one device. You can choose whether to double your speed and space ("RAID 0") or to mirror one drive to the other ("RAID 1"). In RAID 0, the computer will see the device as a single larger hard drive. In RAID 1, it sees two identical hard drives. The benefit of using RAID 1 to mirror the drives is that if one drive fails, the other one will still work, and you can keep producing. This is a life-saver, especially if you're in a crunch. That's redundancy.
But even RAID is prone to deletion, corruption, viruses, hackers, and accidental destruction or loss. Redundancy is not a substitute for backing up files, as safe as it is.
LaCie Data Rescue
Data recovery is no substitute either, though it is of help. Even the best LaCie hard drive fails sometimes. Recognizing this, LaCie offers a Data Rescue service, in which they attempt recovery of files one time in a span of two to five years from purchase. As useful and potentially life-saving as this is, Data Rescue has about a 90% success rate, depending on the drive.
All of this is to say that no matter how good your hard drive is, what recovery services are available to you, or how careful you think you are, you should keep files in more than one place at all times.
Conclusion
We hope this guide helps you make a more informed decision when buying an external drive for your important projects. No matter what your profession or hobby, there is a drive and price point out there for you. We hope it will be a valuable tool on your creative or professional journey.
Which drive do you think is the best LaCie hard drive? If there's anything we missed or another drive you think deserves mention, please give us a shout in the comments below.
Regular price: $454.99

Regular price: $97.49