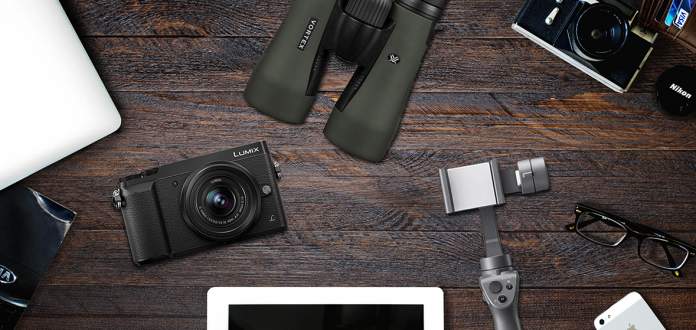 Dads are tough to shop for. They often have very specific taste, are unsure of what they want, or simply don't want you to make a big fuss for Father's Day. Well, guess what? This is your year to find the perfect Father's Day gifts for dear old dad.
To help your search, we put together this guide that includes presents for the Photographer, Outdoor Dads, Techies, Travelers, New Dads, and Music Men. These are some of our favorite Father's Day gifts but you can find the full gift guide here.
The Photographer
You always have Photographer Dad to thank for those amazing #tbts and precious childhood memories. Old school dads who used to develop film in dark rooms and newer digital practitioners will both love these items.
Price: $195.99
If dad is either into portrait photography or interested in trying it, we recommend this Foldable V-Flat. It's 80 x 80 inches when fully opened but can be folded down to 40 inches for easy transportation. The V-Flat is hinged and double sided; it's white on one side to reflect more light and black on the opposite side to reduce and block light.
Price: $1,299.00
If dad loves Canon we recommend the versatile, powerful Canon EOS RP. It has a full-frame 26.2MP CMOS image sensor and excellent low-light performance. It also features a handy vari-angle screen with touch-and-drag autofocus.
Price: $149.00

Variations: Canon EF to Sony E-Mount, Sigma SA/EOS to Sony E-Mount
Give dad the gift of options and convenience with the Sigma MC-11 Lens Mount Converter. This handy little add-on can change a Canon EF mount to a Sony E-Mount or a Sigma SA/EOS to Sony E-Mount. Both iterations optimize AF drive and aperture control. They also support in-camera stabilization for tricky shooting situations.
The Outdoors Dad
Hikers, fishermen, rock climbers, bird watchers—there are so many varieties of Outdoor Dads. These Father's Day gifts celebrate our favorite outdoorsmen and the early-morning activities they've forced us to do since childhood.
Celestron National Park Foundation PowerSeeker 114AZ Telescopey
Price: $69.99
The Celestron PowerSeeker telescope is a sturdy, collapsible model that's great for hiking or stargazing from the comfort of your roof or yard. If he isn't into stargazing, he can also use it for scoping things out down here on earth. It features a focal length of 900mm (f/8) and a quick and easy no-tool setup.
Price: $249.00
Not all binoculars are created equal and these are definitely exceptional. Peer through the adjustable eyecups and take in a 315-foot field of view at 1,000 yards. These Vortex binoculars also have a handy center-focus wheel and multiple anti-reflective coatings on the lenses to reduce glare.
Stealth Cam G45NGX 22 MP No Glow Trail Camera with 16GB Card and Reader
Price: $249.99
The Stealth Cam kit is great for dads who hunt and/or monitor a lot of property. This camera does it all—the highlights include HD recording, smart illumination, and intuitive programming options.
The Techie
We know it's a stereotype, but tons of dads really do love gadgets. Honestly, who doesn't? They make your life a little easier, they're fun to play with, and—in the right circumstances—make you feel like James Bond. Here are a few of our favorites.
Price: $79.00
This is a great add-on for improving an iPhone's audio quality. The Rode VideoMic Me-L has a Lightning connector that plugs directly into your iPhone to provide better audio recording. It also includes a furry windshield to help cancel out the elements. Unfortunately, this product is currently for iOS only.
Price: $139.00
The DJI Osmo is totally awesome—we love it and wholeheartedly recommend it. However, if dad prefers to shoot from his smartphone this is a solid alternative. Built-in sensors and brushless motors stabilize the mounted smartphone. Meanwhile, the gimbal's ActiveTrack feature follows the user's subject of choice. Plus, this gimbal charges smartphones and folds for easy storage.
Price: $99.00
This is as close as dad is ever going to get to having a robot assistant. He can use voice commands to play music, podcasts, the radio, and control a wide array of smart-home devices like Nest and Philips Hue. There's also no need to worry about misunderstandings; the Home comes with built-in far-field microphones and natural language processing technology.
The Traveler
These Father's Day gifts are for the dad about town. Whether he loves to travel, has a killer commute, or is always planning a new family vacation, your father figure could use some of these goodies in his life.
Price: $319.00

Colors: Nasturtium Orange, Matte Black, Aloe Drab Green
The F-stop Tilopa bag is for dads who like to show up prepared. It's the most rugged multi-day pack F-stop has to offer and features H-frame ski straps and attachment points for backcountry equipment. Plus, it has extra room for photography gear in addition to a 17" laptop.
Price: $319.00

Colors: Black, Silver
The LUMIX ZS80 has a respectable 20.1 MP 1″ high sensitivity MOS image sensor and shoots 4K video. The size and quality of this point and shoot make it ideal for dads interested in exploring without dragging around a camera bag. It has some other interesting features like Focus Stacking that you can learn about in our ZS80 review here.
Price: $319.00

Colors: Black, Silver
Dad can now take Sony's exceptional sound quality with him wherever he may roam. The speaker itself is waterproof, dustproof, and rustproof. It comes bundled with a hard, compact shell that adds an extra layer of protection when traveling.
The New Dad
Shoutout to all of the exhausted, stressed new dads out there. Unfortunately, one of the pitfalls of having a new baby is that you don't get out of the house much. The solution? Making the confines of your home as fun as possible.
Sony 55-Inch 4K Ultra HD Smart LED TV & Soundbar Bundle
Price: $948.00
This one is pretty self-explanatory (not to mention a great deal). The Sony KD55X750F 55-inch TV boasts 4K X-Reality PRO and 4K HDR. It also has a built-in dynamic contrast enhancer to add some extra clarity and drama to your favorite shows. We paired this TV with a Sony Soundbar so you can watch dad's favorite movies (and Dora The Explorer) with crystal clear audio.
Microsoft Xbox One S NBA 2K19 Bundle
Price: $269.00
The only thing better than a new TV and sound system? An Xbox to go with it. The Microsoft Xbox One is a full 40% smaller than the previous model, has 1TB of storage, and facilitates 4K streaming. Focus bundles it with NBA 2K19 which doesn't technically count as exercise but will get your heart rate going.
Price: $119.00
The Amazon Cloud Cam lets dad play video games on his new TV and watch the baby at the same time. Everyone wins. This camera fully integrates with Alexa-enabled devices and features two-way audio. It also has up to 1080p Full HD resolution, 180° view rotation, and night vision.
The Music Man
These gifts are for the fathers we can thank for our great (or in some cases very questionable) taste in music. Whether they're a record-playing jazz lover or they DJ on the side, these are sure to be crowd pleasers.
Novation Launchpad MK2 Ableton Live Grid Controller
Price: $199.99
The Novation Launchpad is definitely for the music enthusiast in your life. That said, it also crosses over into techie territory. The Novation Launchpad MK2 is the perfect midrange model in the Novation MIDI line. It's the Goldilocks option: not too big, not too small, just right. It has an 8×8 grid, 16 pre-labeled function buttons, and full-sized pads that display a full range of colors. If you want to learn more about this model (or Novation MIDIs infcelestr general) we suggest you check out this post.
Yamaha DGX-660 88-Key Digital Grand Pianoy
Price: $799.99
This beautiful 88-key keyboard has weighted keys, an LCD display, and a variety of different piano styles to choose from. Dad will be a huge fan and, if you have younger children, this keyboard is a great way to introduce them to music.
Audio Technica AT-LP60X Fully Automatic Belt-Drive Stereo Turntable
P

rice: $99.00

Colors: Red, Black, Brown, Grey
Time to dust off the old vinyl collection. Audio Technica is world renowned for their high-fidelity music experience. This turntable has a fully automatic belt-drive, an anti-resonance aluminum platter, and designed to fit almost any aesthetic. The turntable doesn't have built-in speakers so be sure to pair this with an item like the Polk Audio Signature Series S10 speakers or Kanto YU2 Powered Desktop Speakers.
To see more Father's Day gifts see the complete gift guide
here
.
Regular price: $1,299.00

Regular price: $139.00

Regular price: $447.99