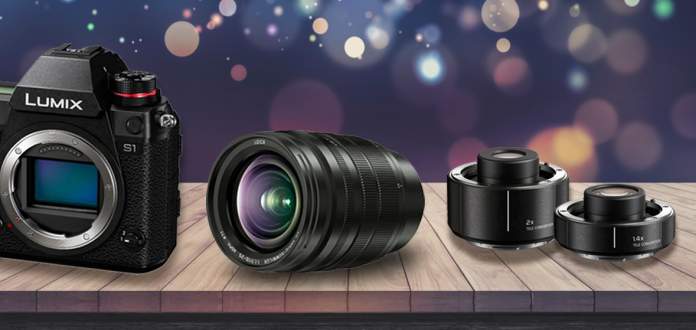 Today, Panasonic announced four new products: the S-Series 1.4X Teleconverter, S-Series 2X Teleconverter, a 10-25MM F/1.7 G-Series lens, and the S1 Filmmaker Upgrade. All of these items are now available for preorder and shipping in July. In this post, we dive into the specifics of the Panasonic S1 Filmmaker upgrade.
The Panasonic LUMIX S1 Filmmaker Upgrade
Up until today, the Panasonic S1 has been a great option for photography. It features a full-frame 24.2MP CMOS sensor and a Venus Engine image processor. However, it was not necessarily top-of-mind for professional videographers.
Right now, the S1 can shoot 4K at 60fps. But, when you shoot in those parameters the bitrate is reduced to 8-bit; your sensor is cropped down to APS-C and there's a dip in quality. The introduction of the Filmmaker Upgrade changes all of that. Adding this firmware to your S1 essentially gives you a brand new video camera.
The most notable additions are:
4K 60p 4:2:2 10-bit HDMI live output.

4K 30p/24p 4:2:2 10-bit in-camera recording.

V-LOG and V-GAMMUT enable Panasonic original V-Log color profile V-Log + V-Gammut from Varicam cinema cameras (this is about 15 stops of dynamic range).

LUT SUPPORT which enables wave-form monitor and support to view an included LUT. It also gives you the ability to load custom LUTs.
How much does it cost?
The firmware update is free with every purchase of a LUMIX S1. If you already have the S1, you can still upgrade for free; just contact the authorized retailer where you bought the camera and provide proof of purchase. Then, they'll send over the code you need along with installation instructions.
Can download this to my S1R?
No, we are afraid not. This update is currently only available for the Panasonic S1.
Will the Panasonic S1 Filmmaker Upgrade make this camera more attractive to videographers? Let us know in the comments!
Regular price: $497.99

Regular price: $597.99

Regular price: $197.99