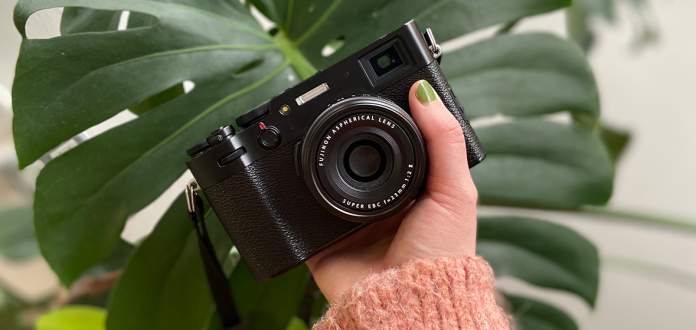 The Fujifilm X100V has landed! It's been about three years since its predecessor, the X100F was announced and quickly became a Fujifilm fan fave. However, there were a few long-standing issues with the F that even the most dedicated users detest including video and lens capabilities. Were they updated? Is the new model worth the upgrade? Find out below in our Fujifilm X100V vs X100F comparison post.
Fujifilm X100V vs X100F

Fujifilm X100V | Notable Updates
Autofocus
The X100F's autofocus is decent but the new iteration has both touch autofocus and tracking autofocus. These are not only useful add-ons for hobbyists but also keep the Fujifilm X Series top-of-mind for professional photographers looking for a quality, compact bridge camera.
Lens Updates
The Fujifilm X100V marks the debut of the X Series' second generation lens. It's still the prime 23mm (35mm equivalent) that we've come to know and love on the X100F. However, its edge-to-edge sharpness is dramatically improved—similarly, close-up photos at an f/2 are noticeably clearer and more detailed. This change goes hand-in-hand with the V's improved sensor quality and its new X-Processor 4 quad-core imaging engine. Basically, the X100V takes significantly better photos even faster than its predecessor.
Fujifilm also created lens attachments if you're interested in changing your angle of view on-the-go. However, unlike many lens-related accessories, these add-ons don't look clunky on the X100V's body. If anything, they complement its sleek, vintage look.
Body
Fujifilm made a few updates to the X100V body. First, it's weather-resistant. Unlike the X100F, the V can be used as a travel and street photography camera without the constant fear of water damage from a light drizzle.
Second, the V's monitor is (finally) an articulating touchscreen. This addition is probably why the new camera's body is slightly heavier than the X100F. However, that minor difference is well worth the functionality provided by the new and improved 3-inch 1.62M dot screen.
We also have good news for those of you who favor a camera's viewfinder over a back-panel LCD. The X100V has an updated 3.69M-dot OLED EVF compared to the X100F's 2.38M-dot EVF. 
In short, you can now take clearer photos and see them in-camera in sharper detail.
Video
4K continues to creep into bridge cameras and point-and-shoots as the industry standard for video recording. Unlike its predecessor, the Fujifilm X100V shoots 4K at 30 frames per second. This is a far cry from the X100F's HD limitations. From the sample footage we've seen from Fujifilm, this is a very capable video camera and we can't wait to try it out.
So, should I upgrade?
Yes. We don't give this strong of an answer often, but we feel confident that this upgrade is worth your time and money. Fujifilm made significant upgrades to everything X100F users had gripes with including lens quality, video recording, autofocus capabilities, and weatherproofing. This camera is a great option if you're looking for a professional-grade, prime bridge camera.
This concludes our overview of the Fujifilm X100V vs X100F. Are you going to invest? Let us know in the comments below.
Regular price: $1,399.00

Regular price: $1,399.00

Regular price: $349.00