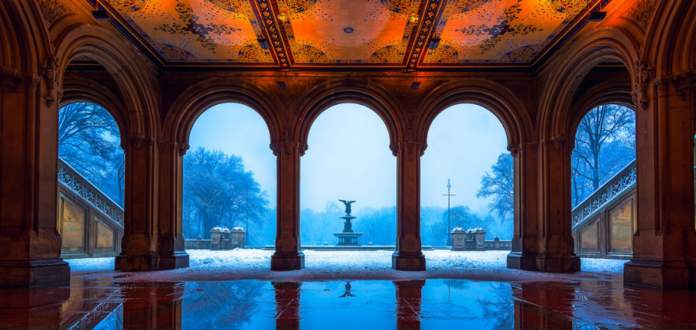 For most people, Valentine's Day calls to mind big pink hearts, boxes of chocolate, and candle-lit restaurants. For professional photographers, it looks a lot more like payday. That's right, people—it's engagement season! To celebrate we put together a list of 9 romantic NYC engagement photography spots. Dust off those portrait lenses and let's get started.
1. The Cloisters
Are you unsure if your partner loves you? Do you want them to demonstrate their loyalty and affection? Tell them you want to go up to the Cloisters and see what happens. If they're willing to traverse all the way up to 190th street, you've got yourself a winner—lock that relationship down.
All joking aside, the Cloisters museum is a gorgeous testament to European medieval architecture and is itself a product of long-term dedication. 
The museum's buildings are centered around four "cloisters" (a fancy way to say "covered walks"): the Cuxa, Saint-Guilhem, Bonnefont, and Trie. These structures were purchased by American sculptor and art dealer George Grey Barnard, dismantled in Europe between 1934 and 1939, and subsequently shipped to New York City. Later, John D. Rockefeller, Jr. bought and donated them to the MET.
In addition to being a photographer's dream, the Cloisters' focus on Romanesque and Gothic art makes it a prime destination for the aesthete in your life.
2. MET Rooftop
Since we're already discussing the MET, let's move a little further south toward the museum's 5th Avenue location. The Metropolitan Museum of Art is world-renowned for its extensive collection, curation, and architecture. In fact, in 2018 it was the third most visited museum in the world. However, it also boasts breathtaking views of both Central Park and the Upper East Side.
Enter the MET Roof Garden, the next stop on our list of NYC engagement photography spots. Periodically, the museum commissions artists to install a new masterpiece on the roof. For example, several years ago, Future Green Studio created a space with lots of gorgeous greenery. More recently, Alicja Kwade was commissioned for a massive piece called ParaPivot that evokes a mini solar system.
Art and a view—what could be sweeter?
3. Garden Court, The Frick Collection
A little further south—but still in the Upper East—we have The Frick Collection's Garden Court. According to its website, The Frick is internationally recognized as a premier museum and research center known for its distinguished Old Master paintings and outstanding examples of European sculpture and decorative arts.
In addition to its gorgeous paintings and statues, The Frick also holds the picturesque Garden Court. This room looks like somewhere that Romeo and Juliet would meet to hold hands and hide from their respective families. It also boasts incredible lighting and striking architectural details ripe for snapping.
We recommend bringing a wide-angle lens to capture the entire whimsical space.
4. Bethesda Terrace
Let us now wander into the Central Park itself to Bethesda Terrace. There's truly no time of year when this area of the park isn't breathtakingly beautiful and worthy of documentation. Its layout includes both an upper and lower terrace connected by two "grand staircases" that lead to the mall and the Bethesda Fountain.
A large portion of the terrace's beauty stems from its architectural inspiration: nature. Famously, one of its two architects, Calvert Vaux, said of the terrace's design, "Nature first, second, and third – architecture after a while."
This is a great romantic NYC photography spot for anyone interested in capturing the glory of the outdoors complemented by graceful archways fit for the cover of a romance novel.
5. Top of the Rock
There's something undeniably pleasant about looking down at Manhattan from above. You can enjoy all of the gorgeous lights and breathtaking architecture without the constant stress of people rushing around you on the ground below. While New York has quite a few options for the perfect birds-eye-view, Rockefeller Center made it to the top of our list.
Don't get us wrong, the Empire State Building and One World Trade are incredible. But, Top of the Rock is (usually) less hectic and gives you a bit more room to set up a tripod. It also offers a unique view of Central Park and a prime opportunity for celebrity sightings on your way into the building.
6. Central Park's Conservatory Garden
As evidenced by this list, Central Park is full of whimsical, fairy-tale-worthy spots. One of those hidden gems is way up on 5th and 105th: the Conservatory Garden.
Central Park is 843 acres large (making up roughly 6% of Manhattan). But, believe it or not, the Conservatory Garden is the only formal garden in the entire park. Thus, it's quiet, calm, and completely free of bikers, runners, and other manic exercising types. This makes it ideal for engagement photos, romantic walks, and strolling around solo reading poetry in 1800s formalwear.
7. New York Public Library
Vaulted ceilings, grand marble staircases, and the world's greatest love stories are all found in one place: the New York Public Library. Conveniently nestled next to Bryant Park, the Stephen A. Schwarzman Building is both the Main Branch and the flagship library location—it first opened its ornate doors in 1911 and has been inspiring artists ever since.
The building is packed with reading rooms, rotundas, murals, grand halls, and decorative doorways. While they have a cohesive design, each space has its own specific look and feel. We recommend this photography location for romance enthusiasts, photographers, and bibliophiles alike.
Again, bring a tripod to capture low-light shots and a camera with a very quiet shutter.
8. Brooklyn Bridge Park
Our list has finally crossed over into Brooklyn (woo!). Brooklyn Bridge Park is a massive, multi-purpose space with seemingly endless photo ops.
The entire park boasts sweeping views of Manhattan framed by local attractions including four piers, a beach, rotating art installations, a few elevated terraces, and Jane's carousel (not to mention the neighboring neighborhood of DUMBO). 
We recommend Brooklyn Bridge Park if you're looking for a romantic engagement photography spot with lots of room, varied shooting locations, and an incredible backdrop.
9. Brooklyn Botanic Garden
Last but certainly not least is the Brooklyn Botanic Garden. Unlike Central Park, you need to pay to shoot professional photography in this space. However, its indoor-outdoor, year-long attractions make it well worth the extra cash. Plus, it only gets about 725k annual visitors compared to Central Park's 38 million—that extra elbow room makes all the difference when you're lining up a shot.
Much like the adjacent Brooklyn Museum, the Brooklyn Botanic Garden is packed with a diverse array of breathtaking visuals and themes from the Tropical Pavilion to the Shakespeare Garden. As mentioned above, it's also a great place to shoot regardless of the season. Just a few of our favorite attractions include the Japanese Garden, Water Garden, Cherry Esplanade (in the spring), and the balmy Warm Temperate Pavilion.
That concludes our list of 9 romantic NYC engagement photography spots.
But
, the best thing about New York is its endless possibilities. Do you have any additions to the list? Let us know in the comments below.
Regular price: $3,498.00

Regular price: $1,259.00

Regular price: $2,198.00

Regular price: $1,798.00