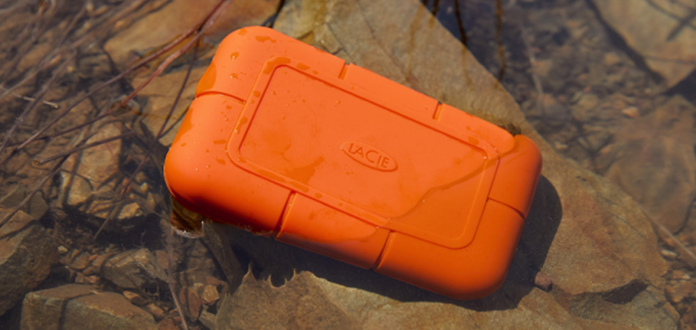 Once again, LaCie has come into our lives and made them just a little bit easier. The company released several tough new products including the Rugged SSD, Rugged SSD Pro, and a Rugged Mini hard drive. You can check them all out here.
In this post, we take a closer look at the SSD drives, what exactly makes them so tough, and figure out which one is for you.
What is an SSD?
LaCie has an extensive line of hard drives in addition to its growing family of SSDs or "solid state drives." We went over the basics in our overview of the LaCie Portable SSD. However, it's worth reviewing again.
Unlike a hard disk drive (HHD), an SSD has no moving parts (hence the name solid state). This is important for a few key reasons. First, the lack of moving parts means that there are fewer elements to be broken or worn down. Second, SSDs are usually faster. And finally, they're often smaller and quieter.
Who really
needs
a LaCie Rugged SSD?
The largest audience for a LaCie Rugged SSD or Rugged SSD Pro consists of on-the-go photographers, videographers, and people who are fanatical about securing their data. The second demographic is made up of highly specialized content creators like sports photographer Liam Doran who does most of his shooting on the side of a mountain; they're for people who need something portable and hyper-durable.
At A Glance | LaCie Rugged SSD & SSD Pro
| | | |
| --- | --- | --- |
| | Rugged SSD | Rugged SSD Pro |
| Storage Options: | | 1 TB, 2 TB |
| Transfer Speeds: | 950 MB/s | 2800 MB/s |
| Connectivity: | Thunderbolt 3, USB-C, USB 3.0 | Thunderbolt 3, USB-C, USB 3.0 |
| IPX Rating: | IP67 | IP67 |
| Drop Tolerance: | 3 meters | 3 meters |
| Crush Resistance: | 2 tons | 2 tons |
| Dimensions: | .6in x 2.5in x 3.854in | .6in x 2.5in x 3.854in |
| 5-year Rescue Data Recovery: | yes | yes |
Similarities
Durability
Both models have an IP67 (or ingress protection) rating. In short, this number indicates that these SSD drives are completely dust-tight and can be submerged underwater at a depth of up to 1m. We created the IPX reference chart below for all the visual learners out there.
The Rugged SSD and SSD Pro both have a 2-ton crush resistance. To give you a bit of perspective, that means a fully grown white rhino can tapdance on your drive and it won't break. We don't know why you'd ever have this issue and—quite frankly—it's none of our business. Just know that you're covered.
Connectivity
Most brands go out of their way to make universal connectivity difficult. Luckily, LaCie is trying its best to accommodate the flood of devices currently on the market. Both the Rugged SSD and Rugged SSD Pro have built-in USB-C, Thunderbolt 3, and USB 3.0 ports that support lightning-fast transfer speeds.
Key Difference
Speed
The Rugged SSD supports RAW 4K transfer and editing at up to 950 MB/s. Alternatively, the SSD Pro delivers NVMe-boosted performance of up to 2800 MB/s.
The result is transfer speeds 5× faster than traditional SATA SSDs. Plus, you can play and render high-bit-rate RAW content like 6K, 8K, and slow-motion source files.
Which Lacie Rugged SSD should I get?
Both devices are incredibly fast and facilitate a smooth workflow. However, your choice depends entirely on your plans for this device. Our instinct is always to go with the more advanced model because it's something you can grow into (in this case, that would be the Pro). However, if you'd rather save the cash and invest it elsewhere, the Rugged SSD is still a solid option.
Regular price: $299.94

Regular price: $399.94

Regular price: $169.94