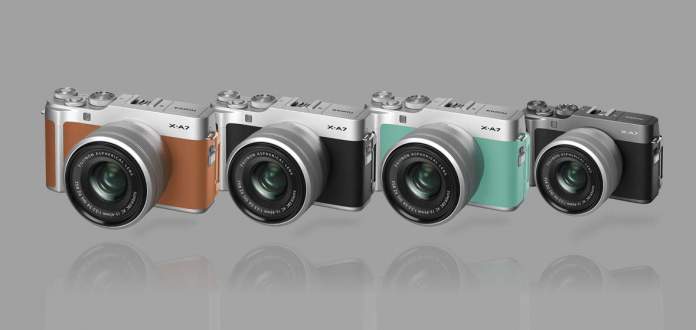 It's been a year since Fujifilm released the X-A5 mirrorless camera. Today, they officially announced the new Fujifilm X-A7 with updated specs and a new look. Before we jump into features, let's review specification updates.
Fujifilm X-A7 vs X-A5
Interface & Body

Colors
The most drastic visual update to this model is the change in available colors. The X-A5 was available in brown, pink, and silver. Today, Fujifilm announced an almost entirely new lineup comprised of silver, mint green, dark silver, and camel.
Touchscreen
The X-A7 features a large 3.5" 16:9 touchscreen LCD that's roughly as bright as most smartphone screens. Like its predecessor, the new model has a vari-angle display that facilitates shooting at any angle. This feature makes the X-A7 especially advantageous for vloggers.
Lightweight Design
This might not seem like the most exciting update. But, a little weight makes a big difference when you're holding a camera all day. It weighs in at a surprisingly light 455g with the kit lens (XC 15-45mm f/3.5-5.6 OIS PZ Lens). This is very impressive when you consider this model's long-term battery life (440 pictures per charge) and updated screen dimensions.
Video
The Fujifilm X-A7's 24.2MP sensor shoots 4K footage at 30fps using data equal to 6K (6032×3392). This is a big upgrade from the X-A5's 15fps. The result is beautiful, high-res footage created in Full HD or HD at a 16:9 aspect ratio or 1:1 for easy Instagram streaming.
Shooting Modes
There are also a pair of new shooting modes that you can use on your upgraded X-A7 including a new "Bright Mode" feature that was added to the "Advanced SR Auto" function. In short, this one-touch operation lets your camera automatically configure the ideal settings for HDR and bright, vivid images.
Should You Upgrade?
We definitely recommend upgrading if you use your camera primarily for video footage. However, if you already have the X-A5, it might behoove you to hold off or make a more drastic upgrade.