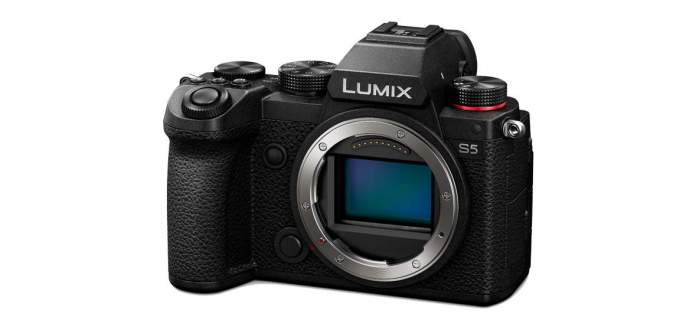 It's here. Panasonic's new full-frame mirrorless camera, the LUMIX S5, is now available for pre-order.
After generating plenty of anticipation since rumors of its existence first appeared several months ago, we thought we'd put together a rundown of everything we already know about the new release. 
You can also join our virtual LUMIX S5 launch event on Wednesday September 3rd 2020 at 5pm EDT, where Panasonic will give us an in-depth first look at the camera.
The S5 is the latest addition to the popular LUMIX S-Series, Panasonic's range of mirrorless cameras. However, it appears the S5 will be a more compact, affordable camera than its siblings.
Shop more from the LUMIX S-Series:
Check out the product launch video below:
According to Panasonic, the S5 has been designed for content creators who need a field-ready video camera that won't bust their budget. The specs seem to confirm that, especially when compared with the LUMIX S1, Panasonic's first mirrorless camera, and the Nikon Z6, a competitor camera that's popular with videographers and vloggers.   
Specifications
| | LUMIX S1 | Nikon Z6 | LUMIX S5 |
| --- | --- | --- | --- |
| Sensor | 24.2MP full-frame CMOS sensor | 24.5MP full-frame BSI FX-format CMOS sensor | 24.2MP full-frame CMOS sensor |
| Processor | Venus Engine image processor | EXPEED 6 image processor | Venus Engine image processor |
| 4K Video | Yes, at 60fps (8-bit, sensor cropped to APS-C) | Yes, at 30fps full-frame | Yes, at 60fps (4:2:0, 10-bit, sensor cropped to APS-C) |
| Image Stabilization | 5-axis dual image stabilization | 3-axis image stabilization (5-axis with NIKKOR Z lens) | 5-axis dual image stabilization |
| Lens Mount | L-Mount | NIKKOR Z Series (and F Series with FTZ mount adapter) | L-Mount |
| Memory | 2 Slots (1 XQD and 1 SD) | 1 Slot (XQD only) | 2 Slots (Both SD) |
| Viewfinder | 5,760k-dot OLED eye viewfinder | 3.6 M-dot quad VGA viewfinder | 2.36M-dot OLED live viewfinder |
| Dimensions | Approx. 148.9 W x 110.0 H x 96.7 mm D / 5.86 W x 4.33 H x 3.81 inch D (excluding protrusions) | Approx. 134 W x 100.5 H x 67.5 mm D / 5.3 W x 4 H x 2.7 inch D | Approx. 132.6 W x 97.1 H x 81.9 mm D / 5.22 W x 3.82 H x 3.22 inch D (excluding protrusions) |
| Weight | Approx. 899g / 1.98 lb (Body only) | Approx. 585 g/20.7 oz (Body only) | Approx. 630g / 1.39 lb (Body only) |
| Price | $2497.99 | $1796.95 | $1997.99 |
Compared to the LUMIX S1
Panasonic has done a great job of improving on the S1, releasing a camera that has notable enhancements and a smaller price tag. The S1 was well received when it was released, but it did attract criticism for having a clunky body and a higher price tag than its direct competitors. The S5 is considerably cheaper than the S1, while its body is more compact and over 200g lighter. 
The S5 also offers an improved autofocus system, dual native ISO, and a better viewfinder (2.36M-dot vs 5,760k-dot), making the camera a clear upgrade on the S1.
Compared to the Nikon Z6
The Nikon Z6 is one of the most popular video cameras on the market today thanks to its advanced video capabilities and affordable price. The S5 is heavier than the Z6, and slightly more expensive, but appears to offer several superior features that may make it the new preferred choice for videographers and content creators looking to upgrade from a DSLR or first-gen mirrorless camera. 
Firstly, the S5 offers more advanced video capabilities, with the ability to shoot 4K video at 60fps, compared to the Z6's 30fps. The S5 can also shoot 4K video at 60p 4:2:0 10-bit (or 30p 4:2:2 10-bit) internally, while the Z6 and most other mirrorless cameras require an HDMI output to an external recorder to achieve that quality. 
Secondly, one of the Z6's biggest flaws is it's single memory card slot, for an XQD card. The S5 has two SD card slots, which will definitely appeal more to anyone who's already shooting on SD and likes to dual record. Not having to purchase an XQD card also almost makes up the price difference between the two cameras. 
Summary
At first glance, the Lumix S5 promises to be a powerful new contender in the mirrorless camera market. With a clear focus on enhanced video capabilities, without an inflated price tag, the S5 is a great addition to the LUMIX S-Series, building on the S1 without undercutting the appeal of the S1R and S1H. Designed with video content creators in mind, the S5 looks like it will perform well in the field and hold its own against competitors like the Nikon Z6. 
Available for pre-order now, body only or in a kit with a LUMIX S 20-60mm f/3.5-5.6 lens, the LUMIX S5 seems destined to be a popular holiday purchase this year.
Regular price: $1,997.99

Regular price: $2,297.99