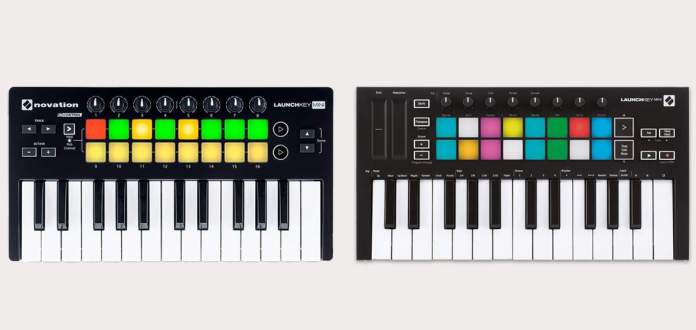 The Novation Launchkey Mini MK2 has been a popular purchase since its release, primarily due to its practical blend of functionality and mobility. Offering many of the same features as the full-size MK2, but at less than half the size, the Mini has earned its reputation as an excellent portable keyboard controller.
Novation has since released an updated version – the Launchkey Mini MK3 – and the question on everyone's lips is: is it worth upgrading?
In short, yes. The Mini MK3 has done everything a new release should do; elevate the best features of the original, and address or eliminate its downsides. With an affordable price tag of $109.99, there are more reasons to upgrade than not.
Upgrading is ultimately a personal choice, however, so we have compared the Launchkey Mini MK2 with the Mini MK3 below so you can make an informed decision about whether or not you should upgrade. 
Look & Feel
The Launchkey Mini MK3 has all the same design benefits of its predecessor – portability, sleek design, clean layout – but with some notable improvements.
The Mini MK3 is slimmer than the Mini MK2, and the layout is equally neat, despite new buttons and features. The control knobs are smaller yet still dynamic, the buttons are appropriately spaced, and the drum pads are slightly more sensitive, allowing for more precision and speed. The minikeys have also been improved and feel easier to play.
If you're already a fan of the design and layout of the Mini MK2, it's hard to imagine you won't appreciate the changes that have been made for the Mini MK3; it immediately looks and feels like an upgrade.
Functionality
While the Mini MK2 and Mini MK3 are almost the same size, the MK3 manages to offer additional functionality without compromising usability. In other words, the Mini MK3 has more to offer, but isn't any harder to use. 
New buttons enable arpeggiator and fixed chord modes, two features alone that might compel you to upgrade, allowing you to more easily create new melodies and sounds using just the controller.
New play and record buttons also provide more control, while touch strips have been added to allow for easy adjustment of modulation and pitch – a nice touch considering the size of the board.
Additionally, the Mini MK3 has a sustain pedal input port, a USB port (instead of the Mini MK2's micro-USB), and a 3.5mm TRS MIDI output port.  
Disappointingly, the Mini MK3 doesn't come with MIDI DIN break-out cables, even though an adapter is required to connect to some devices. This is likely because, until recently, there wasn't a universal standard for wiring a TRS MIDI connection, which meant that an adapter for one brand's TRS jack may not work for another. The MIDI Manufacturers Association has since released specification guidelines to address this issue, but if you plan to connect to a device with a MIDI 5-pin port, you'll need to purchase an adapter cable (type A male 3.5mm TRS to female 5-pin DIN MIDI).
Software & Plug-Ins
Like the Mini MK2, the Mini MK3 is designed to work with Ableton Live, but will work with all DAWs including Protools, Reaper, and Studio One. 
Ableton Live 10 Lite is included with the Mini MK3, but if you're already using Ableton Live with the Mini MK2, you'll just need to make sure you're running version 10 of the software (or higher).
March 2021 – v1.1 Firmware Update
On March 30, 2021, Novation announced a new firmware update for the Launchkey MK3 and the Launchkey Mini MK3. The v1.1. firmware update is available for download here.
The v1.1 update enables both controllers to use Strum Mode. This new feature allows you to play chords on the keyboard using the modulation strip/wheel. Simply hold down the shift button and press the key with the circle, then turn the arpeggiator on by pressing the Arp button. Now when you play a chord, you won't hear it until you move the mod strip/wheel. 
The update includes additional new features only for the Mini MK3. These include the ability to adjust the brightness of the drum pads and toggle their velocity on/off. You'll also be able to toggle the clock output from the MIDI port on/off.  Finally, a new double-tap shift function latches the shift button to the Arp and Fixed Chord buttons, making it easier to use the controller one-handed. 
Summary
| | Launchkey Mini MK2 | Launchkey Mini MK3 |
| --- | --- | --- |
| 25 Minikeys | Yes | Yes |
| 16 Backlit Velocity Sensitive Drum Pads | Yes | Yes |
| Touch Strip for Pitch-Bench with Centre-Zero | No | Yes |
| Touch Strip for Modulation | No | Yes |
| Arpeggiator | No | Yes |
| Fixed Chord Mode | No | Yes |
| Play Button | No | Yes |
| Record Button | No | Yes |
| Kensington MiniSaver slot | Yes | Yes |
| USB | Micro USB only | Yes |
| 3.5mm MIDI TRS Output | No | Yes (MIDI DIN break-out cables not included) |
| Sustain Pedal Input | No | Yes |
| Ableton Live Lite Included | Yes | Yes |
| Dimensions | 325mm width x 175mm depth x 43mm height | 330mm length x 172mm depth x 31mm (40mm including knob-caps) height |
Overall, the Novation Launchkey Mini MK3 provides you with more creative control than the Mini MK2, reducing your reliance on the DAW and allowing you to more easily create music using just the controller. Despite adding so much functionality, the Mini MK3 is also slimmer, sleeker, and easier to use, with improved drum pads and minikeys. Considering the low-price tag, deciding whether or not to upgrade to the new Launchkey Mini should be an easy choice.
Regular price: $109.99

Regular price: $219.99