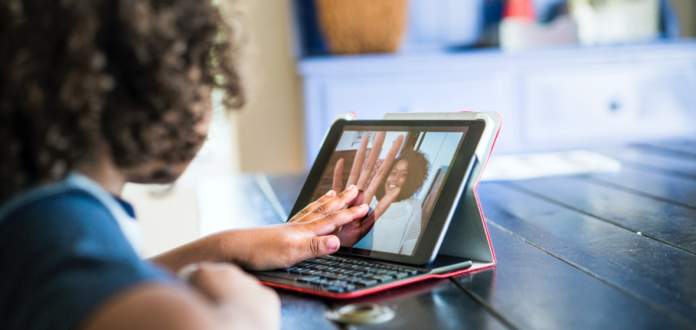 Happy Mother's Day, everyone! Getting some face time with the person who raised you is especially important when you're legally not allowed to give them a hug. To help you out, we put together a list of the best video chat apps to make connecting with mom a little easier.
Don't see your favorite on the list? Post it in the comments below!
Price

: Free ($2.99/month for premium) 

For use on

: mobile and desktop
Skype, the mother of all video chatting apps, has been dominating the industry since 2003 when it first appeared on the market. It's free, easy to use, and chances are, mom has already heard of it. It's also compatible with whatever she's most accustomed to using and available on desktop, mobile, tablets, Xbox, or Amazon Echo. If you really want to make it feel like you and mom are in the same room, invest in two little Blue Snowball mics for upgraded audio.
Price

: Free

For use on

: mobile and desktop
WhatsApp is an easy, free option for moms and kids in different countries. It's made to facilitate international chatting and supports end-to-end encryption so you and the fam can talk privately. It's free on mobile, but, for some reason, talking hands-free with a laptop always feels more personal. Plus, it's a lot easier to see your entire family when they're not jammed onto a smartphone screen. 
Price

: free (

tiered

pricing options available)

For use on

: mobile and desktop
Zoom is one of the lucky companies that are not only surviving the pandemic but thriving. This is arguably the best option if you're bringing together a massive mother's day celebration with siblings, family, and other loved ones. It's also the easiest to use—mom doesn't have to download or install anything on her desktop or phone. Send her a link to the meeting and she'll be able to access it from any device. If things get a little rowdy with your housemates (or on the chat), throw on a pair of noise-canceling headphones so you can concentrate.
Price

: Free (with the price of an Apple device, of course)

For use on

: mobile and desktop
Apple, the usability gurus, created FaceTime to be a seamless video chatting solution that can be accessed from any of their devices. Honestly, they did a great job. If you're an Apple user, FaceTime integrates with your contacts making it the second-easiest video chat to access (after Zoom). The only snag, of course, is that you need an Apple device to use it. Never fear—you can get mom a laptop or iPad if she already has (and loves) an Andriod or Google phone.
Price

: Free

For use on

: mobile and desktop
Google Duo is basically Android-compatible FaceTime with one big exception: it works with both Andriod and iOS devices. Shoutout to Google for always making our lives just a little bit easier. Like WhatsApp, Duo features end-to-end encryption to ensure that your private chats stay private. It can also connect up to 12 people so you can chat freely with the whole fam at the same time. 
Price

: Free

For use on

: mobile and desktop
Next on our list of the best video chat apps is Facebook Messenger. Love them or hate them, Facebook has one of the largest user-bases on the planet. They're masters of facilitating communication and, with that, comes video chatting. Available through Facebook Messenger, you can video chat with up to 50 people (in one room) for 240 minutes. You can also use the Facebook Portal if you're feeling especially futuristic. 
Price

: Free ($9.99/month for premium)

For use on

: mobile and desktop
Are you and mom in very different time zones? Do you have a hard time finding a free moment to speak? Do you simply struggle with keeping in contact with one another? Well, friend, let us tell you the good news about Marco Polo. This mobile app essentially lets you send video text messages to loved ones whenever is most convenient for you. It could be a "hello I love you," a brief life update, or a 2-minute rant about your bad day. It's all kept in the same feed so you can swipe through to see and react to past videos. If you're rocking a smartphone with a below-average camera, consider upgrading to something more powerful (like the Xperia 1) to get the most out of this app.
Price

: free

For use on

: mobile and desktop
Last but not least, we have Houseparty. It's a face-to-face social network with a twist—it has in-app games you can play with up to 8 people. This is a great option for anyone who wants an easy way to video chat or upgrade remote family game night. Unlike more traditional apps like Facetime, you don't necessarily need to call someone to start a chat/game. When you open the app, it sends a push notification to your friends telling them you're online and ready to play.
That wraps up our list of the best video chat apps for talking to mom on Mother's Day. If you have another app you love, or another idea for making this remote Mother's Day special, leave it in the comments below.
Regular price: $69.99

Regular price: $799.99

Regular price: $348.00

Regular price: $329.00

Regular price: $195.00