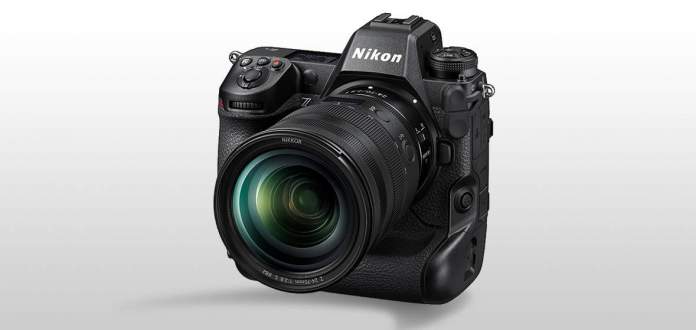 The Nikon Z 9 was announced today as Nikon's new flagship camera, replacing the D6 full-frame DSLR. The camera is Nikon's first flagship mirrorless system, and promises fantastic performance capabilities. It's set to be a formidable competitor to comparable models recently released by Sony and Canon. 
Here's everything we know so far about the Nikon Z9.  
Nikon Z 9 – Everything We Know So Far
Housed in a weather-sealed, magnesium alloy shell, the Nikon Z 9 has a premium look and feel. The camera has a similar design to the Nikon D6, with an integrated vertical grip and the same button layout, including four customizable function buttons. Measuring 5.9 x 5.9 x 3.6 inches and weighing 2.6 lbs, it's 20% smaller than the D6. However, it's still considerably larger and heavier than the Sony a1 and the Canon EOS R3.
The camera uses a 45.7MP back-side-illuminated stacked CMOS sensor that delivers the world's fastest scanning speed. The camera can shoot 45.7MP RAW and JPEG stills at 20fps, JPEG only at 30fps, and 11MP JPEG stills at an incredible 120fps. Additionally, the camera is capable of recording 10-bit 8K video at 24, 25, or 30p for up to 125 minutes continuously, or 10-bit 4K slow-motion video at 120p.  
The Z 9 also has an enhanced autofocus system, powered by a new machine learning algorithm, that allows the camera to maintain sharp focus while tracking all kinds of subjects including animals, motorcycles, cars, trains, and planes. Combined with its high-speed continuous shooting abilities, this camera is perfect for professional sports and wildlife photographers. 
In addition to its vertical grip, the camera has a 3.2-inch LCD touchscreen with 4-axis horizontal and vertical tilting. When shooting vertically, the screen's interface and the viewfinder also rotate to a vertical orientation. 
Finally, the camera also features a blackout-free electronic viewfinder, courtesy of dual-streaming technology that simultaneously writes data to the memory while a separate data stream provides lag-free viewing through the EVF. Speaking of memory, the camera does not use SD cards. Instead, the Z 9 has dual memory slots for CFexpress Type B cards. 
Should I Pre-Order the Z 9?
The Nikon Z 9 is now available for pre-order for $5,496.95. Despite its somewhat bulky build in comparison to competing models, the new camera offers a full suite of advanced performance capabilities.  The Z 9 promises to be a great option for photography and videography professionals, especially those that specialize in sports or wildlife photography.