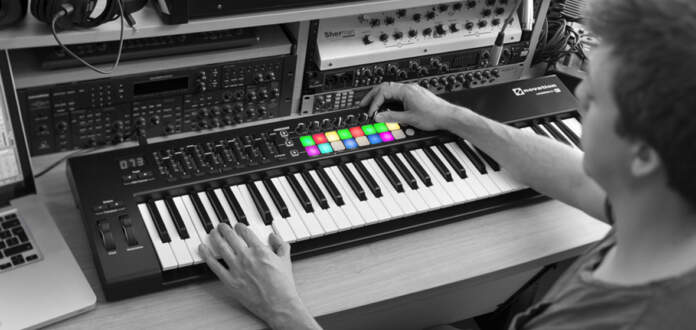 You've heard Novation MIDI keyboards are a great way to make music for your videos. You've probably also seen some very impressive performances from people using a MIDI keyboard controller. However, you're still not entirely sure how it works and why you need one. Well, I have some great news. In this post, we break down the basics of why we love Launchkey MIDI keyboard controllers, how the interface works, and our recommended models and software.
What are the benefits of making original music for your videos?
There are two key benefits. First, dealing with music rights is a huge pain that requires two different licenses. This brings us to reason number two: licensing fees. Buying and licensing music is expensive and music copyright laws are strictly enforced. Making your own music means avoiding those fees so you can spend your budget on other important things like lighting.
Novation also does a good job bundling expensive add-ons with Launchkey devices. Most notably (in our humble opinion) are free keyboard lessons from Melodics.com. They also include 4GB of royalty-free sounds, samples, and access to Sound Collective and XLN Audio Addictive Keys.
What is a MIDI keyboard controller?
A MIDI controller is a standard piece of hardware often found in the electronic music scene. When "played" it triggers sounds assigned to the device's individual touchpads by the user. A MIDI keyboard controller allows you to create melodies or beats and assign them to a touchpad in real time or prior to recording.
Think of a MIDI as a large remote control; it is useless without the device it interacts with. It's akin to having a TV remote and no television. To make music, a MIDI controller must be connected to your computer and synced with your choice of music editing software.

Which MIDI keyboard software should I use for Novation Launchkey?
We recommend Ableton Live. While there are other options out there, this software is designed to seamlessly integrate with Launchkey MIDIs. There's also a ton of existing content about how to connect Ableton Live with your Launchkey if you're new and unsure where to start.
Ableton Live is a music sequencer that works for both macOS and Windows. However, unlike most other "audio workstations," Ableton Live is designed to facilitate live shows and looping music in real time. This is not to say that you have to have Tiësto-like ambitions to use Ableton Live with your Novation Launchkey; it's also made for composing, recording, arranging, and mixing music for your videos in the privacy of your home or studio.
What size MIDI keyboard should I get?
This heavily depends on your individual needs and comfort level. However, we put a few example use cases below.
Launchkey 61 & Launchkey 49
If you regularly play a full-sized keyboard you'll probably be more comfortable composing music for your videos with the Launchkey 61 or Launchkey 49. It's challenging (but not impossible) to switch from a full-sized keyboard to a smaller one. Muscle memory is a tough thing to overcome.
Larger models also benefit those who prefer manipulating music on a MIDI rather than a computer keyboard. While all four of the Launchkey products have an array of buttons and knobs for hands-on edits, only the 61, 49 and 25 have faders. This level of accessibility makes new users a little less intimidated to try their hand at creating music with a MIDI keyboard controller.
Finally, there's the size factor. Because the Launchkey 61 and Launchkey 49 have more keys, they are longer and more cumbersome. As a result, they're better for those who have a setup that facilitates the use of a larger MIDI keyboard. Similarly, they are not the most efficient option if you're planning on carrying this hardware around with you on a regular basis. Which leads us to…
Launchkey 25
The Launchkey 25 isn't quite a full-sized MIDI keyboard and it's definitely not in the same category as the Launchkey Mini. It's a good middle ground that includes the best of both ends of the spectrum. It's mobile but not ultra-small; it also has on-device adjustment knobs and faders. If you're unsure about how much traveling you'll be doing with your MIDI and want the option of portability and convenience, this model is for you.

Launchkey Mini
The Launchkey Mini is for anyone who wants to create beats and music on the go. It's also great for those of us with limited desk space, studio space, and budgets.
As the name implies, this model is smaller in every way than the other three devices in the line; it's lighter, compact enough to fit in a backpack, and has narrower keys. However, it still boasts the same range of capabilities as its larger counterparts—it has a 25-note mini synth-style keyboard, sixteen RGB pads, and integrates immediately with Ableton Live.
If you have no experience keyboarding or using a MIDI keyboard controller, this device is a solid introduction. Once you get familiar with the setup, it becomes a lot easier to graduate up to larger versions of the controller. On the other hand, experienced practitioners will appreciate all of the features and functionality distilled into such a small device.
Novation Launchkey: Full Line
We would love to know your thoughts on the Novation Launchkey line, Ableton Live, and any other device you use to make music for your videos. Leave comments and questions in the section below!