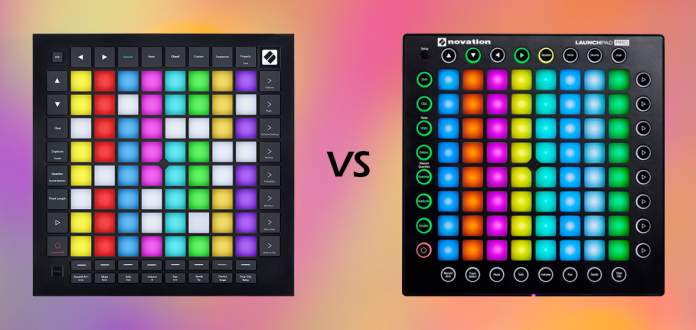 Novation has slowly but surely been rolling out their newly designed MIDI boards. They started with the Launchpad Mini and X in late 2019. Now, they've moved on to one of the most-loved MIDI boards on the market: the Novation Launchpad Pro. The new Launchpad Pro MK3 boasts a host of new features along with a sleek new look and feel.
In this post, we take a look at those newly-added features and see how the Pro MK2 stands up to the new MK3.
Are you looking for a different comparison in the Novation or Focusrite family? If so, we also think you should also check out:
Key Differences | Launchpad Pro MK3 vs MK2

What is a MIDI controller?
If you're considering a Launchpad Pro, it's likely that you already know your way around a MIDI board. However, we want to provide a brief overview for those just entering the world of MIDI controllers.
With that in mind, a MIDI controller is a standard piece of hardware often found in the electronic music scene. When "played" it triggers sounds assigned to the device's individual touchpads by the user.
In essence, a MIDI a large remote control; it is useless without the device it interacts with. It's akin to having a TV remote and no television. To make music, a MIDI controller must be connected to your computer and synced with your choice of music editing software.
You can also record your own music and assign it to MIDI pads with the help of a MIDI keyboard.
Look & Feel
Layout & Buttons
Novation made some solid design updates to the Mini MK3 and X in late 2019. We're happy to see that those changes were also carried over to the Pro MK3.
The MK2's rounded edges and circular command buttons give it an almost toy-like appearance. Alternatively, the MK3's sharp corners from end-to-end make it look more like the professional instrument that it is. Plus, the new design makes the midi pads just a bit bigger which is always helpful during a set. Similarly, the icons on the individual buttons were simplified and the only hint that this is a Novation product can be found in the top right corner in the form of a logo. Frankly, it looks incredibly cool.
Size & Weight
The Pro MK3 doesn't just look sleeker, it is, in fact, smaller and lighter than its predecessor (even with a new row of buttons). Is it a dramatic difference? No, not quite. But there's a difference nonetheless.
The Pro MK3 weighs 2.21 lbs without accessories and 2.69 lbs with accessories included. Alternatively, the Pro MK2 weighs in at 2.71 lbs. Sadly, there is no accessory weight variation available for the MK2. However, it's clear that the MK3 is the lighter option overall.
Again, the MK3's dimensions are also slightly smaller. It measures 0.71″ x 10.55″ x 10.55″ compared to the MK2's 1.14″ x 10.24″ x 10.24."
Functionality
New Buttons Facilitate Standalone Use
Novation is doing their best to streamline your workflow with their new models. Their new Mini MK3 arrived complete with new custom mode buttons ("Drums", "Keys", and "User"). Now, the Launchpad Pro MK3 is getting the same treatment.
There is an entirely new row of 8 buttons at the bottom of the Pro MK3. According to Novation, these new additions can "launch clips and scenes, access mixer, device, and transport controls, and quantise, duplicate and double, all without touching your mouse."
USB-C Compatible
You'll notice that the old power input you're accustomed to was replaced by a new USB-C port. This update allowed for the Launchpad Pro MK3's slimmer look and is further evidence that Novation is looking to the future with its new products.
Add-Ons
Novation does a great job providing a ton of value-added software features to its hardware offerings. Below is a list of all the resources that come with your Launchpad Pro MK3. While this isn't technically news (these are offered with every board), it's still important to know your options:
Ableton Live Lite

– quickly organize and arrange your sounds and start making tracks with this staple electronic-music-making software.

Two months Splice Sounds membership

– offering millions of high-quality, royalty-free one-shots, loops, and presets, with new releases daily.

AAS Session Bundle

– Three synths for music makers, providing staple sounds for your tracks.

XLN Addictive Keys

– Access one of four virtual keyboards when you register your first piece of Novation hardware.

Klevgrand R0Verb and DAW Cassette

– High-quality reverb and tape deck emulation plug-ins, to add some space or take your sound back to the golden age of cassette tapes.

Softube Time and Tone bundle

– made up of four of Softube's world-class plug-ins: reverb, delay, and easy-to-use mastering tool and distortion.

Sound Collective

– bringing Novation hardware owners a new free plug-in every couple of months
That wraps up our overview of the Novation Launchpad Pro MK3. Do you think it's worth the upgrade? Let us know in the comments below.