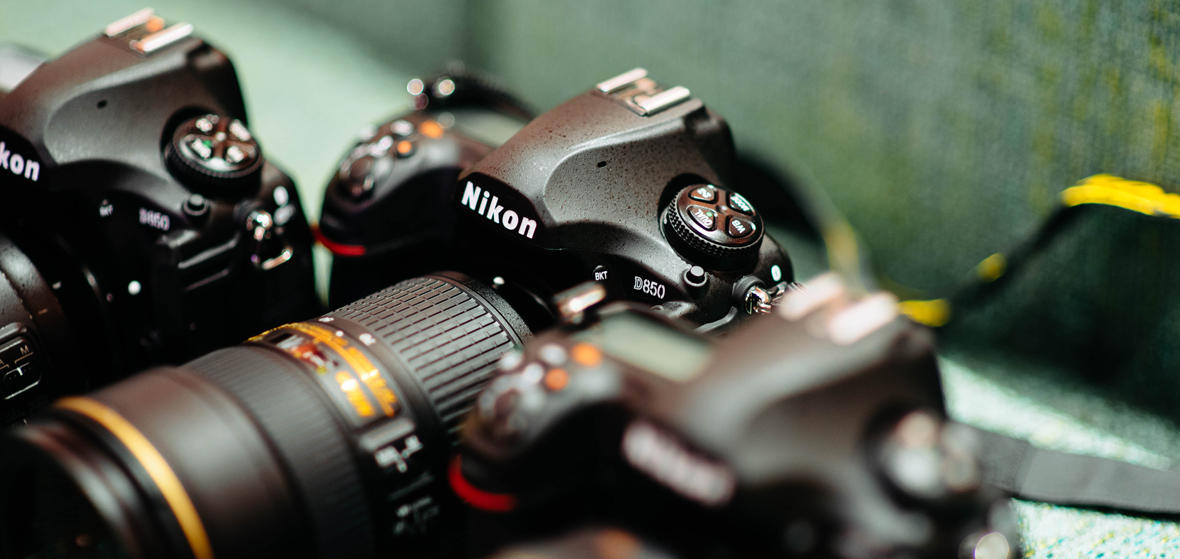 Focus Camera is known for putting together quality bundles that save you money on camera bodies plus lenses and other accessories. For Nikon fans, we've compiled a list of our four favorite Nikon bundles!
Nikon D3400 DSLR Camera w/ 18-55 Lens & 3-Piece Filter Kit & 64GB Bundle
Built around the same 24.2 MP APS-C CMOS sensor as the D3300, the Nikon D3400 is a good beginner DSLR with an EXPEED 4 image processor. At a few years old, it's still popular thanks to its lightweight body and ease of use.  With an 11-point phase detect autofocus system, it's on par with the Pentax K70 and better than the Canon T6 – which came out around the same time. It doesn't come with WiFi, but utilizes Bluetooth for image transfer. This kit features some solid starter gear, including three lenses (the versatile 18-55mm NIKKOR, 55mm .43 wide angle, 55mm 2.2 telephoto), a soft shell gadget bag, two Sony 32GB memory cards, a SF-3000 Digital Slave flash and Universal Wireless shutter release.
Nikon D5600 DSLR Camera w/ 18-55 & 70-300mm Lenses Bundle
For the next step up, we recommend this Nikon D5600 bundle. Like the D3400, the D5600 delivers excellent quality and sports a 24MP CMOS sensor with EXPEED 4 image processor. Unlike the D3400, it features 39-AF points and 5fps burst shooting. Suitable for a range of lighting conditions, the ISO extends from 100 to 25,600. While it doesn't offer 4K (just 1080p), the D5600 does provide timelapse movies captured in-camera.  The kit comes with four lenses: 55mm .43 wide angle, 55mm 2.2 telephoto, AF-P DX NIKKOR 18-55mm f/3.5-5.6G VR, and AF-P DX NIKKOR 70-300mm f/4.5-6.3G ED. There's also a strap, Digital Slave flash, wireless shutter remote control, SanDisk 64GB memory card, and more.
Nikon D7500 DSLR Camera Body with Nikon Bag w/ 64GB Card & Battery Bundle
With a brilliant 20.9MP sensor, EXPEED 5 imaging processor, 51-point AF, and 8fps burst shooting, the Nikon D7500 is a great enthusiast camera.  It offers excellent ISO sensitivity with a range of 100-51,200, plus an extra stop of flexibility. Video lovers will appreciate the 4K option, along with in-camera timelapse. The body itself is compact and ergonomic. Overall, it's a great upgrade to the step just before professional level cameras. The bundle features a Nikon camera gadget bag, SanDisk 64GB memory card, Universal Wireless shutter release, professional wrist grip strap, cleaning and accessory kit, tripod, and various effects kits for post-production.
Nikon D500 DX-Format DSLR Camera (Body) w/ Backpack & 64GB Card Accessory Bundle
For professional photographers, especially sports and action photographers, the Nikon D500 is an enticing package. It features a system taken from the high-end D5. The 20.7MP APS-C (DX-format) sensor enables superior lowlight performances thanks to bigger photosites, while the EXPEED 5 processor permits 10 frames per second burst shooting. The D500 offers 4K for up to almost half an hour, as well as a touch sensitive 3.2-inch 2,359,000-dot screen. There's both Bluetooth and WiFi connectivity. With the bundle, you also get a backpack, Nikon strap, memory card wallet, Universal Wireless shutter release, SanDisk 64GB memory card, and more.
So, whether it's a starter DSLR like the Nikon D3400 or a more professional D500, there are Nikon bundles for every level of user. If you don't see what you're looking for here, keep searching! Focus Camera offers a wide variety of Nikon bundles to suit diverse needs.