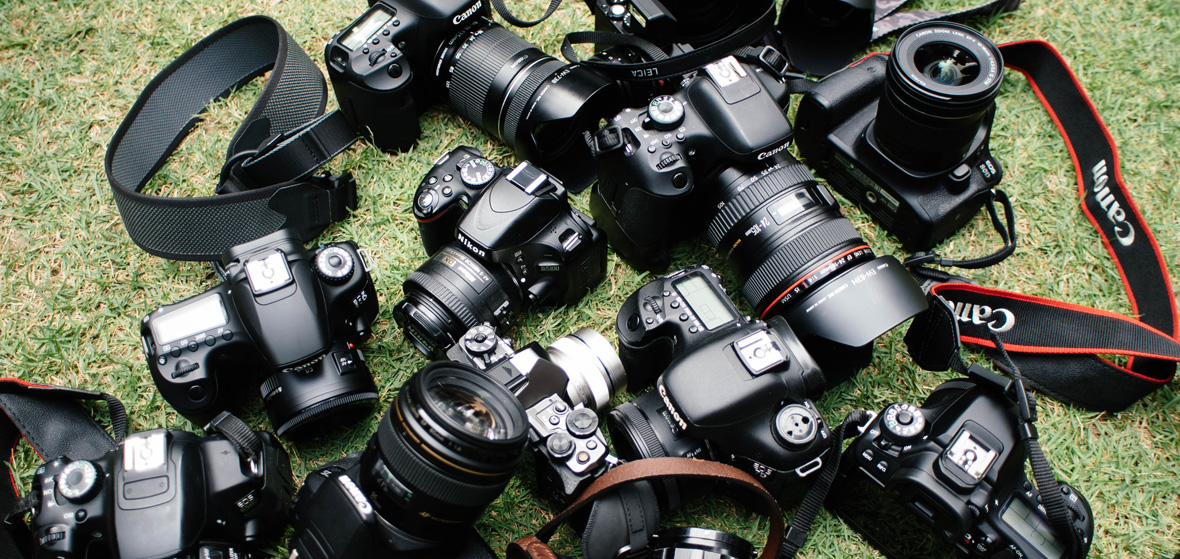 Focus Camera is known for putting together quality bundles that save you money on camera bodies plus lenses and other accessories. For Canon fans, we've compiled a list of our four favorite Canon bundles!
Canon Powershot SX530 HS Camera with 32GB Deluxe Accessory Bundle
This compact beginner point and shoot comes with 50x zoom ratio, an easy to use control layout, a framing assist function, and Canon's Creative Shot mode, which automatically applies special effects and recomposes the shot to emphasize the subject. The 16-megapixel CMOS image sensor is powerful enough for beginners, and supports 1080p video capture. There's no electronic viewfinder, but the price is very agreeable. In addition to the Powershot, this bundle comes with a SanDisk Ultra 32GB SD Card along with a Mini HDMI Cable. It also features a Lithium-ion replacement battery, charger, and 5 piece accessory kit with cleaning gear, a tripod, and more.
Canon PowerShot G7X Mark II Digital Camera with Corel Software and 64GB Bundle
With good photo quality for its class, the Canon PowerShot G7X Mark II doesn't come with a lot of frills – but its solid where it has to be.  While suitable for beginners, it also works as a travel camera for owners of larger DSLRs or mirrorless alternatives. Like the Powershot, there's no viewfinder and only a modest zoom.  However, it features a large (for its size) sensor at 20.1 megapixels with Full HD 60p video recording, a Digic 7 processor, RAW shooting, and Wi-Fi connectivity. The bundle also includes Sandisk Ultra SDXC 64GB Memory Card, as well as a Mini HDMI Cable, a spider tripod, and a Corel Software Kit. It also comes with a Focus Camera Accessory Bundle specially designed for large point and shoot cameras.
Canon EOS Rebel T7i DSLR Camera w/18-55mm lens & 32GB Premium Accessory Bundle
As a step up from point and shoots to a real DSLR, the Canon EOS Rebel T7i is a Canon favorite with solid video and still quality and respectable performance. With the same body as its predecessor, the T7i incorporates advancements like the Digic 7 image-processing engine and Canon's 24MP Dual Pixel CMOS sensor. It also features 45 autofocus points and an intuitive interface system. Some reviewers consider it the best Rebel of a dependable line of Canon DSLRs. The Rebel bundle comes complete with an 18-55mm kit lens, which transitions from wide angle to street and snapshot. There's also a SanDisk Ultra 32GB SD Card, a gadget bag, battery charger, strap, spider tripod, and more.
Canon EOS 6D Mark II DSLR Camera Body with BG-E21 Battery Grip and 64GB Bundle
Featuring high ISO performance, 6.5 fps continuous shooting, Dual Pixel Autofocus in live view, quick 45-point viewfinder autofocus, and an articulating touchscreen, the Canon EOS 65 Mark II is a good full-frame enthusiast camera for photographers who aren't quite up for the professional 5D series. Its water resistant body holds a 26.2MP sensor, which is 6MP more than its predecessor. There's also a remarkable 40,000 maximum ISO, which is expandable up to 102,400. Plus, the bundle comes with a battery grip, battery charger, and camera gadget bag, as well as a 64GB memory card. While the EOS 6D Mark II might not have made many waves when it was first released, the bundle renders it much more appealing.
Canon EOS 5D Mark IV DSLR Camera (Body Only) with Battery Grip and 64GB Bundle
A very well rounded DSLR, the Canon EOS 5D Mark IV features 7 fps burst shooting, Live View AF performance, an advanced AF system, and responsive touch screen. Built around the 30.4MP full-frame sensor, it also features 4K video shooting. While designed for professionals, experienced enthusiast photographers might also find it worth the upgrade. Meanwhile, the bundle comes with a Canon battery grip, backpack, lightweight monopod, battery charger, and ​SanDisk 64GB Extreme Pro Compact Flash Memory Card.
So, whether it's the beginner Powershot SX530 or the professional 5D Mark IV, there are Canon bundles for every level of user. If you don't see what you're looking for here, keep searching! Focus Camera offers a wide variety of bundles to suit diverse needs.