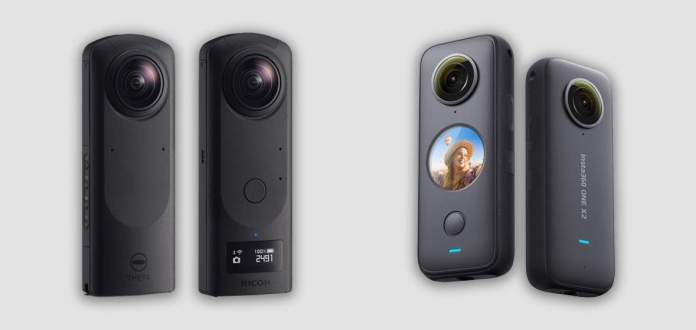 From capturing live sports and action, to shooting a real estate virtual tour, there are numerous personal and professional applications for a 360° camera. As two of the latest and most popular models, the Ricoh Theta Z1 51GB and Insta360 One X2 are direct competitors. However, several key differences indicate they appeal to different kinds of photographers. In this post, we breakdown everything you need to know about the Ricoh Theta Z1 51GB vs Insta360 One X2, so you can make an informed decision about which 360° camera is right for you. 
Build
The Ricoh Theta Z1 51GB and Insta360 One X2 have comparable, pocket-sized builds. They both have a thin, rounded-rectangular shape, dual fisheye lenses, and a simple interface. Additionally, both cameras have a ¼-inch screw socket on the bottom for mounting to a tripod, drone, or gimbal.  However, there are a few important differences.  
Firstly, the Ricoh Theta Z1 51GB is slightly larger, weighing 6.42 oz (182g) and measuring 1.89 x 5.22 x 1.17 inches (48 x 133 x 30mm). On the front of the camera there is a shutter button and a small LCD panel that displays important information such as battery life and shooting mode. Four buttons on the side control power, connectivity, mode, and function.  The camera has a durable magnesium alloy encasing, though no IP weatherproof rating. 
Conversely, the Insta360 One X2 has IPX8 weather sealing (waterproof up to 33ft), weighs 5.25 oz (149g), and measures 1.82 x 4.45 x 1.17 inches (46 x 113 x 30mm). The One X2 has a shutter button and a large, circular touchscreen on its front interface. The touchscreen allows the user to navigate and adjust the camera's settings and serves as a viewfinder. That is, you can see what you're recording, and playback recorded clips. This is a nice advantage over the Theta Z1, which requires you to use the Ricoh Theta smartphone app. 
Camera System 
The Ricoh Theta Z1 51GB has a bigger build most likely due to its more advanced camera system. The camera is equipped with two, 1-inch back-illuminated CMOS sensors. The large, 23MP sensors help the Theta Z1 deliver crisp, high-resolution visuals. Additionally, the camera offers multiple apertures (2.1, 3.5, 5.6), and a flexible ISO range of 80-6400 for both stills and video. The Theta Z1 also offers better flexibility with exposure compensation and white balance. 
The Insta360 One X2 uses two, smaller 1/2.3-inch Sony CMOS sensors, and offers a single aperture stop (2), and smaller ISO range (100-3200). However, the camera does allow you to shoot in either 360° mode, or simply use one lens at a time for ultra-wide panoramic stills and video (Pano mode). The camera also supports both H.264 and H.265 video encoding. 
Both cameras can shoot in RAW (DNG format), however only the Theta Z1 can also export its stills as JPEGs, and its 360° videos as MP4s. The One X2 exports still images in the INSP format, and 360° videos in the INSV format, requiring you to use the Insta360 smartphone app or Insta360 Studio software to open and edit them.  
Image Quality
The Ricoh Theta Z1 51GB offers superior still image quality. The camera captures images with a 6720 x 3360 resolution, versus 6080 x 3040 for the Insta360 One X2. It's also worth noting that the Theta Z1 uses the standard aspect ratio for still photography, 3:2. The One X2 uses 2:1 for its 360° images, a similar aspect ratio to the average smartphone camera.
Video is a different story. The Theta Z1 offers two resolution options: 4K (3840×1920) and 2K (1920×960). While 4K generally means a resolution of either 3840 x 2060 or 4096 x 2160, it technically refers to any resolution with approximately 4000 pixels on the horizontal axis.   
Meanwhile, the Insta360 One X2 captures video with a resolution up to 5.7K. Additionally, it has a video bitrate of 100Mbps, nearly twice the 56Mbps bitrate of the Theta Z1. A higher bitrate means more detail is processed in the image. As a result, despite having a smaller sensor, the larger resolution and bitrate mean you'll get a higher-quality video output from the Insta360 One X2. 
Sound  
Both cameras offer 4 channel sound recording, with 2 microphones on each side of the camera. This allows them to capture a larger, 360° soundscape to match the recorded visuals.  
Storage 
The original Ricoh Theta Z1 was released in May 2019 with 19GB of internal storage. After selling out internationally in February of this year, Ricoh launched a new version of the camera with 51GB of internal storage. The camera can now store over 6000 JPEG images at a time, or approximately 110 minutes of 4K video.  
The Insta360 One X2 uses a microSD card for storage. Insta360 advises it should be a UHS-I V30 MicroSDXC or MicroSDUC. We recommend the SanDisk Extreme PRO UHS-I V30 MicroSDXC, which is available in 64GB, 128GB, and 256GB sizes. It's also good practice to format the card when you first insert it into the camera, to ensure its optimized to record for the One X2.  
Accessories 
Both cameras come with a soft carry case and USB-A to USB-C charging cable. While not included with either model, we recommend investing in a lens guard or protective filter. Due to the bulbous nature of the lenses on both models, you should never place either camera lens-down on a hard surface, as it will likely scratch or damage the lens. You also shouldn't use a tripod or monopod that will easily fall or blow over. 
For the Ricoh Theta Z1 51GB, we recommend the Ricoh TL-2 lens cap and the Ricoh TD-1 monopod. For the Insta360 One X2, we recommend the Sticky Lens Guards and the Bullet Time Tripod Handle, which doubles as a selfie stick.  
Insta360 also manufactures several other cool accessories to pair with the One X2. These include the Invisible Selfie Stick, which digitally removes itself from your photos and videos, and the Bullet Time Cord, which allows you to swing the One X2 on a 43-inch retractable cord. 
Spec Comparison 
The chart below shows a side-by-side comparison of the technical specifications of the Ricoh Theta Z1 51GB vs Insta360 One X2.
Ricoh Theta Z1 51GB
Insta360 ONE X2
Price
$1,046.95
$429.99
Sensor Size
2 x 1.0-Inch Back-Illuminated CMOS Sensors
2 x 1/2.3-Inch Sony CMOS Sensors
Lenses
2
2
Aperture Range
2.1, 3.5, 5.6
2
Still Image Resolution and Aspect Ratio
6720x3360 (3:2)
360: 6080x3040 (2:1)
Pano: 4320x1440 (3:1)
Video Resolution & Frame Rate
4K (3840x1920): 29.97fps
2K (1920x960): 29.97fps
360:
5.7K: 30fps, 25fps, 24fps
4K: 50fps, 30fps
3K: 100fps

Wide Angle (Steady Cam Mode):
2560x1440: 50fps, 30fps
1920x1080: 50fps, 30fps
Video Encoding
H.264
H.264, H.265
Video Bit Rate
4K (3840x1920): 56Mbps
2K (1920x960): 16Mbps
100Mbps
File Format
Still image: RAW(DNG), JPEG(Exif Ver2.3)

Video: MP4 (Image: MPEG-4 AVC/H.264, Audio: AAC-LC (mono) + Linear PCM (4ch spatial audio))
Live streaming: Image: H.264, Audio: Linear PCM(4ch)
Still image: INSP (can be exported via mobile app or desktop Studio), RAW (DNG, must be edited on desktop)

Video:
Steady Cam: MP4
360: INSV
Exposure Compensation
Still image/Video: Manual compensation(-2.0 to +2.0 EV, 1/3 EV steps)
±4EV
ISO
Still image/video: (Auto) ISO 80 to 6400 (Can set upper limit) ISO 200 to 6400 (Manual mode) ISO 80 to 6400 Live streaming: ISO 80 to 6400
Auto, 100-3200
White Balance
Still image/Video: Auto, Outdoor, Shade, Cloudy, Incandescent light 1, Incandescent light 2, Daylight color fluorescent light, Natural white fluorescent light, White fluorescent light, Light bulb color fluorescent light, Color temperature settings (2500 to 10000 K) Live streaming: Auto
Auto, 2700K, 4000K, 5000K, 6500K, 7500K
Exposure Control Modes
Program AE, Aperture priority AE, Shutter priority AE, ISO priority AE, Manual
Photo: Auto, Manual (Shutter 1/8000s-120s, ISO 100-3200), Shutter Priority (1/8000s-1s), ISO Priority (100-3200), Isolated Exposure Video: Auto, Manual (Shutter 1/8000s-1/30s, ISO 100-3200), Shutter Priority (1/8000s-1/30s), ISO Priority (100-3200), Isolated Exposure
Microphone
4-Channel Microphone
4-Channel Microphone
Storage
51GB Internal Storage

Still image:
RAW+: Approx. 900 photos
JPEG: Approx. 6350 photos

Video (time per recording):
4K: Max. 5 minutes
2K: 25 minutes

Video (total recording time):
4K, H.264: approx. 110 minutes
2K, H.264: approx. 360 minutes
UHS-I V30 speed class, exFAT format MicroSD cards with a max storage of 1TB are recommended.
USB
Type-C, 3.0
Type-C, 2.0

Note: This version only supports wired connection to Android devices (via Micro-USB or Type-C). It does not support wired connection to iOS devices. Full wireless support is available for both iOS and Android.
Bluetooth Version
4.2
4.2
Wi-Fi
802.11 a/b/g/n/ac (2.4GHz/5GHz)
802.11 a/b/g/n/ac (2.4GHz/5GHz)
Battery Life
Still image: Approx. 300 photos Video: Approx. 60 minutes
Video (5.7K at 30fps): 80 minutes
Usage Temperature Range
32°F to 104°F (0°C - 40°C)
-4°F to 104°F (-20℃ to 40℃)
Weight
6.42 oz (182g)
5.25 oz (149g)
Dimensions (W x H x D)
1.89 x 5.22 x 1.17 Inches
1.82 x 4.45 x 1.17 Inches
The Verdict 
Housing a superior camera system, and capable of capturing exceptionally high-definition stills, the Ricoh Theta Z1 51GB is certainly worth its $1,046.95 price tag. It's a great option for professionals, such as real estate photographers that need high-quality 360° images for a virtual property tour. 
On the other hand, the Insta360 One X2 offers a superior video performance. With a smaller build and smaller price tag of $429.99, the waterproof camera is clearly targeted at a wider consumer market. Whether you're using it professionally or to record your next vacation, the One X2 makes it easy to capture high-definition 360° or wide-angle video. 
Concluding our Ricoh Theta Z1 51GB vs Insta360 One X2 comparison, we hope it's clear which 360° camera is better suited to your needs. Of course, given their similarly impressive capabilities, we're confident you'll be happy with either one.
Regular price: $1,046.95

Regular price: $429.99

Regular price: $24.95

Regular price: $1,073.95