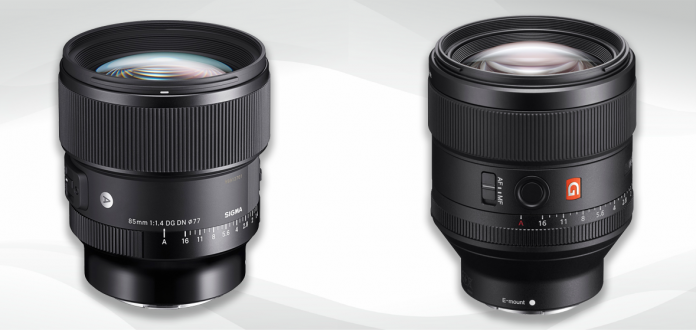 Sony E-mount shooters in the market for an 85mm prime lens face a difficult choice.  The Sony 85mm F1.4 GM or the Sigma 85mm F1.4 DG DN Art. Both lenses have been celebrated for their build and performance capabilities. However, if you're wondering if one of these models is superior to the other, you're not the only one. We decided to compare the Sigma 85mm F1.4 Art vs Sony 85mm F11.4 GM to find out which lens is best. 
The Backstory

 
The Brands

 
Over the last ten years, Sony has established themselves as one of the leading manufacturers of full– frame, mirrorless cameras. For this reason, some photographers prefer to exclusively pair their Sony camera with Sony lenses. After all, who would be better placed to produce a lens that matches the camera's abilities than the same manufacturer? Of course, it's not that simple. 
Sigma is not new to the lens game. In fact, they've been developing high-quality lenses since the 1960s, far longer than Sony. Over the past 60 years they've cultivated a reputation for excellence that has seen the family-owned company become the world's largest independent lens manufacturer.  
In recent years, both brands have released a multitude of high-powered lenses for full– frame mirrorless cameras, particularly in their respective premium lens lines. That is, the Sony G Master line and the Sigma Art line.  
The Lenses
The Sony 85mm F1.4 GM lens was released in early 2016 to instant acclaim. The Sigma 85mm F1.4 HSM Art lens soon followed, although it was not immediately available in Sony E-mount or L-mount. Sigma remedied this in mid-2020 when they announced the Sigma 85mm F1.4 DG DN Art; a new, upgraded version of the lens that was specifically designed for full– frame, mirrorless cameras. 
Suddenly, E-mount and L-mount shooters had a new 85mm prime lens to consider. The Sony 85mm F1.4 GM is a fantastic lens, but it was already four years old when the new Sigma model was released. However, Sony are also known for future-proofing their products. They haven't released a new 85mm F1.4 GM lens because, frankly, they don't need to. The lens easily competes with newer alternatives. The 85mm F1.4 GM is even one of few lenses that can keep up with the Sony a1, Sony's new 50MP camera that boasts a 30fps continuous shooting speed. 
Suffice to say, the Sigma 85mm F1.4 Art vs Sony 85mm F11.4 GM contest has sparked rigorous debate in the photography community. By closely comparing the two lenses, we've identified the strengths and weaknesses of each model. We hope the comparison below helps you determine which lens is right for you. 
The Comparison
Sigma 85mm F1.4 Art vs Sony 85mm F1.4 GM
In addition to comparing the build and technical specifications of the Sigma 85mm F1.4 Art vs Sony 85mm F1.4 GM, we wanted to see how the lenses performed in the field. 85mm is an excellent focal length for portraiture, so we took the lenses to a local park for a small portrait photography shoot. We paired the lenses with a Sony a7 III.
Build
Each lens is housed in a durable, aluminum body sealed against dust and moisture. In addition to a focus ring and AF/MF switch, both models are equipped with a lockable lens hood, customizable AFL button, aperture ring, and aperture click switch. Additionally, the Sigma 85mm offers an aperture lock switch, although this isn't its only advantage. 
The Sigma 85mm F1.4 is lighter and more compact than the Sony 85mm F1.4. The Sigma lens weighs 22.2 oz (630g), versus 28.92 oz (820g) for the Sony lens. Sony's E-mount cameras, especially the a7C, are designed to be ultra-compact, so it's a nice advantage when the lens you're using is equally light and small. 
The optical construction of both lenses is also impressive. The Sony 85mm F1.4 utilizes 11 glass elements in 8 groups, including 3 Extra-Low Dispersion (ED) glass elements and a single extreme aspherical (XA) element. The front element also has a Nano AR Coating for suppressing flare and ghosting. Meanwhile, the Sigma 85mm F1.4 uses 15 elements in 11 groups, with 5 Special Low Dispersion (SLD) elements and 1 aspherical element. These comparable optics ensure both lenses deliver clear, crisp visuals. 
Autofocus

 
Sony cameras are known for their superior autofocus capabilities. However, any camera is limited to what the lens it's paired with can handle. Thankfully, both the Sony and Sigma 85mm F1.4 lenses are equipped with advanced autofocusing mechanisms that allow them to keep up with Sony's in-camera autofocus system.  
The Sony 85mm F1.4 uses an RDSSM (Ring Drive Super Sonic wave Motor) to drive its autofocus mechanism. The piezoelectric motor works in conjunction with dual sensors that detect rotation and lens group position to achieve fast, precise autofocus. The Sigma 85mm F1.4 utilizes a stepping motor for autofocus that is similarly fast and accurate.  
Testing out the lenses in the field, the difference between their autofocus performance was negligible. Both lenses worked excellently with the a7 III's autofocus, including the Eye AF functionality.  The biggest distinction was that the Sony lens emits an audible grinding sound while autofocusing. The noise didn't disrupt or interfere with our shoot; at worst it's slightly irritating. But the Sigma lens was practically silent in comparison.
Image Quality

 
Both the Sigma 85mm F1.4 and the Sony 85mm F1.4 yielded images of excellent quality. The portraits we captured were tack-sharp on the subject, with excellent contrast and color reproduction. Most of the images also had smooth, pleasing bokeh, courtesy of the 11-blade diaphragm of each lens. We didn't encounter any issues with aberrations, ghosting, or flare.  
If there is any difference in terms of overall image quality output, it's minor. We took great photos (and some not-so-great ones) using both lenses, and generally found they were easy to handle, pairing well with the a7 III. 
Price

 
When it comes to price, the Sigma 85mm F1.4 DG DN Art has the advantage. The lens currently costs $1,199. That's $600 cheaper than the Sony 85mm F1.4 GM, which is currently available for $1,798.
Spec Comparison

 
Comparing the technical specs of the Sigma 85mm F1.4 Art vs Sony 85mm F11.4 GM side-by-side helps clarify the minor differences between the two lenses. 
| | Sony 85mm F1.4 GM | Sigma 85mm F1.4 DG DN Art |
| --- | --- | --- |
| Price | $1,798 | $1,199 |
| Size | 35mm Full-Frame | 35mm Full-Frame |
| Mounts | Sony E-mount | Sony E-mount, L-mount |
| Focal Length | 85mm | 85mm |
| Construction | 11 elements in 8 groups | 15 elements in 11 groups |
| Aperture Range | 1.4-16 | 1.4-16 |
| Aperture Blades | 11 | 11 |
| Minimum Focusing Distance | 31.4 inches (80cm) | 33.5 inches (85cm) |
| Angle of View | 29° | 28.6° |
| Filter Size | 77mm | 77mm |
| Maximum Magnification Ratio | 0.12x | 0.12x |
| Dimensions | 3.5 x 4.2 inches (89.5 x 107.5 mm) | 3.3 x 3.7 inches (82.8 x 94.1 mm) |
| Weight | 28.92 oz (820g) | 22.2 oz (630g) |
The Verdict

 
The Sigma 85mm F1.4 Art vs Sony 85mm F1.4 GM is a tough contest. Given that the Sigma lens closely compares to the Sony in terms of performance, while offering a smaller body and more affordable price tag, we feel it is the better value lens. However, given that both lenses offer fantastic performance capabilities housed in a sophisticated build, there is no wrong choice. Either lens would make a great addition to any E-mount or L-mount photographers camera bag.
Regular price: $1,199.00

Regular price: $1,798.00

Regular price: $6,498.00

Regular price: $1,698.00

Regular price: $2,098.00