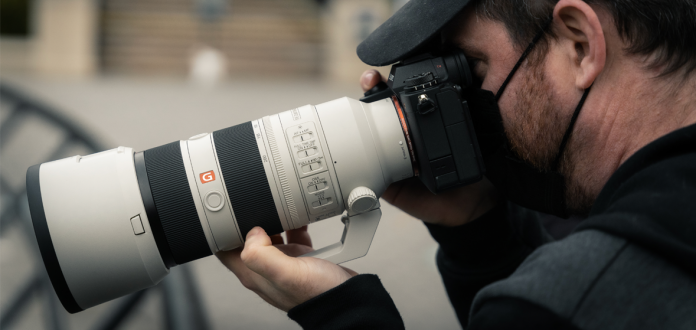 Last month Sony announced the 70-200mm F2.8 GM OSS II lens, an updated version of one of their first and most popular G Master lenses. Courtesy of Sony, we had an opportunity to shoot with the new model to see what's been improved. Here's our Sony 70-200mm F2.8 GM OSS II review.
Build
The original Sony 70-200mm F2.8 GM OSS lens is well known for its fantastic performance capabilities. However, it's also quite large and heavy, especially when paired with one of Sony's compact mirrorless cameras. The lens weighs 3.3 lbs and measures 3.5 x 7.9 inches.
The Sony 70-200mm F2.8 GM OSS II has the same dimensions, yet weighs 30% less than the original. At 2.3 lbs, the new model is also lighter than Canon's RF 70-200mm F2.8 L IS USM lens. This makes the lens far easier to use, especially for longer periods of time. 
Despite the weight loss, the optical configuration of the lens remains impressive. The lens has 1 XA, 2 aspherical, 3 ED aspherical, 4 Super ED, and 5 ED glass elements. Together, these sophisticated optics help the 70-200 deliver the crisp, clear visuals, free of aberrations, that G Master lenses are known for. Meanwhile, Nano AR Coating II helps suppress reflections, flare, and ghosting.
Additionally, the lens features a new 11-blade diaphragm, as well as an aperture ring and click switch on the barrel of the lens. The lens hood has also been updated to make it easier to use circular filters. 
The lens has an enhanced autofocus system, powered by four new high thrust XD Linear Motors. This reportedly enables the new AF to be four times faster than the previous model. Sony also reports that tracking while zooming has been improved by approximately 30%.
In addition to these improvements, the lens maintains all the premium features that made its predecessor so well-received. This includes the built-in image stabilization (Optical SteadyShot) and tripod collar, and multiple lens controls, including a focus range limiter and three customizable focus hold buttons. The lens is also dust and moisture resistant, with fluorine coating on the front element for protection against fingerprints and other contaminants.
Performance
Sony 70-200mm F2.8 GM OSS II Review - Image Gallery
Shooting in Industry City, a popular Brooklyn shopping complex, we paired the Sony 70-200mm F2.8 GM OSS II with a pre-production Sony a7 IV camera. We used the camera and lens side-by-side with the original lens on a Sony a7 III.
As we started shooting, it was immediately clear how much of a difference a 30% decrease in weight makes.  While the new lens may not be small, it was significantly more comfortable to carry and use than the older model. 
Optically, both lenses delivered outstanding results. The images we captured were sharp and clear at every focal point, and we experienced no chromatic aberrations. Additionally, the new aperture unit seemed to help the lens produce more natural-looking, circular bokeh. 
When it came time to test the autofocus, however, the improvements were quickly noticeable. While Sony's mirrorless lenses have always been known for their fast, accurate autofocus, the 70-200mm F2.8 GM OSS II showcases how their technology has evolved in recent years.
The autofocus on the new model was clearly faster than the previous version. Combined with its incredible optical power, the lens makes it easier to capture sharp, rich visuals, even if your subject is moving. Tracking on the lens was superb. Of course, the built-in image stabilization also helped when panning or moving the camera handheld. 
The Verdict 
Considering its build refinements, including a significant decrease in weight, as well as its enhanced autofocus abilities, the Sony 70-200mm F2.8 GM OSS II is a true and clear upgrade. In particular, the faster autofocus and subject tracking is likely to entice professional sports and wildlife photographers, even if they already own the previous model. 
For photographers and videographers deciding between the two, the model you choose should come down to your budget. The older 70-200mm F2.8 GM OSS has a price tag of $2,598, and the new lens is currently priced $2,798.  While an additional $200 gets you the better lens, the original still holds its own against competitors; you won't be disappointed in its performance. Ultimately, it's a win-win situation when you're deciding between two of Sony's G Master lenses. 
Regular price: $2,798.00

Regular price: $2,298.00