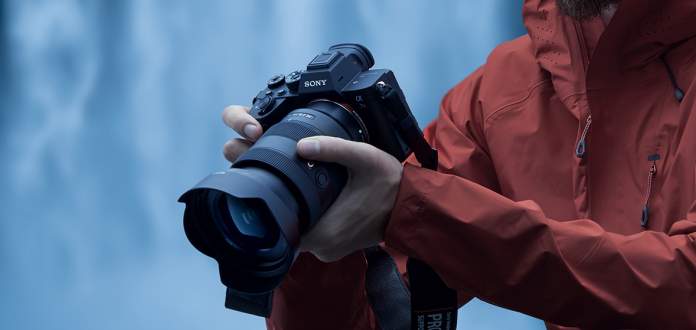 Sony has officially announced the newest addition to its mirrorless family: the Alpha a7R IV. This is a follow-up to the Alpha a7R III released in October 2017. Arguably the megapixel count is the most notable upgrade; the a7r IV boasts the world's first high-resolution 61MP back-illuminated Exmor R CMOS image sensor. There are also a lot of feature updates we're excited to see that we get into in breakdown below.
Along with the camera, Sony also released several new accessories which you can find here.
Sony Alpha a7R IV | Product Shots
Sony Alpha a7R IV vs a7R III
Quality Upgrades
61.0MP Exmor R Sensor
As mentioned above, the Alpha a7R IV features the world's first 35mm full-frame back-illuminated CMOS image sensor with 61MP effective pixels. From what the sample images show, it delivers the same depth and dimension typically associated with medium-format cameras. That back illumination combined with area-specific noise reduction creates a blend of low noise, high sensitivity, and a whole lot of potential.
BIONZ X Processing Maximizes Sensor Potential
Features like "advanced detail reproduction" and "area-specific noise reduction" are made possible by BIONZ X image processing. It's been carefully tuned for the Alpha a7R III to maximize sensor performance and provide about 1.5x more resolution than the lauded Alpha 7R III. The result is extremely fine, realistic reproduction of textures and details.
Sony Alpha a7R IV | Sample Images
Low-Vibration Shutter
Sony redesigned this camera shutter to reduce even the slightest movement that may cause blur, a factor that's especially critical with high-resolution sensors. Engineers added a fast-response coreless motor that cuts down on movement (even at 10fps).
5.76 million-dot UXGA OLED Tru Finder
The Alpha a7R IV boasts a 5.76 million dot UXGA OLED Tru-finder EVF. This is Sony's highest resolution viewfinder ever. For perspective, it has about 1.6x the resolution of the EVF in the Alpha 7R III. 
The goal was to make the view through the viewfinder as true to life as possible. With that in mind, the display quality can be set to 'Standard' or 'High' mode, and to a 60 fps or 120 fps refresh rate. The result is a smooth viewfinder image with minimum blur.
New Features
4D Focus
Now, let's get into new features. The Sony Alpha a7R IV's new image sensor has a whopping 567 phase-detection points in a high-density focal-plane phase-detection AF system. In total, the points cover about 99.7% of the image area vertically and 74.0% horizontally. 
The aforementioned high-density focal plane phase-detection works with 425 contrast AF points in a Fast Hybrid AF system. It's designed to quickly handle massive amounts of data, snapping rapidly into focus with just about any subject and situation. As if that wasn't enough, tracking performance was also improved despite the significant increase in the camera's resolution.
16-image Pixel Shift Multi Shooting
When high-res isn't high enough, there's Pixel Shift Multi Shooting. This mode takes advantage of the a7R IV's advanced in-body image stabilization system to capture multiple pixel-shifted images. Then, it combines them into one composite image using Sony's "Imaging Edge™" desktop app. The result is a remarkable amount of detail in one image, increased resolution, richer color, and better textures.
The Alpha a7R IV produces 16-image composites with approximately 240.8 million pixels from data that is equivalent to approximately 963.2 million pixels. For what it's worth, it can also make 4-image composites that are less detailed albeit still impressive.
Real-time Autofocus Tracking
Real-time tracking employs artificial intelligence to efficiently track moving subjects when shooting stills or movies. You can specify a target by touching it on the monitor when the "touch tracking" function is turned on. 
The system's advanced subject recognition algorithm uses color, pattern (brightness), and subject distance (depth) data to process spatial information in real time. On the other hand, if the subject is a person, AI detects and keeps track of the subject's eyes and face for high-precision tracking. The focus area seamlessly changes between face and eye according to the position of the subject.
Real-time Eye AF For Humans & Animals
We don't often use this phrase, but this feature is a game-changer. The Alpha a7R IV's real-time eye AF use AI to detect and process eye data from moment to moment with unprecedented precision in both stills and video.
You can quickly turn this feature on using an assigned custom key, pressing the AF-ON button, or half-pressing the shutter button. When used with the real-time tracking function, tracking will continue even if the camera is temporarily unable to locate the subject's eye. In addition to automatic eye selection when using Eye AF, you can manually preselect the subject's right or left eye.
Usability & Body Changes
USB-C Sync
In addition to Wi-Fi and wireless PC connectivity, the Alpha a7R IV is equipped with a "SuperSpeed" USB-C port that supports rapid wired data transmission. We raised our eyebrows when we saw the SuperSpeed label. However, it is admittedly pretty super. This addition facilitates almost doubled data transfer speeds with Sony's Imaging Edge software (compared to the Alpha 7R III).
Improved Grip
One of the main usability complaints about the a7R III is its grip. It's definitely usable, but it's not always comfortable to use for long shoots. For the Alpha a7R IV, the grip area was redesigned for greater comfort and a more confident hold. To achieve this, Sony added more room for the pinky finger and middle finger on the overhang.
Dual UHS-II Slots
We are so, so excited to say that the Alpha 7R IV has two media slots. Both of them are compatible with UHS-I and UHS-II SD cards for higher capacity and faster read/write speeds. There are a few options for how you can utilize this extra space. First, is simultaneously recorded to both cards for backup. Second, RAW/JPEG and stills/movies are recorded to different cards. Third, recording is automatically switched to the second card when the first becomes full.
Exposure Compensation Dial Lock
An exposure dial lock release button is newly located at the center of the exposure compensation dial. It can be locked to prevent accidental or unwanted changes or unlocked to allow rapid adjustments in varying light. 
Similarly, custom functions can now be assigned to front dials, rear dials, and the control wheel. In total, three sets of custom functions can be assigned for further versatility.
That wraps up our first look at the Sony Alpha a7R IV. Let us know what you think in the comments below!
Regular price: $3,498.00

Regular price: $598.00

Regular price: $398.00