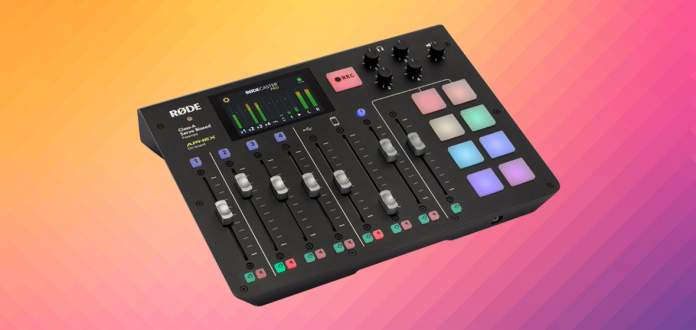 In this post, we dive into the specs and features of the Rode RODECaster Pro podcast production studio.
A Note About Podcasting
If you pay even a modicum of attention to the news or pop culture, you've heard of podcasting. However, in the event that you haven't, podcasts are a series of audio recordings documenting a particular story, topic, or theme.
For example, the popular podcast Serial is the story of a real-life murder mystery set in Baltimore, MD. The first season of the show is broken up into 12-episodes that are roughly 45 minutes long.
That little series was downloaded an eye-popping 175 million times as of June 2017. The show's massive following is positively correlated with a larger trend: podcasting's overall rise in popularity.
According to the New York Times, more than half the people living in the United States have listened to at least one podcast. Similarly, 40% of people between the ages of 12 and 24 listened to a podcast last month; that's a 10% jump up from 2018.
However, listeners are only half of the equation. 
Today, many people—armed only with an idea—try to start their own podcast with no prior knowledge of sound engineering or audio recording. The result is a lot of (rightfully) perplexed individuals who don't know what kind of equipment they need or where to start.
The RODE To Knowledge
Microphone and recording juggernaut RODE is one of the companies currently inundated with confused, would-be podcasters interested in putting together a recording setup. 
What kind of equipment do I need? Can I have multiple guests? What if I need someone to call in during a recording? What if I want to add music during my show?
To answer the cries of the masses, RODE released the first all-in-one podcast production studio: the RODECaster Pro. It's simple, highly intuitive, and we can't believe it took someone this long to make one.
We can not stress enough that this little sound interface is the only thing you need to record and engineer a podcast. Well, this and however many microphones you need for your show.
Now, let's talk about why.
There's Room To Grow
The most impressive thing about this device is how much functionality it fits into one relatively small device. In total, the RODECaster Pro gives you access to:
4 XLR microphone inputs

1 Bluetooth and 1 TRRS connection for mobile devices

4 monitoring headphone outputs

8 programmable MIDI pads
That amount of flexibility allows you to expand the scope of your production, learn more about the ins-and-outs of podcasting, and hone what you want your show to be.
It Has An Absurdly Easy Interface
Right off the bat, this is a nice looking device. It has sleek metal controls and the bottom is made of sturdy plastic with rubber feet. The end result is a professional-looking, light-weight device that looks nice on your desk.
As for the controls themselves, you can choose to adjust individual channels via the buttons labeled 1-4 on the upper left of the board and the touchscreen monitor. Every channel has a dedicated fader and mute button.
That brings us to the screen. The little touchscreen on the top of the board is the key to what makes this device a stand-alone product. It also allows sound engineering newbies and visual learners alike to understand what the heck an aural exciter is and how to turn it on and off.
Adding Calls 
Keeping with the convenience theme, adding calls to podcast recordings used to be an involved process; RODE made it easy. 
There are two ways to connect your phone with the RODECaster Pro: via Bluetooth and TRRS. Using the TRRS port is as easy as plugging in your phone. Similarly, connecting to this mixer via Bluetooth is like pairing your phone with a speaker—quick, easy, and familiar.
Once a smartphone is connected, you have the same amount of control over that audio as you do with your own microphone. You can also use those two channels to stream music and calls from Skype, Slack, Line, etc. 
MIDI Board
Normally, we would not describe using a MIDI board as "simple." That said, RODE might have achieved the impossible (the built-in screen definitely helps). 
To add sound effects to your recordings, tap the touchscreen and navigate to the sound settings. From there you can assign sounds to specific pads, change sound effects, and add songs, intro music, and any other audio you can think of. To play them during a recording, just tap the MIDI pad to which you assigned the sound.
It's Self-Sustaining & Portable
You don't need a computer to record. So, as long as you have a power source, you can use this portable podcasting studio just about anywhere. The RODECaster has a MicroSD card input on the back of the device for data storage. Plus, you can see how much available recording time you have on the top right of the device's screen.
This is especially advantageous if you're mixing a live podcast in real time. The RODECaster also has two speaker outputs for studio monitors to play your show to an audience.
All of that said, if you want or need a computer connection, there is a bidirectional USB-C connector to simultaneously record to your computer and the MicroSD.
In Conclusion
The RODECaster Pro is the answer to our beginner and semi-pro podcasting hopes and dreams. It's a one-device audio engineering studio that you can carry around on your back. Plus, it has room for expansion and experimentation to work out both your sound and your narrative.
Regular price: $599.00

Regular price: $74.95

Regular price: $89.99

Regular price: $184.99

Regular price: $139.00