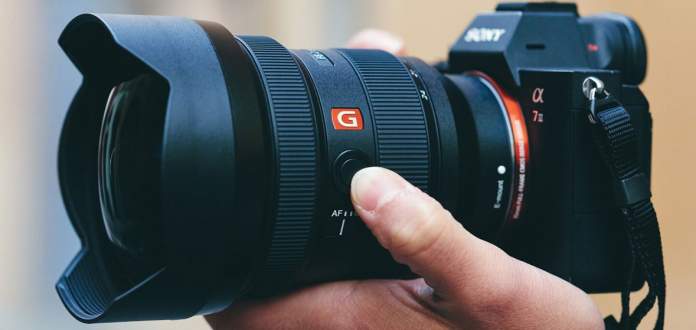 Sony's 12-24mm f/2.8 from the Premium Master G Series is a fantastic ultra-wide-angle lens option for photographers in architecture and landscape photography. Designed for full-frame, APS-C and Super-35 cameras, the lens is versatile for capturing both stills and video.  Here's our Sony FE 12-24mm f/2.8 lens review.
Lens Specs for Sony's 12-24mm f/2.8
This wide-angle lens features a fast, nine-blade f/2.8 maximum aperture. Featuring an ultra-wide 12-24mm focal range, the versatility in this ultra wide-angle zoom allows photographers to stray from prime lenses. The lens, like its predecessors, is dust and moisture resistant, which is crucial for many nature and outdoor photographers.
The front of the lens is somewhat bulky, requiring 150mm filters. However, it still has a relatively compact size for a wide-angle lens. Weighing 29.9 oz (847g), this Master Lens is more portable than many wide-angle zoom alternatives. It also features an integral, non-removable lens hood to control flare. This lens additionally includes a rear filter slot, an alternative to using the front end.

Build Quality of the Sony FE 12-24mm f/2.8 Lens
Though pricier than its competitors, like the Sigma Art 14-24mm f/2.8, the image quality and build of the lens may justify the price tag. Anti-reflective Nano AR Coating II on the surface of the lens helps suppress internal reflections and minimize flare. This helps the lens produce sharp, clear imagery. Even when shooting in low-light situations, the lens is designed to retain high clarity throughout the image.
Chromatic aberrations are minimized by a floating focus mechanism, dividing the focus group of the lens into two independently controllable groups. This is exceptionally effective in minimizing the aberration that may come with varying focusing distances. The floating focus mechanism allows the Sony 12-24mm f/2.8 lens to produce outstanding sharpness at any distance.
How Sharp is the Sony 12-24mm f/2.8 lens?
With a minimum focusing distance of 0.92 ft (0.28m), the Sony 12-24mm f/2.8 gets up close and personal. This Sony lens gives minimal distortion acting as a macro lens, and for wider scenes distortion is negligible if any. The overall performance of this zoom lens through all apertures and focal lengths is superb.
The sweet spot of this Sony FE 12-24mm f/2.8 is between f/8 and f/11, with a loss of sharpness only becoming noticeable at f/22. Any noticeable vignetting takes place at f/2.8, while no longer visible at f/4 and beyond.
An Overall Review of the Sony FE 12-24mm Lens
A compact and versatile lens, this new addition to Sony's Premium Master G Series has received praise from photographers and filmmakers alike. With the incredible optical design, the Sony 12-24mm f 2.8 lens brings another excellent piece into the Sony full-frame E-mount family. While the price tag may be higher than other super wide-angle lenses, the quality of the Sony 12-24mm Master G Series lens is worth it based on build alone.