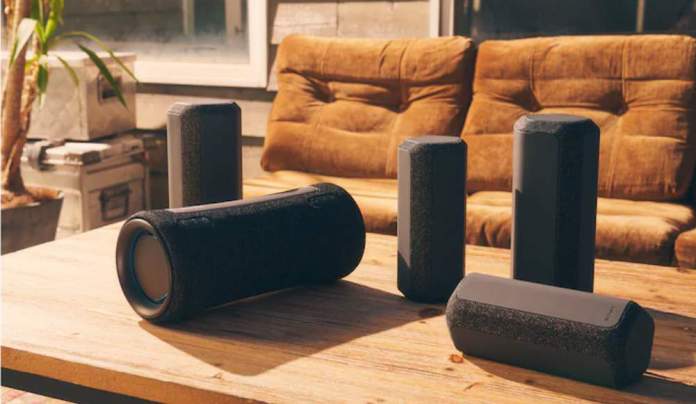 Sony released the SRS-XE200 & SRS-XE300 X-Series portable Bluetooth speakers with great traveling and outdoor listening features. These portable speakers enhance sound in every way and are perfect for a good listening experience anywhere for any occasion. If you need speakers for pool parties, at the beach, for camping, or at a backyard BBQ, the new SRS X-series speakers deliver. The best part is, for having such high-end attributes, they still come at an affordable price of $128 (XE200) & $198 (XE300).
Table of Contents
Build & Design
The XE300 dimensions are 105mm x 238mm x 119mm, with the XE200 being slightly smaller; both suitable for practical portability. They have pentagon-like shapes and a small strap to be easily held or relocated. You can tie it to your backpack and listen as you hike or thread your hand through the straps and take it on the go.
Outdoor & Travel Features
These XE300 have long-lasting battery life for up to 24 hours of jamming out (16 hrs for the XE200). If you're in a hurry, a 10-minute charge will get you well over an hour of battery life for quick trips. The elements aren't a factor with its IP67 rating for solid water and dust resistance features. So, bring it with you camping, at the beach, or carry it by the pool without worrying about water damage and dirt.
Learn all about IP Code ratings here.
What About Sound Quality?
These X-series speakers may be small, but their functions and designs are made for high-quality sound and loud amplification. Some speakers struggle to distribute sound well. However, the XE300 uses a Line-Shape Diffuser for a more crisp and fuller sound all around. Have you ever shifted your speaker, and suddenly there's a significant drop-off of sound? The Line-Shape Diffuser does a great job distributing the front-facing sound evenly from all angles (as seen below).
The X-Balanced Speaker Unit is also non-traditional because it ditches the circular diaphragm look used by most speakers. Instead, the diaphragm is widened for maximum pressure, creating less distortion and more precise sound. Plus, the dual passive radiators produce a powerful bass that bumps very well.
Bluetooth Speakers Features
Heck yeah, you can connect multiple Bluetooth speakers at once. One of the best features of the XE300/XE200 speakers is that you can connect up to 100 speakers! Connect to multiple Bluetooth devices using the Multipoint Connection feature.
Learn how to connect multiple Bluetooth devices here or how to play multiple Bluetooth speakers at once using the Sony | Music Center app.
Verdict
These speakers have some staple features regarding sound quality and a top-tier listening experience. They aren't overpriced, especially regarding their excellent durability, usage, battery, and other functions. The XE300 and XE200 are well worth the purchase.
Where will you take your speakers next?
Regular price: 198.00

Regular price: 128.00

Regular price: 348.00