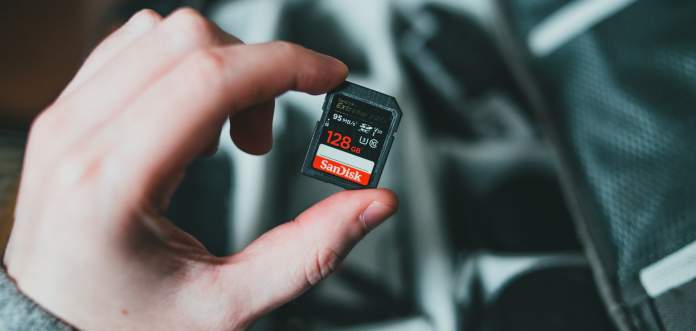 If the goal was to bewilder as many people as possible with the increasing variety of memory cards, card manufacturers are undoubtedly succeeding. New photographers and videographers are constantly struggling to discern the difference between an SD card vs CompactFlash card vs XQD and so on. Additionally, it only gets more confusing when you factor in card transfer speeds for various cameras. So, let's do a deep dive into camera memory cards and the key features that distinguish them from one another.
Want to learn all about the SD speed class and specs? Click here.
The Nikon 660GB CFexpress Type B memory card was recently released, adding another card to the never-ending evolution of memory cards. Having more options is an excellent thing for the photography and videography community. However, the more cards released, the more questions that surface.
It feels like card manufacturers are dishing out new cards faster than a dealer during a casino's grand opening. So, if you need a refresher on the different memory cards and their varying features, you're in the right place. This post will highlight the differences between popular memory cards today and hopefully aid you in your next purchase. 
Table of Contents
What Are SD Cards for?
SD cards are small and easy to forget, but they play a significant role in photography, videography, smartphones, printers, drones, gaming consoles, and much more. For relevance, we will stick to SD cards in relation to camera and video, plus the bigger spectrum of memory cards, including Compact Flash, XQD, CFast, and more.
Memory cards allow you to save and store what you digitally capture using flash memory, otherwise known as a non-volatile storage device. Meaning the device being used does not require power to store data and will not lose data when the device is powered off. The data on the memory card can be written and erased electronically as well as reprogrammed. 
Popular Memory Cards Used in Photo & Video
Today, several memory cards are created by companies and associations like SanDisk, Sony, Nikon, Kingston Technology, Lexar, Samsung, Toshiba, and more. The progress of improved memory card technology has been swift and influential to filmmakers and photographers everywhere. But, this is the same reason your head might spin when you think about all the numerous cards and their respective speeds and capacities. Here's a list of a few of the different types of memory cards out today: 
CompactFlash (Type I & Type II)
CFast
XQD
CFexpress (Type A, B, C)
SD (secure digital)

microSD
SDHC (secure digital high capacity)
SDXC (secure digital extended capacity)
SDUC (secure digital ultra-capacity)
SDexpress
What Is Card Read & Write Speed
Write Speed:

is measured in MB/s (Megabytes per second) and refers to the action of new data being created (or written) on an SD card (camera to card data transferring)

Read Speed:

The read speed refers to when the data is transferred (or read) from the SD card to your computer or device (card to computer).
(If a card has one number on the front for speed, it is typically the read speed due to the fact it's usually the bigger of the two numbers.)
As stated before, click here for the complete rundown of card speeds and specs. 
A Look at Card Compatibility 
It's important to note that not every card is compatible with every device, some cards are interchangeable, but the range of devices varies depending on the card or card reader. The camera or equipment you use will determine which card you should buy and shouldn't be overlooked. For instance, SD cards are interchangeable with devices supporting SDHC, SDXC, or SDUC. 
However, you also have the SDUC card, which can only be used in SDUC compatible devices because it's the latest version.  In contrast, SDXC memory cards can be used in SDXC and SDUC compatible devices. 
Some cameras will have dual memory card slots as well, like the Canon EOS R5, which can house SD cards in one slot or the CFexpress (type b) in the other. It can sometimes get confusing; however, knowing your camera's card compatibility is essential to ensure you're ready to capture correctly.
This image is an excellent visualization of which SD cards are interchangeable with their respective supported devices. 
How do you know which memory card your camera will take? No need to guess and waste your time and money. Simply look at your product manual or the site of the brand manufacturer, and voila, you have your answer!
CompactFlash
First developed by SanDisk in 1994, the CompactFlash card is also referred to as the CF card for short. These cards are big and sturdy, making them useful for photographers who require more durable gear for harsher gigs or environments. There are a bunch of data storage sizes for CF cards ranging from 2 GB to 512 GB. 
It's good to note that the latest CF cards now operates using a UDMA 7 mode (Ultra Direct Mode Access 7) which is supported by a UDMA interface. SanDisk made this decision years ago to fully optimize the card speed to a maximum theoretical speed of 167 MB/s. However, the device you use the card on must also support UDMA tech to take advantage of these full capabilities. 
The size capacity and the minimum read and write speeds can be seen on the front of the card. They come in two formats, either type I or type II, the latter being able to store a lot more data. Once upon a time, CF cards faced a long and drawn-out demise due to a lack of popularity and camera compatibility. However, that's been put at bay because of their high use in the more professional-grade DSLR cameras.
Max Speed:

167 MB/s

Dimensions:

(Type I) 43 x 36 x 3.3 mm 

(Type II) 43 x 36 x 5 mm 

Cameras that use CF cards:

Canon 

EOS-1D X Mark II

Canon EOS 5Ds

Canon EOS 5DSr

Capacity:

2 GB 

64 GB

128 GB

256 GB

512 GB

512 GB
Related post: 6 Fool-Proof Ways To Avoid Corrupted SD Cards
CFast cards
Next is the CFast card, often confused with CF cards due to similar names and dimensions. However, CFast cards are essentially a better, faster, more expensive, and more efficient version of the CF card. CFast cards are built with faster read and write speeds and are better equipped for data storage. In addition to this, they're less prone to damage. However, the CFast market price is much higher than a standard CF card.
It has a faster data transfer rate than the CF card because it uses a SATA3 interface. Cards such as the Sandisk Extreme PRO 2.0 can have read speeds up to 525/MBs and write speeds up to 450/MBs, making them highly suitable for professional-grade cameras. 
Max Speed:

525 MB/s

Dimensions:

8 mm x 36.4 mm x 3.3 mm 

Cameras that use CFast cards:

Canon EOS C300 Mark II

Canon EOS C200

Canon 

EOS-1D X Mark II

Capacity:

64 GB

128 GB

256 GB

512 GB
Related post: SanDisk CFexpress Memory Cards Give Nikon Z Photographers More Flexibility
XQD Card
Another successor to the CF card was the XQD card, introduced by the CFA in 2012. The XQD card uses a PCIe interface (much faster than SATA) and is geared toward camcorders and high-res mirrorless and DSLR cameras. XQD cards possess pins designed not to bend and to protect from external elements such as dust, high temperatures, magnets, or electrical surges. 
Cards like the XQD G series can have read speeds up to 440MB/s and 400 MB/s, twice the rate of a typical CF card. They're usually used by professional-grade Sony and Nikon cameras and are also suitable for smooth 4K videos and lots of RAW burst shooting. 
Max Theoretical Speed: 1000 MB/s
Dimensions: 

5×29.6×3.8mm

Cameras that use XQD cards:

Nikon D4(s)

Nikon D5

Nikon D6

Nikon Z6

Nik

o

n Z7

Capacity: 
CFexpress card
Next comes the CFexpress card, the latest and most competent card announced by the CompactFlash Association (CFA), running on a PCIe 3.0 interface. It can offer 1-4 lanes of transfer at 1 GB/s per lane, completely outdoing the XQD with powerful performance and speed (however, this doesn't always mean it's the best card for your camera). The ability to capture 8K videos, drastically reduce photo buffer time, hold large capacity, and keep up with high-demand camera features bring CFexpress cards to a slightly higher price than XQD cards.
The CFexpress card has three types of form factors containing different data transfer speeds – Type: A, B, and C. Type A being the smallest to Type C the larger of the 3. Type B is in the middle, with a form factor identical in size to XQD cards, with the ability to be interchanged in a compatible device. The same goes for the physical size of Type A cards and SD cards. Each card "Type" has a different number of PCIe lanes (1-4).  Type A has one – Type B has two – and Type C has four lanes with the fastest data transfer potential. 
Max theoretical Speeds: Type A 1 GB/s, Type B 2 GB/s, Type C 4 GB/s
Dimensions:

Type A: 20mm x 28mm x 2.8mm 
Type B: 5 x 29.8 x 3.8 mm 
Type C: 54 x 74 x 4.8 mm

Cameras that use CFexpress cards:
Type A
Type B

Nikon D4S
Nikon D5
Nikon D500
Nikon Z6/7

Type C
Capacity:

120 GB
256GB
512GB
1TB
2TB
4TB
Secure Digital Cards (SD Cards)
Secure Digital (SD cards) were first developed a few years after the CF card (1999) by a collaboration between Matsushita, Toshiba, and SanDisk. They helped to create the SD Association (SDA), an organization designed to assist in establishing industry standards for memory card storage. SD cards are among the most popular and widely used memory cards today.
SD cards are much lighter, less expensive, and smaller than your standard Compact Flash. However, this means they're more susceptible to potential external damage. SD card dimensions are smaller than that of a CFexpress or XQD card. As stated, some cameras will contain dual slots, one for the SD and the other for the CFexpress or  XQD card for recording convenience. The SD is put together by a 9-pin socket structure and doesn't typically transfer data as fast as XQD or CFexpress cards but closes the price and availability gap. Lexar has recently developed the SDexpress card to compete with the popular, growing and influential CFexpress card, but it still has a ways to go before we start seeing a rise in popularity and use. 
Dimensions: 32.0×24.0×2.1 mm
Cameras that take SD cards:

Nikon D3500
Canon EOS M50

Capacity:
SD card – 2 GB
SDHC cards 

(High Capacity) – store between 2 GB to 32GB.

SDXC cards

(Extended Capacity) – store between 32 GB to 2TB.

SDUC cards

(Ultra Capacity) – store between 2 TB to 128TB
Take Away
The number of cards available will only get more extensive and diverse as technological achievements are made. However, memory card adapters and continuous firmware updates significantly allow card flexibility for filmmakers and photographers. When searching for your next memory card, you should keep compatibility, capacity, and transfer speed in mind. Working event photography or high-paced shooting sessions will call for short buffer times between photos and quick data transfers. Be aware of these concepts, and you will be well prepared when exploring memory cards.  
Which cards do you prefer for photography or video? Are you in need of a new card? Explore tons of options here.
Regular price: 49.99

Regular price: 9.99

Regular price: 88.00