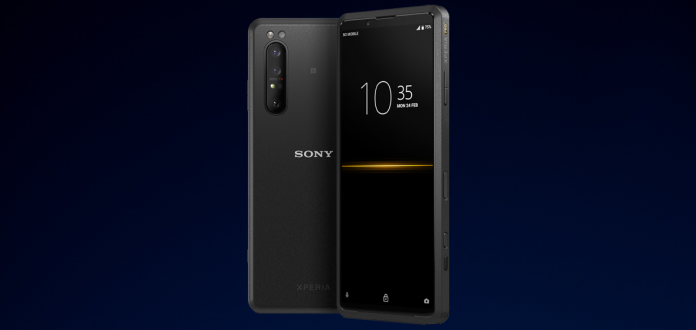 Sony's latest smartphone, the Xperia PRO, is now available for pre-order. The PRO was actually announced last year, along with Sony's flagship smartphone, the Xperia 1 II. The phones are very similar, yet there are some differences, including a $1300 price disparity. We compare the two phones in our Sony Xperia PRO review below.
When the Xperia 1 II was released last year, it quickly attracted wide acclaim for its incredible photo and video capabilities. However, one major setback was that it didn't support 5G (in the US only). Considering its $1,198 price tag, that made it difficult for the phone to compete with the latest iPhone and Samsung devices.
The Xperia PRO does not have the same problem. Featuring 5G mmWave and 5G Sub-6 technology, the PRO offers a remarkably fast, reliable signal. This enables the phone to support high speed data transfers and wireless live video streaming.
However, before we get into that, let's take a look at what the new phone has in common with the Xperia 1 II. 
Another Smartphone for Photographers
In our Sony Xperia 1 II review, we called it the perfect smartphone for photographers and videographers.  The same can be said of the Xperia PRO. In fact, it has everything the Xperia 1 II has, along with some major enhancements. 
The phones were co-developed with the engineers behind Sony's a9 and a9 II cameras. They're equipped with the same triple lens camera and powerful back-illuminated Exmor RS image sensor. The camera uses Zeiss optics and can handle up to 20fps continuous shooting, with autofocus and auto exposure continuously calculated up to 60 times per second.  The 247 point phase-detection autofocus system covers 70% of the sensor, making it incredibly fast and reliable. Sony's signature Eye-AF is also supported for both people and animals.
Unusual for smartphones, both models allow you to manually control camera settings such as the ISO, aperture, and shutter speed. Additionally, you can output to RAW and shoot 4K video at up to 120fps. There are also multiple apps you can download that further expand each phone's photo and video capabilities. If you're looking for a device that blurs the line between cellphone and professional-grade camera, you'll be very happy with either one. 
The Xperia 1 II and PRO share more than a camera. Both phones use a powerful Snapdragon 865 processor, 4000 mAh battery, and have IP65/68 weather sealing. They also each have a 6.5'' 21:9 CinemaWide™ 4K HDR OLED display, headphone jack, and front-facing stereo speakers. 
The phones compare favorably to their competitors. However, their advanced camera capabilities equate to a premium price tag. You could almost place them in a different product category. They aren't camera phones so much as they're camera-phone hybrids. 
Unique Features of the Xperia PRO
The pre-order price of the Xperia PRO is $2,498.99. While steeper than the Xperia 1 II, additional features on the phone make it clear it was designed for professional content creators and broadcasters. 
As mentioned, the Xperia PRO features state of the art 5G technology. The phone's 5G mmWave antenna utilizes a 360 degree design. This allows it to capture high-band frequency signals from all four sides of the phone. Together with beamforming technology and low dielectric constant material in the chassis, the phone is optimized for an ultra-fast and reliable 5G signal. Unsurprisingly, this means the Xperia PRO is a little larger than the Xperia 1 II.
The Xperia PRO is also the world's first smartphone to support HDMI input. This enables you to tether the PRO to your camera and use it as a viewfinder or external monitor. The 4K OLED display offers excellent image and color accuracy, and there are controls for zooming, adjusting the brightness, and adding grid lines.
You can also use the HDMI connection to live stream a clean video feed from your camera straight to YouTube (or another platform) via 5G. The aptly named Endurance Mode feature ensures efficient data transfer via 5G for longer periods of time. The phone even helps you find the best signal spot for a livestream when recording on location.
Should I buy the Xperia PRO?
Like the Xperia 1 II, the PRO offers incredible photo and video functionality for a smartphone. Additional features such as the 5G mmWave four-way antenna and HDMI input further qualify the Xperia PRO as the perfect smartphone for professional photographers and videographers.
The price may be high, but if you consider that the Xperia PRO is effectively a smartphone, high-grade camera, external monitor, and 5G livestreaming tool in one device, it's a great value deal.