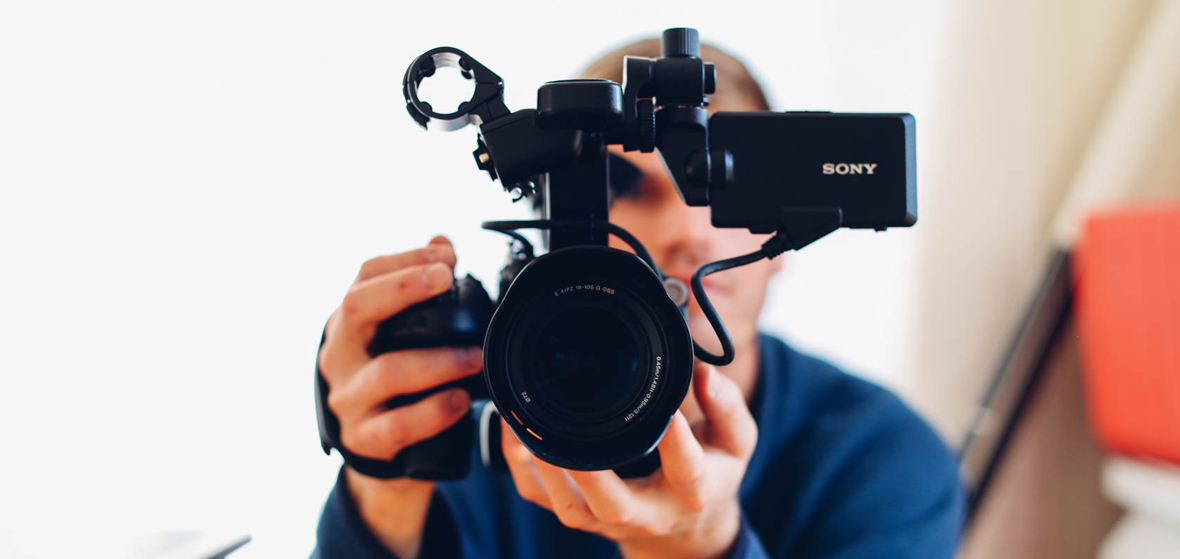 A vlog is just a blog that contains video content. Lots of people vlog nowadays, especially as equipment becomes cheaper and more accessible. While we can't each you what to vlog, we can tell you what equipment you'll need to get started.
Camera
Obviously, you need a camera. While we tend to suggest cameras with 4K video and rotating screens, any camera will do to start. (As in, if you already own a camera, just experiment with that first!) However, if you're in the market for a vlogging camera specifically, then we recommend one of these four.
RX100 Mark VI
While not a DSLR, mirrorless or an action camera, the RX100 Mark VI is a pocket-sized point and shoot with a full zoom range. In addition to 4K movies recorded at full pixel readout (with reduced moiré and jaggies), the Mark VI offers fast hybrid AF for precision tracking. While you won't necessarily need to track fast movements in everyday vlogging, it always helps to have options. For B footage, you can also opt for super slow motion.
Panasonic Lumix G7
Jumping from beginner to intermediate blogger, the Panasonic Lumix G7 is another excellent choice. Super light at 14 ounces, it's portable for vloggers on the go. It also shoots 30fps at UHD 4K and 60fps at 1080p, both as MP4s. With a fully articulating swivel screen, you can see yourself during the recording. Plus, the external microphone port on the left side lets you plug in external microphones to improve audio recording quality. The menus are also particularly accessible and easy to use.
GoPro Hero 7
As an adventure vlogger, you can't go wrong with a GoPro Hero 7. There's gimbal-like stabilization (without the gimbal) for very smooth 4K video. It's also tough and waterproof down to 33ft. If you want to create vlogs for Instagram, this GoPro offers vertical video, too. For effects, there's super smooth, stabilized time lapse video. However, audio without an external mic brick is lacking, so we recommend buying the attachment.
Canon EOS T6i
Great for recording videos at home, the Canon Rebel T6i marks a few improvements from the T5i with better autofocus and the addition of a WiFi feature. Plus, you have access to Canon's STM silent lenses, so you won't hear their lenses making noise in your recording. Like the Panasonic G7, the Canon EOS T6i features an articulating screen, so you can check yourself in the shot. For YouTube vloggers, there's also a feature that lets you combine small clips together to save editing time.
Tripod
In addition to a camera, you need to invest in some other tools like a tripod. A tripod steadies the camera and makes the whole production look more professional, less like — erm, vlogging. If you invest in nothing else besides a camera, make it a tripod.
Sony VCT-SGR1 Shooting Grip and Tripod for Compact Cameras
While only for Cyber-shot cameras, the Sony VCT Shooting Grip and Tripod is perfect for vlogging, travel photography and video shooting. It converts easily from a hand grip to a stable mini tripod with adjustable shooting angles. Meanwhile, a multi USB terminal allows you to control capture and zoom, including the shutter button.
Slik U9000 Tripod
Ideal for video thanks to its smooth 3-way fluid effect pan head, the Slik U9000 Tripod features quick release shoe for easy mounting and removal. It's also super light to carry traveling or filming outside the home.
Vanguard Alta Pro 2 264AP Aluminum Tripod with PH-32 3-Way Fluid Pan Head
With a 3-Way Fluid Pan Head, this Vanguard is another great option with fantastic ergonomics. It bears a maximum payload of up to 11 pounds, but extends to a generous height of 64-inches with 4 leg position angles. The advanced twist lock features "lock" or "unlock" to ensure instant leg extension/contraction.
Microphone
If possible, don't rely on your camera microphone. Get a real microphone. Apart from video quality, sound quality is the next thing people pay attention to. Don't let your wonderful content suffer because nobody can hear you!
Rode Microphones VideoMicro On-Camera Mic w/ Rycote Lyre Shock Mount
This compact microphone mounts to the top of a camera for better audio quality in videos. It utilizes a cardioid condenser microphone capsule to filter peripheral audio and hone in on what's happening directly in front of the camera. It also includes a camera shoe mount that features a Rycote Lyre shock with a suspension structure composed of durable thermoplastic, which minimizes unwanted vibrations.
Tascam DR-10L Compact Digital Audio Recorder and Lavalier Mic Combo
As a lavalier, this microphone is great to track subjects on the move. It offers professional sound and simple clip-on construction. As a safety precaution, the Tascam DR-10L Compact Digital Audio Recorder captures two recordings simultaneously at different levels to guard against sound distortion.
Blue Microphone Yeti USB Microphone
For stationary vlogging, the Blue Yeti USB Microphone offers a sturdy stand, as well as gain control, mute button, zero-latency headphone output. It's studio-quality, versatile, and lets the recorder select between stereo, cardioid, omnidirectional, or bi-directional polar patterns for optimal results.
Vlogging is a great way to edge into video content. You need a camera that specializes in video, a sturdy tripod, and a microphone to get started.