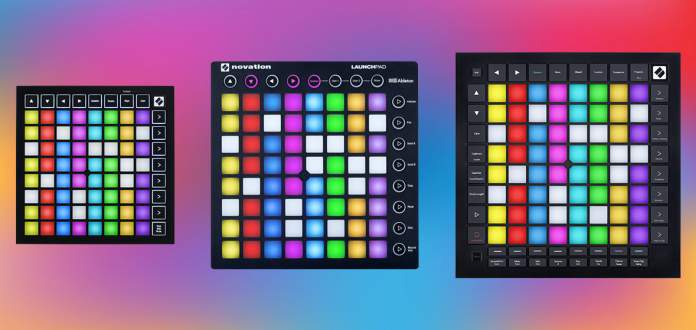 If you're even remotely familiar with the electronic music scene, you've heard of Novation. The company develops a wide array of composing and DJing equipment including Launchkey keyboards, synths, grooveboxes, and (of course) the Novation Launchpad.
Are you looking for a different comparison in the Novation or Focusrite family? If so, we also think you should also check out:
What's a Launchpad?
People primarily use MIDI devices to arrange and manipulate audio clips in conjunction with audio editing software like Ableton (more on that in a moment). As described in our post about MIDI keyboards, a MIDI controller is a standard piece of hardware often found in the electronic music scene. When "played" it triggers sounds assigned to the device's individual touchpads by the user.
There are three Novation Launchpads to consider: the Launchpad Mini MK3, Launchpad MK2, and Launchpad Pro. The functionality of all three is almost exactly the same with a few key differences including size, on-board settings, and customization.
All About Ableton
All three Launchpads come with Ableton Live Lite. Ableton is a DAW (digital audio workstation) utilized for track creation, performance, light shows, and spur-of-the-moment improvisation. It's important to note that these devices come with Ableton Live Lite, which—while lacking some of the functionality provided by paid versions of Ableton Live—does an amazing job. This is especially true if you're just starting out in electronic music.
Novation Launchpad Mini MK3

Perfect for: people on a budget, DJs on-the-go, those with little-to-no studio space
Technically, there is no "introductory" or "beginner" Launchpad; as mentioned above, the core functionality across all three is nearly identical. However, the Novation Launchpad Mini MK3's price makes it a bit more accessible to those just starting out.
As its name indicates, the key selling feature of the Mini is its size. It features an 8×8 grid of pads at ⅜ scale and only weighs about .84 lbs (381 grams). It is considerably smaller and thinner than its larger counterparts making it the perfect travel companion. Plus, unlike the MK2, the MK3's colors are not limited. It's a great choice for overall functionality and if you're investing in a Launchpad for light shows.
There's only one con for new users. The pads aren't labeled with their functions in an effort to save space on the device. However, if you're still learning (or just want to reference commands at-a-glance) you can always get label stickers to place on and around the pads.
As for software, the Mini comes with Ableton Live Lite, 4GB of Loopmasters Samples, Novation Bass Station VST, Free Lessons from Melodics.com, and Sound Collective: Regular Free and Discounted Plugins. 
All-in-all, this is an inherently convenient device. It's relatively affordable, you can take it anywhere, and it fits on even the most cluttered studio desk.
Click here to check out our comparison of the Mini MK2 and Mini MK3.
Novation Launchpad MK2

Perfect for: New/mid-level users, light-show enthusiasts
The Novation Launchpad MK2 is the perfect midrange model in this Novation line. It's the Goldilocks option: not too big, not too small, just right. Like the Mini, it has an 8×8 grid and all of the same function buttons. However, the MK2's buttons are pre-labeled and its pads are full-sized and capable of a much more extensive range of colors.
This model doesn't require an external power supply because it's powered via USB. It also comes with everything you need to start recording immediately including a USB cable, starter guide, 4 GB of sample sounds, a Bass Station VST/AU plug-in synthesizer, and a V Station VST/AU plug-in synthesizer.
Novation Launchpad Pro MK3

Perfect for: performers, professional musicians, those with cash to burn
Like the MK2 and the Mini, the Novation Launchpad Pro has the same 8×8 grid of pads. However, its expanded functionality and user interface upgrades make it an invaluable tool for composing and recording electronic music.
The keyword here is customization. There are additional function buttons surrounding the composition pads which are velocity and pressure-sensitive. As a result, recording with the Pro makes for a more dynamic, responsive recording experience. This is also the only hackable Launchpad.
The Pro's software includes Live Lite, 4GB of Loopmasters Samples, Novation V-Station VST, Novation Bass Station VST, Free Lessons from Melodics.com, XLN Audio Addictive Keys VST, and Sound Collective: Regular Free and Discounted Plugins.
New Buttons Facilitate Standalone Use
Novation is doing their best to streamline your workflow with their new models. Their new Mini MK3 arrived complete with new custom mode buttons ("Drums", "Keys", and "User"). Now, the Launchpad Pro MK3 is getting the same treatment.
There is an entirely new row of 8 buttons at the bottom of the Pro MK3. According to Novation, these new additions can "launch clips and scenes, access mixer, device, and transport controls, and quantise, duplicate and double, all without touching your mouse."
Scale Mode
Scale Mode is an exclusive feature to Launchpad Pro; this function lets users lock every note of a MIDI phrase from the keyboard or controller to a specific scale or key. For example, if you want to make every key of your keyboard exclusively play on G major scale, you can accomplish that with the help of Scale Mode.
That wraps up our overview of the Novation Launchpad series. Regardless of which model you choose, all of them do an incredible job facilitating track creation, performance,
light shows
, and spur-of-the-moment improvisation. Do you have a favorite? Let us know in the comments below!
Regular price: $109.99

Regular price: $119.99

Regular price: $349.99