In this, the era of social media celebrity, professional photography equipment is more accessible than ever. Some smartphone cameras are even starting to outpace point-and-shoots.
The resulting deluge of content has had a myriad of unexpected consequences. Some are positive, others less so. One such consequence is that today, there are fewer (if any) individual photographers known for capturing the cultural zeitgeist of a specific time and place.
For example, Sid Avery's name is indelibly linked with the Golden Age of Hollywood—he was The Celebrity Photographer. Similarly, the Harlem Renaissance was captured and shaped through the lens of James Van Der Zee. Today, for better or worse, the ethos of our experiences is often crowdsourced via hashtag.
However, as with anything, there are exceptions. Quietly tucked away in the darkest corner of a comedy club, Mindy Tucker is one of them.
With a mixture of timing, skill, and perseverance Mindy managed to become The Comedy Photographer. This is made more impressive when you consider the fact that comedy is an industry in which turnover, burnout, and compulsory reinvention aren't just common but expected. She is a stable and consistent presence in a mess of frenetic energy.
We caught up with the photographer in her treehouse-esk studio to talk about her origins, philosophy, and what goes into making a signature "Mindy."
The Tyranny of 20 Slides
Mindy Tucker began her career sliding down the conveyor belt of traditional education. She obtained her MFA in photography but she found the environment to be too rigid and restrictive.
"I call it the tyranny of 20 slides," she explained. "I did what I was taught in art school which was to create a body of work. You want to have maybe twenty things that can hang together. Then you go to a gallery and you see if they're interested…I just banged my head on the wall for several years working in this way of 'here's a target, and I'm going to make work that is going to help me hit that target.'"
She still wasn't satisfied after she hit that target and got her work included in a group show.
"Nothing was natural, nothing fit, and I didn't know how to proceed. I knew that the way that I had approached things wasn't working, but I had no idea how to change or what to do." So, she did what so many of us do when we hit a dead end. She called her best friend.
"We would just talk on the phone all the time about how do we change this? How do we stop this? Over several conversations going on for a couple of months, we made this list of rules. The first rule was I was never going to apply for anything ever again. No more trying to make work for a deadline, for a grant application. No more trying to get a gallery to notice me. Stop it."
Her new philosophy was summed up in a single phrase: go where you're wanted.
"It just snowballed out of control"
Mindy poured her energy into self-discipline rather than continuing to fight her instincts. She made a website that she could add to and update herself. Rule number two was born once the site went live: Mindy would add at least one photo to the site every week.
"At the time my website had fifteen visits a month. It was probably my mom, you know? But the rule was I just had to shoot something, and I also had to go through the process of editing it and putting it on the website. Just to keep me afloat and thinking as an artist because I had a day job as a secretary at the time."
Soon after, Mindy's best friend from high school, Carol Hartsell, started a comedy show at Rififi, a popular, now-closed club in the East Village.
"When [Sarah] asked me if I would come and take pictures, I was like, 'oh, this is great. It's convenient, I can see my friend, and I'm also meeting my rule of 'I'm shooting something. I'll have to edit it.' So, just in this place of being lost and trying to figure it out, at least you're nurturing a friendship, you know?"
"That was how I started doing her show regularly," she nodded, a smile spreading across her face. "Then it just snowballed out of control."
Mindy became a staple in New York clubs and went to almost every show she was invited to. She only turned down gigs when the lineup was too similar to one she recently shot—she wanted to make sure she recorded as many comics as she possibly could.
The only thing more impressive than the amount of ground she covered is that she shot all of the shows for free.
She soon made headlines with her One Year photo project, a task she undertook to celebrate the 10th anniversary of The Creek & The Cave. At its core, the project is meant to pay homage to the New York City comedy scene's many venues and comics. And I do mean all of its comics. The final installation is essentially a meticulously assembled yearbook made up of 570 photos.
Today, hundreds of shows and thousands of pictures later, Mindy still shoots events for free and only at venues to which she is specifically invited.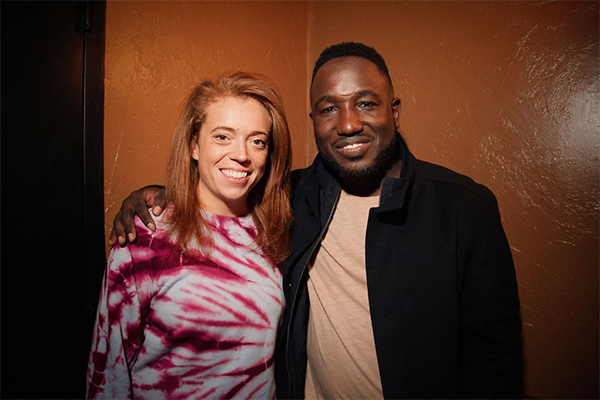 Trust Falls
I was admittedly a little nervous to meet Mindy but I didn't start out that way. I approached the interview the same way I always do: with a healthy dose of research and note-taking. But I quickly realized that she isn't just in the comedy community—she is beloved by many of my favorite comics.
When you think of a professional photographer the first adjective to come to mind isn't necessarily beloved. Talented, yes. Dedicated, sure. High maintenance… sometimes. But beloved? Not so much. And, for the record, comedians aren't always the easiest crowd to win over.
The trust she's built and the vulnerability she captures in her photos is a reflection of how she approaches a shoot.
"I'm too shy to be a photographer…I lose more shots than I think anyone just because if I ever feel like someone might be uncomfortable, I don't take the picture. From what I understand about most other photographers, they would, and I don't. It makes me feel gross." She went on to say that her goal is to collaborate with people.
"I'm there as a cheerleader," she explained. "I'm not there for dirt. I'm not there to embarrass anybody. I'm there because I remember that phase of being an artist that was incredibly difficult, and I'm there to be like, 'hey, I see you. You might not have gotten this one, but you'll get the next one. It's okay.' There's a place in the world for other kinds of photography, but it's not me, and it's not this situation."
Her philosophy delivers crowd-favorite results that are affectionately referred to as getting a "Mindy."
Making A "Mindy"
According to the photographer herself, the first "Mindy" ever taken was of comedian and actor Baron Vaughn; it took years to capture.
"Every time he would do this show, I would try to take a portrait of him. Then the next time he would be on the show, I would be like, 'well, I didn't like that [shot], and here's what I did wrong.'" This was long before she invested in her Canon 5D Mark III—sometimes she had to contend with technical issues. Often, the end result simply wasn't what she envisioned for the shot. So, she tried again, and again…and again.
"[Baron] sat through…I mean, I don't even know. I don't even know [how many shots]. There's photos from 2007 that we can't find…"
"The lost years," I offered.
"Yeah, there are missing things in the archive. So I truly don't even know how many times he sat through that [portrait]."
This happened over a decade ago but you can still hear the edge of frustration in her voice, the gears turning as she flips through every failed solution she worked through. At that juncture, Mindy was broke ("can't say enough, broke"), shooting in film, and using a series of makeshift lighting equipment.
"Sometimes I didn't even have money to get the pictures printed up," she said. "I could afford to get just the film developed, and then I would try to scan it and just see 'did it come out at all?'"
Mindy was not only contending with financial restrictions but also the growing pains of developing her style. It's a struggle that all artists face: you know what the end result should look like, it's just a matter of transposing it from your brain onto your canvas.
Some artists work through this, many don't. Luckily for us—and hundreds of comedians—Mindy did. After years of trial and error, Mindy found her light (and switched to digital).
"Finally, sometime in 2007, I got the picture of Baron that I'd been trying to get. It's him and he's on the edge of a stage and it's after a show. Finally, we've got off-camera flash and a good exposure, and also it's in focus."
"When you took the photo," I asked, "did you know you had it?"
"I do think I was, like, giddy that finally it had worked and I had figured something out. Yeah. Yeah. Then the next couple weeks I was trying to replicate it with everybody, you know?"
There Can Only Be One
Mindy Tucker found her way to comedy at the right time. She was among supportive friends who needed a little help themselves. When asked what advice she had for up-and-coming photographers she suggested that they keep their eyes open for similar opportunities.
"The thing that turned my whole life around was to stop trying to be a thing that already exists. Stop it. Stop it. If you have some goal up on your wall of a specific artist or a specific career, that career's already been done."
"Look around. Who is your friend Carol who is doing a thing, and they need your help? Where is that in your community? Where is that in your friend group? Where is the place where your skills are needed, and you're also going to be able to grow and change?"
To see more of Mindy Tucker's work or book her for studio portraits visit her website here.
Regular price: $2,799.00

Regular price: $16.45

Regular price: $135.00