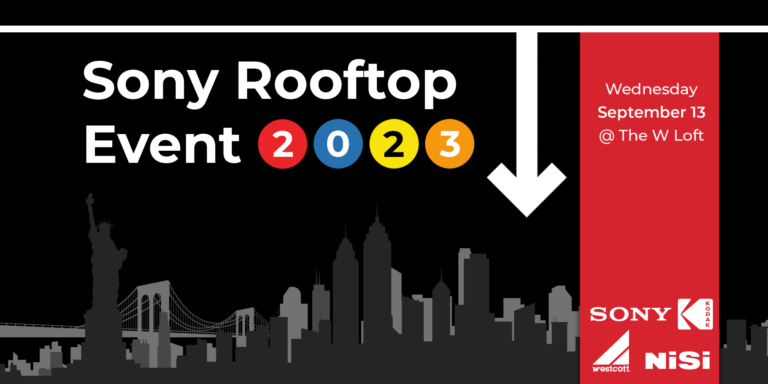 Venue
The W
240 Kent Ave,
Brooklyn, NY, United States, 11211
Get Ready for this year's Sony Rooftop Event!
We are thrilled to share some incredible updates.
This year's gathering promises to be even more exceptional, thanks to our esteemed partners: Kodak, Sony, Westcott, and NiSi.
✨ Partnerships that Shine Bright ✨
Our collaborations with these industry giants bring a wealth of expertise and innovation to the table. Together with Kodak, we're writing a new chapter in photography, blending tradition and technology to capture moments like never before. Sony, a global leader in electronics and imaging, is lighting up our Sony Rooftop Event with cutting-edge products and experiences. Westcott, known for its top-tier lighting solutions, will ensure that your photos are always brilliantly illuminated. Meanwhile, NiSi, with its premium filters and optical accessories, adds a touch of precision to your visual storytelling.
But the excitement doesn't stop there! We're pleased to introduce the
"Portraits Of Significance" photo competition, where your photography skills can shine. 🏆
——–
🖼️ Portrait Printing Competition Details 🖼
Competition: In Event Portrait Printing Competition
Qualifying Requirements to take home Grand Prizes:
-present JPEG prints only
-Participants must be present at 10pm to win
Prizes:
1)Sony A6700 with 18-135mm Lens
2) $500 Focus Gift Card
3)Westcott FJ80 II
——-
📸 Digital Competition 📸
Competition: A Social Media Photo Competition
Key Requirements:
– Entries submitted digitally via IG
-ENTER TO WIN by tagging and following @focuscamera and @focuslakewood on social media and use the hashtag #SonyRooftopEvent2023.
Prizes:
1)Sony ZV-1F
2)Westcott L60-B Kit
3)$100 Focus Gift Card
Don't miss out on this fantastic opportunity to showcase your talent at the Sony Rooftop Event 2023! To enter, simply tag and follow @focuscamera and @focuscameralakewood on social media and use the hashtag #SonyRooftopEvent2023. Your shot at victory awaits!
And that's not all! We're excited to announce that Sony Artisan Monica Sigmon will be conducting live shooting sessions, offering insights and inspiration for all attendees.
Stay tuned for more updates as we get closer to the big day! Mark your calendars and get ready for an unforgettable experience on Wednesday, September 13th. You won't want to miss it!
#SonyRooftopEvent2023 #PhotographyEvent #PortraitsOfSignificance