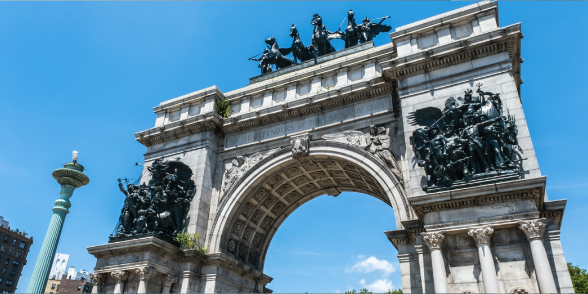 Venue
Soldiers and Sailors Memorial Arch
20 Grand Army Plaza, Brooklyn, NY 11238
Brooklyn, NY, US, 11238
Join Focus Camera, ZEISS, and pro photographer Kenneth Hines, Jr. for a photowalk through Brooklyn's scenic Prospect Park.
Summer is finally here, and the weather has never been better for a sun-soaked photo shoot in Brooklyn's beautiful Prospect Park.
Join representatives from Focus Camera and ZEISS, and celebrated professional photographer Kenneth Hines, Jr. for a scenic photowalk through the park on a warm, summer evening.
You'll have the opportunity to try out the latest gear from ZEISS while photographing live models as the sun begins to set over Prospect Park.
With special discounts, free swag, and Q&A time with our brand professionals, this event promises to be a rich learning experience for photographers looking to hone their portrait and landscape photography skills and try out some new gear.
Meet us at the north entrance of the park at 5:30 pm sharp where you can loan out ZEISS lenses (optional, but highly encouraged) before embarking on a photowalk led by Kenneth Hines, Jr.
There are limited spots available for this event, so grab your ticket now to reserve your place!
Who is this event for?
Photographers of all skill levels interested in learning more about photography and trying out the latest ZEISS gear.
Things to note:
Please bring your own camera
Upon arrival, please meet at Soldiers and Sailors Memorial Arch across from the Prospect Park entrance.
There will be two models to photograph.
All gear will be sanitized and hand wipes and sanitizer will be provided.
All attendees will be required to wear a face mask and observe social-distancing (stand 6-feet away from others)
All attendees will be reimbursed for the price of their ticket with a $10 Focus Camera gift card
About Kenneth Hines, Jr.
Kenneth "Professor" Hines, Jr. is a multi-discipline and former celebrity photographer from Atlanta, GA. Based in Atlanta and New York, Professor Hines has hosted various photowalk events across the country and presently is a public speaker with ZEISS Camera Lenses' Master Class series. In 2019 Hines was featured as a speaker for the USA's largest photography trade show, Photoplus Expo, held in New York City.
Professor Hines is known for his latest work in street photography, which he shares among his community of over 120,000 online. He's known for his signature style of vibrant, deep contrast imagery and gained a reputation for his content in teaching about his style from beginning to end. He presently operates an online store, featuring his own artwork and custom Adobe Photoshop and Lightroom presets, with the latter also featuring his artwork as the splash screen for the 2021 software release, and teaches workshops across the country.
About ZEISS
ZEISS is an internationally leading technology enterprise operating in the optics and optoelectronics industries. Since 1890, ZEISS has been producing lenses for photographers who make no compromises when it comes to telling their stories. The aim: to push boundaries and try out new things. Inspiring people – every day, time and again. With image quality that is truly unique.
About Focus Camera
Focus Camera is a family-owned photography and consumer electronics retailer based in Brooklyn, New York. Founded in 1966, we have faithfully served the New York City metropolitan area for over 50 years.
Creativity thrives in Brooklyn, and we strive to share the passion and energy of our neighborhood with the world. With two retail locations, hundreds of employees, and millions of customers, Focus Camera is a globally recognized brand with the heart of a brick-and-mortar family store.