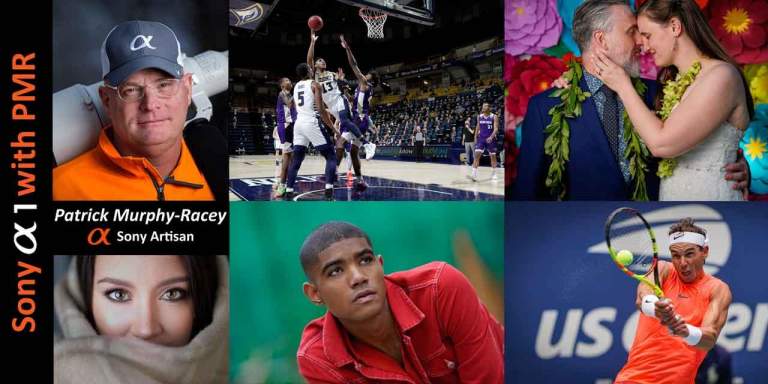 Join Focus Camera and Sony Artisan Patrick Murphy-Racey for a conversation about Sony's incredible new flagship camera, The Alpha 1.
Sony's new A1 camera was announced in January 2021. However, only a few people have had the opportunity to use the high resolution, high-speed camera.
Sony Artisan Patrick Murphy-Racey is one of the lucky few. The former Sports Illustrated photographer spent a week using the A1 at 8 sporting events and in the studio capturing strobe-lit portraits.
In a conversation with Sony image specialist, Jason Etzel, Murphy-Racey will discuss his experience using the A1 and showcase some of the images he was able to capture. You'll get an insider account of how the A1 performs in the field, and see exactly what a 30fps burst speed can do in conjunction with a high resolution 50MP sensor. Murphy-Racey will also discuss the lenses he used that can keep up with the high-speed capabilities of the Sony A1.
Click the link below to register now for this incredible free event.
Who is This For?
Anyone interested in learning more about the Sony A1.
How Do I Register?
To Join the Webinar
Join from a PC, Mac, iPad, iPhone or Android device: Click here to join.
About Patrick Murphy-Racey
Sony Artisan of Imagery Patrick Murphy-Racey earned his B.A. in Photojournalism from Marquette University. PM-R's thirty-five year career has been only and always about photography. Murphy-Racey has seen a great variety of assignments since his start in newspapers, through the peak years of being a magazine freelancer, his tenure as a regular contributor to Sports Illustrated, and into the corporate and industrial world of annual reports and advertising. While his assignments are varied and come from many different sources, photojournalism is his first love and constantly informs every assignment. Ever the chameleon, Murphy-Racey's career is a long series of re-inventions and rebirths, but the visual storytelling remains the same, even as the tools change. From 4×5 to 8K, he's technically inclined, and loves making great images. Patrick is more than competent covering just about any assignment, but his specialties include dramatic and creative use of strobe & LED lighting, sports action photography, environmental portraits, and powerful, well-lit HD interview video production. PM-R shoots both stills as well as motion and is always asking, "What's next?"
About Jason Etzel
Jason Etzel is Focus Camera's Sony Imaging Specialist Rep. With over 20 years experience in the photographic industry as a lab technician, product representative, and as a full time photographer his experiences and advice have assisted beginners and professionals alike.