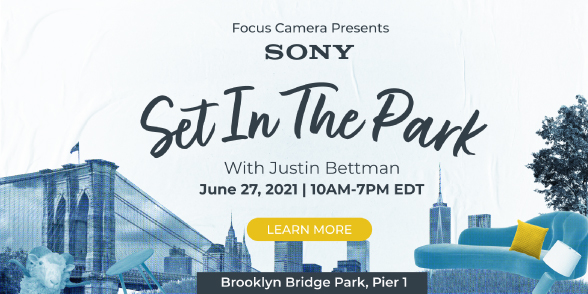 Venue
Harbor View Lawn, Pier 1, Brooklyn Bridge Park
80 Furman Street, Brooklyn, NY 11201
Brooklyn, NY, US, 11201
Join Focus Camera, Sony, and acclaimed photographer Justin Bettman for an interactive photography experience at Brooklyn Bridge Park.
Have you ever seen a photograph with such immersive set design that it took your breath away?
A set so intricate and detailed, you wished you could jump inside the photo and explore its world?
Or better yet, be the photographer that captured the original image?
Well, now's your chance.
We're excited to invite you to a special, one-time event that will allow you to use the latest photography gear from Sony to create your own immersive photograph; your own, new world. Announcing:
Sony: Set in the Park
Focus Camera and Sony Corporation are teaming up with acclaimed photographer Justin Bettman, creator of the Set in the Street art project, to bring an interactive set-based photography experience to Brooklyn Bridge Park, one of Brooklyn's most popular and scenic parks.
The free, pop-up event will feature a large, fully-decorated living room set, designed by Justin Bettman and installed in Pier 1, Brooklyn Bridge Park. While the set will be cordoned off from the public, registered attendees will have the opportunity to interact with, pose with, and photograph the set.
Photo walks with Sony Artisan and well-known photographer, Ira Block, will run at 12pm and at 2.30pm respectively. Please click here to sign up in advance and ensure your spot.
Registered attendees will also have the opportunity to:
Meet acclaimed photographer and director, Justin Bettman
Speak with photo & video professionals from Sony & Focus Camera
Try out the latest Sony photography gear
Receive free swag & more!
Sony: Set in the Park is a one-time, special event, presented by Focus Camera, Sony, and Justin Bettman. It's also the launch event for Sony Week, a seven-day collaboration between Focus Camera and Sony to promote Sony's incredible photography and video gear, currently available for purchase through Focus Camera.
Register in advance now to ensure you'll have the opportunity to interact with and photograph the set on the day.