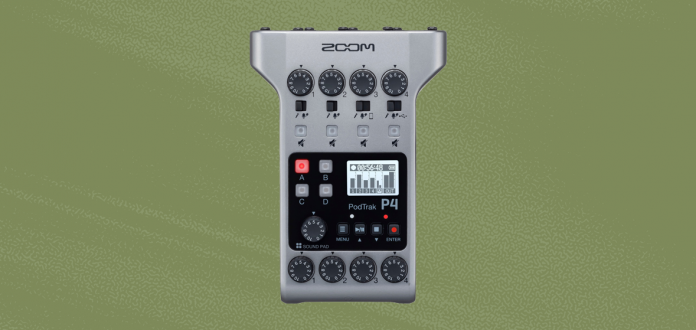 Zoom recently announced the PodTrak P4, a new audio recorder designed specifically for podcasts. It's an exciting release by Zoom, who already offer an impressive range of audio recorders including the Zoom H5, H6 and H8. However, the PodTrak P4's podcast-focused design clearly differentiates it from Zoom's other recorders.
Releasing a recorder that caters to podcast creators is a smart move by Zoom. Podcasts have steadily increased in popularity over the last few years. A study conducted in January reported that nearly 40% of the US population had listened to a podcast in the last month, up from less than 20% just 5 years ago.
As a result of the COVID-19 coronavirus pandemic, there are also more podcasts being produced. While the pandemic shut down film and television production in the US, it provided the perfect setting for many people, quarantining at home with nothing to do, to create their own podcast. 
We took a dive into the specs to find out exactly what changes Zoom have made for their first podcast-focused audio recorder. Here's our Zoom PodTrak P4 review. 
PodTrak P4 Review – Key Features
The PodTrak P4 is best defined by its features, and how well they lend themselves to the unique requirements and challenges of recording a podcast.
Build
Zoom is known for making great portable recorders, and the PodTrak P4 is no exception. It's small, light, and has a clean layout. The LCD screen is small, but allows for easy navigation through the recorder's menu.  
While some audio recorders can look and feel intimidating, the P4 is not one of them. It's a great blend of functionality and practicality. Both beginner and pro podcasters will feel comfortable using the PodTrak P4.
Microphone Inputs
The PodTrak P4 has 4 XLR microphone inputs. Each input has its own gain control knob and a mute button, both which can be used even while recording. With up to 70 dB of gain per input, you should have no problem using the P4 with high-quality dynamic microphones that require plenty of gain, like the Shure SM7B. 
If you'd rather use a condenser microphone like the Rode NT1A, a switch below each gain control knob allows you to easily enable phantom power (48 volts) for the input. A limiter and low-cut filter can also be applied to each input to help you record clean, high-quality audio. 
Additionally, the P4 is a multi-track recorder. Each input is recorded to its own track, making it easier for you to mix and master your recordings. 
Headphones 
The P4 has 4 headphone outputs, but a really nice touch is that each output has its own volume control. Separate controls aren't crucial, but if your podcast ever has more than one host, it's going to be appreciated. This is a feature not included on higher-end audio recorders such as the Zoom F8, and helps make the P4 stand out as a recorder built for podcasts.
Remote Recording (Mix-Minus)
One of the best features of the PodTrak P4 is that it enables you to record 2 remote phone calls simultaneously. Input 3 connects to the TRRS input on the left side of the P4, allowing you to record audio from a phone call (using a TRRS cable or Zoom's BTA-2 Bluetooth adapter). Input 4 connects to the USB port on the right side, allowing you to record audio from a computer.
Of course, you should also use a mix-minus when recording remote audio. Mix-minus is an audio recording function most commonly used by radio stations and podcast creators when one of the inputs is being recorded through a phone call. A mix-minus allows the caller to hear all the inputs being recorded (the mix), minus their own input, so they don't hear themselves speaking. 
While it is possible to enable mix-minus in their other recorders, Zoom has dramatically simplified it for the PodTrak P4. For example, the easiest way to set up a mix-minus on the Zoom H6 requires you to use splitting cables and manually pan the audio. On the P4, mix-minus is automatically enabled for audio recorded via the TRRS input, and is as easy as selecting on or off in the Settings menu to activate it for the USB port.
The video below highlights how easy it is to use the PodTrak P4 for recording remote interviews. 
Sound Pads
The PodTrak P4 has 4 sound pads which can be used to play audio clips or sound effects. The P4 comes preloaded with 11 sound effects, but you can also assign your own clips to each button. 
Power 
The PodTrak P4 can be powered using 2 AA batteries or USB cable. Just like any recorder, it's recommended you power the P4 via cable when recording, if possible. Saying that, the battery life is impressive. Zoom reports the PodTrak P4 can be used for up to 4 hours when using alkaline AA batteries, and up to 9 hours with lithium batteries. 
The P4 has two USB-C ports; a DC 5V port for charging the recorder, and a port that can be used as an audio interface. Remarkably, you can also use the audio interface port to charge the recorder even while using it to record audio. 
Price
The PodTrak P4 is a great option for anyone interested in starting their first podcast, and the price reflects that. Available for pre-order now for just $199, don't mistake its affordability as a sign of weakness. The PodTrak P4 is a high quality recorder, and has everything you need to produce a professional-grade podcast. 
Of course, if you are a podcasting beginner, you'll need more than the recorder to get started. The PodTrak P4 bundle for $319.98 includes a Zoom ZDM-1 microphone (with wind screen), ZHP-1 headphones, and a ZTPS-4 tabletop tripod. You'll also need a memory card; an SDXC card with fast read and write speeds is your best option. 
PodTrak P4 Review – Competitors
The PodTrak P4's top competitors include other Zoom recorders such as the H6, H8, and the recently announced PodTrak P8. Thankfully, Zoom makes it easy for you to decide which recorder is right for you.
The major advantage of the H6 and H8 recorders is that they're built for more than just podcasts. If you're looking to record music in addition to a podcast, you're going to want a recorder with XLR/TRS combo jacks, like the H6 or H8, so that you can easily connect instruments to the recorder. Similarly, while the P4's 16-bit/44.1kHz sample rate is perfectly suitable for a podcast, you might want a higher quality when recording music. Both the H6 and H8 can record up to 24-bit/96kHz.
However, if you're only interested in recording podcasts, the PodTrak P4 is the obvious choice. Features such as its remote recording capabilities and the volume controls for each headphone output are great for podcast recording, and aren't available on the H6 or H8. The Zoom H8 is arguably more functionally abundant, but it's also a little cluttered and less portable. The PodTrak P4 has a clean layout, weighs about 40% less, and is half the price.
Meanwhile, the PodTrak P8 is effectively the P4's older sibling. It has a bigger interface with more features, including more inputs and sound pads.  However, it's also far less portable, and over twice as expensive. The P8 is a great option for experienced podcasters who are producing a multi-person show. The P4's practical blend of affordability, functionality, and portability make it the better choice for beginners.
PodTrak P4 Review – Summary 
The PodTrak P4 is another great recorder by Zoom. While Zoom is already a market leader for podcast recording, the PodTrak P4 will undoubtedly cement their position. Offering high-end features that simplify recording, a clean, portable design, and an affordable price tag, the PodTrak P4 is everything you want in a podcast audio recorder.