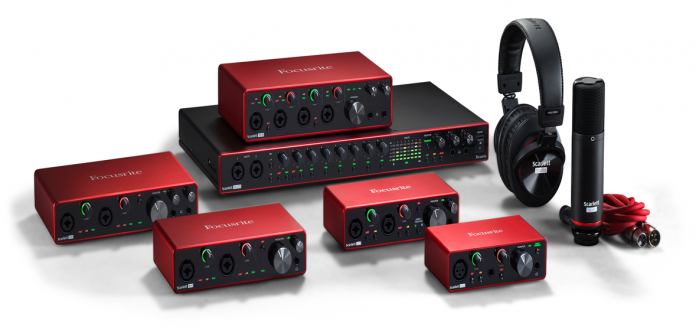 If you're looking to invest in an audio interface, it's hard to look past Focusrite's popular Scarlett range. By their own account, the Scarlett range has helped produce more records than any other range of interfaces in history. However, with six different models in the range, we thought it prudent to do a Focusrite interface comparison to help you determine which one is right for you.
The 3rd generation Scarlett range offers an impressive suite of features throughout all its interfaces. In ascending order of price, the 3rd gen Scarlett interfaces are the Solo, 2i2, 4i4, 8i6, 18i8, and the 18i20.
Below we've taken a deeper look at each interface to help determine what differentiates each one. Scroll to the bottom for a side-by-side spec comparison of all 6 interfaces.
What's an Audio Interface?
When we compared the 2nd and 3rd generations of the Scarlett range, we defined an audio interface as a technologically advanced adapter. When you're recording sound, the interface is the middle man between the sound source (for example, your guitar) and your DAW. DAW stands for digital audio workstation, and refers to the sound editing software you use on your computer.
Sound can be recorded as an analog or a digital signal. An audio interface converts analog signals into digital signals so your DAW can receive it. The Scarlett range of interfaces use a USB-C cable to connect to your DAW.
Audio Quality
Audio quality is consistent throughout the Scarlett range. All interfaces are fitted with the same, high-quality converters that can route up to 24-bit/192 kHz audio to your DAW. Every interface also offers Air mode on at least 1 input. Air mode offers a high frequency boost that can enhance the quality of acoustic and vocal recordings.
Additionally, all instrument inputs across the range have a high headroom that helps avoid distortion or clipping. Each interface also features balanced, hum-free TRS outputs on the back panel that help protect from interference when connecting to a monitor or speakers.
Inputs & Outputs
It seems the key differentiator between all Scarlett interfaces is the number of inputs and outputs. Therefore, this should be your main consideration when deciding which Scarlett interface is right for you.
The Scarlett Solo, their smallest, most affordable interface, is the most unique in this regard. It has a single 3-pin XLR microphone preamp and one ¼-inch instrument or line level input on the front panel of the interface. All other Scarlett interfaces have 2 combo microphone/instrument/line level XLR inputs. The 18i8 and 18i20 also have additional combo microphone/line XLR inputs, as well as optical ADAT and S/PDIF inputs and outputs for connecting additional channels to the interface.
As the name indicates, the Solo interface is best suited to a vocalist or musician who only ever plans to record a single input. While you can technically record both inputs simultaneously on the Solo, they are summed in mono to your DAW. Stereo recording is not possible. The 2i2, Scarlett's most popular interface, is only slightly more expensive than the Solo. It's a great option for any artist looking to record 2 inputs simultaneously into a stereo track.
Moving up the range from the 2i2, the name of each interface indicates how many inputs and outputs it can simultaneously record. Further proof that this is how Focusrite intends for you to determine which interface you should purchase.
MIDI I/O
If you plan to connect your interface to a MIDI keyboard or sound module, you'll need a Scarlett 4i4 or higher. The Solo and the 2i2 interfaces do not have a MIDI input/output.
Build
The Scarlett interfaces all have a consistent look and feel, excluding the 18i20.
While the other interfaces have Scarlett's recognizable red finish on the top, bottom, and side panels, the 18i20 is black all over. Offering a whopping 18 inputs and 20 outputs, it's twice as wide and heavy as the 18i8. It's also the only Scarlett interface with a talkback microphone, allowing you to speak to the artists using the interface through their headphones. Fitted with a set of rack-mounting ears, the 18i20 is a studio-grade interface.
Aside from the 18i20, there is a small, incremental increase in size and weight per interface from the Solo to the 18i8. This is to be expected considering the increase in inputs and outputs as you go up the range. 
Power
The first 3 interfaces in the Scarlett range are bus powered, i.e. powered by the USB-C cable that's used to connect to your computer. The 8i6, 18i8, and the 18i20 all require a separate power supply (they come with a power cable). This shouldn't be a dealbreaker, but is certainly worth considering before you decide on an interface.
Included Software
All interfaces in the Scarlett range come with two DAWs: Ableton Live Lite and Pro Tools. You also receive a free 3-month subscription to Splice.
The Focusrite software, Focusrite Control, is also included with each Scarlett interface, although it is primarily required for use with the larger Scarlett models (4i4 and up). You can use the Solo or 2i2 interfaces without having to run Focusrite Control on your computer. However, these interfaces will still require the software for firmware updates or to utilize their full functionality at sample rates higher than 48 kHz.
Spec Comparison
To complete our Focusrite interface comparison, we have added the key specs for each interface to the table below.
| | Solo | 2i2 | 4i4 | 8i6 | 18i8 | 18i20 |
| --- | --- | --- | --- | --- | --- | --- |
| Connectivity | USB 2.0 Type-C | USB 2.0 Type-C | USB 2.0 Type-C | USB 2.0 Type-C | USB 2.0 Type-C | USB 2.0 Type-C |
| Simultaneous I/O | 2 x 2 | 2 x 2 | 4 x 4 | 8 x 6 | 18 x 8 | 18 x 20 |
| Microphone Preamps | 1 | 2 | 2 | 2 | 4 | 8 |
| Instrument Inputs | 1 | 2 | 2 | 2 | 2 | 2 |
| Line Inputs | 1 | 2 | 4 | 6 | 8 | 8 |
| MIDI I/O | No | No | Yes | Yes | Yes | Yes |
| Optical ADAT Input | 0 | 0 | 0 | 0 | 1 | 2 |
| Optical ADAT Output | 0 | 0 | 0 | 0 | 0 | 2 |
| Analogue Outputs | 2 | 2 | 4 | 4 | 4 | 10 |
| Headphone Outputs | 1 | 1 | 1 | 2 | 2 | 2 |
| Bus Powered | Yes | Yes | Yes | No (Power Cable Included) | No (Power Cable Included) | No (Power Cable Included) |
| A/D Resolution | 24-bit/192 kHz | 24-bit/192 kHz | 24-bit/192 kHz | 24-bit/192 kHz | 24-bit/192 kHz | 24-bit/192 kHz |
| Dimensions (H x W x D) | 1.71 x 5.65 x 3.77 inches | 1.32 x 2.09 x 7.68 | 1.87 x 7.28 x 4.72 | 1.87 x 8.27 x 5.89 | 2.40 x 9.49 x 6.28 | 1.83 x 19.0 x 10.23 |
| Weight (without accessories) | 0.77 lb | 1.10 lb | 1.42 lb | 2.36 lb | 3.45 lb | 7.85 lb |
Focusrite Interface Comparison – Summary
When comparing the 3rd Generation Scarlett audio interfaces, you have to appreciate the consistency of the range. All six interfaces offer a sleek build, high headroom instrument inputs, Air mode, and powerful 24-bit/192kHz AD-DA converters.
The consistent quality means that Focusrite has an interface that will satisfy any artist, without forcing them to pay for features they don't need. It's a bold vision they've successfully executed with every interface, from the simple Solo to the powerful 18i20. Each offers a reliable, professional-grade performance. Depending on your I/O demand, there's a Scarlett interface that's right for you.
Regular price: $109.99

Regular price: $159.99

Regular price: $229.99

Regular price: $299.99

Regular price: $499.99