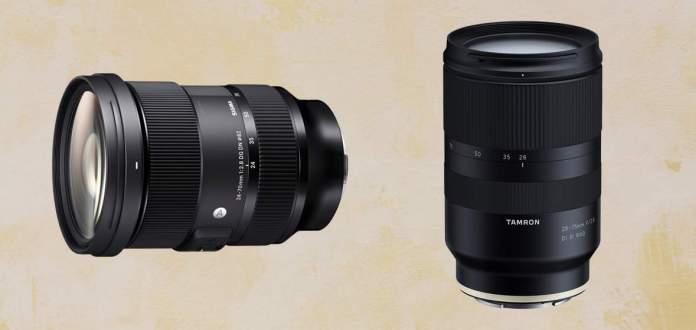 Photographers haven't always been spoilt for choice when it comes to mirrorless camera lenses. Thankfully, that has changed in recent years. As more mirrorless cameras have been released, lens makers have worked hard to release a diverse range of compatible lenses. Today, we're comparing 2 such zoom lenses, the Tamron 28-75mm vs Sigma 24-70mm. 
The Tamron 28-75mm F/2.8 Di III RXD is an E-Mount lens, made for use with Sony's full frame mirrorless cameras. The Sigma 24-70mm F/2.8 DG DN Art lens is available in both E-Mount and L-Mount. 
Both lenses offer a superb performance, and it's likely you'll be happy with either choice. However, there are enough differences between the 2 lenses that mean one may be better suited to you over the other. Below we've provided a breakdown of the build, performance, and price of both lenses, in addition to a side-by-side spec comparison. 
Build 
The build of each lens is the most obvious distinction between the Tamron 28-75mm vs Sigma 24-70mm. At 836g, the Sigma lens is nearly 300 grams heavier than the Tamron, as well as longer and wider. This can make all the difference when you're holding up your camera for multiple hours on a shoot. 
The Sigma lens is bigger due to its construction. It has a metallic body, with more glass elements inside the lens and an 11-blade diaphragm versus the Tamron's 9-blades. As a bigger lens it also requires a larger filter size, 82mm to the Sigma's 67mm. 
Both lenses have a zoom and focus ring, albeit in opposite positions. The Tamron focus ring is at the back, on the Sigma it's at the front.  While it is heavier, the Sigma lens feels more delicately constructed. Ring movements are smoother and more precise. 
The Sigma lens also has a few additional buttons and switches you won't find on the Tamron. There's a switch for toggling between autofocus and manual focus, a programmable AFL button, and a zoom lock switch that allows you to lock the lens at the 24mm focal length.  The slightly wider focal length is also a plus, although that can be easily adjusted for when shooting with the Tamron lens. 
Both lenses have moisture-resistant weather sealing, proprietary lens coating, and are generally well-built. While the Tamron lens may be more portable, the additional functionality, delicate construction, and slightly wider focal length of the Sigma lens means that overall it has the better build.
Performance
Considering the Sigma lens has a more intricate build, you may expect a more notable difference in performance when comparing it to the Tamron. However, both lenses are capable of delivering sharp, beautiful imagery of near-identical quality. 
Both the Tamron and the Sigma offer reliable autofocus for photography and video, working well with the Eye AF found on Sony's full-frame mirrorless cameras. The Sigma's autofocus can be a little slower than the Tamron lens at times, but it can also be more consistent. Additionally, the Sigma's AFL button on the side of the lens can be assigned to the autofocus for quick activation. 
The Sigma's 11-blade diaphragm also helps it produce slightly sharper imagery, along with nicer bokeh. However, the difference is nominal. You likely won't notice unless you're zooming in on your photos to examine them on a micro level, a practice commonly known as pixel peeping. 
Price
The Tamron 28-75mm is a great value lens. It's lighter, offers a comparable optical performance, and at $879 (including 6-year limited warranty) is more affordable. The Sigma lens is currently available for $1,099, but this price difference isn't surprising. For just over $200 more, the Sigma lens is wider, offers additional buttons and switches, and has a more sophisticated build.
Both lenses are also significantly more affordable than another competitor, the Sony FE 24-79mm F/2.8 GM lens.  
While both the Sigma and Tamron lenses are appropriately priced, if you're on a budget, the Tamron 28-75mm is the better choice.
Spec Comparison 
Check out the table below for a side-by-side comparison of the Tamron 28-75mm vs Sigma 24-70mm lenses. 
| | Tamron 28-75mm F/2.8 Di III RXD | Sigma 24-70mm F/2.8 DG DN | A |
| --- | --- | --- |
| Focal Length | 28-75mm | 24-70mm |
| Mount | E-Mount | Available in E-Mount and L-Mount |
| Aperture Range | F/2.8-22 | F/2.8-22 |
| Diaphragm Blades | 9 | 11 |
| Angle of View | 75 - 32 Degrees | 84.1 - 34.3 Degrees |
| Construction | 15 Elements in 12 Groups | 19 Elements in 15 Groups |
| Maximum Magnification Ratio (Wide) | 1:2.9 | 1:2.9 |
| Maximum Magnification Ratio (Tele) | 1:4 | 1:4.5 |
| AF/MF Switch | No | Yes |
| Zoom Lock Switch | No | Yes |
| AFL Button | No | Yes |
| In-Lens Image Stabilization | No | No |
| Filter Size | 67mm | 82mm |
| Diameter | 2.9 Inches (73mm) | 3.5 Inches (88.9mm) |
| Length | 4.6 Inches (117.8mm) | 4.8 Inches (121.9mm) |
| Weight | 19.4 oz (550g) | 29.5 oz (836g) |
Summary
Choosing between the Tamron 28-75mm vs Sigma 24-70mm may be tough, but there are clear distinctions between the lenses that should guide your choice. 
The Tamron 28-75mm F/2.8 Di III RXD is lightweight, affordable, and performs comparably to its pricier rival. The Sigma 24-70mm F/2.8 DG DN Art may be more expensive, but this is justified by a nicer build, additional functionalities, and a wider focal length. In other words, you can't go wrong with either lens. 
Regular price: $1099.00

Regular price: $2,198.00

Regular price: $1,998.00