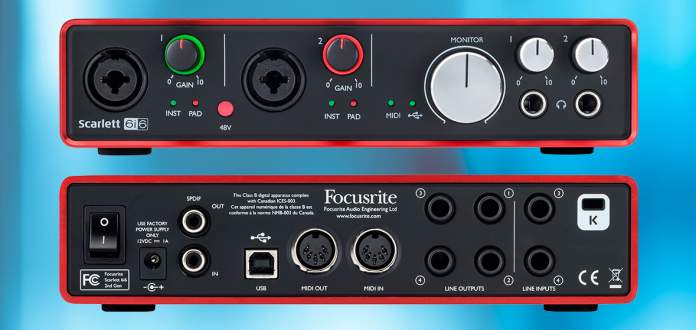 There are dozens of audio interfaces to consider when choosing a model for your studio. However, one of Focus's most popular interfaces is the Focusrite Scarlett 6i6 2nd gen (and with good reason). It has a very straightforward interface with strong specifications and easy-to-use controls. In this overview, we give a brief explanation of audio interfaces and dig into the 6i6's specs and features.
What is an audio interface?
 

Think of an audio interface as a technologically advanced adapter. For example, you can't plug your guitar directly into your computer. Instead, you plug it into an audio interface that can connect and communicate with recording software on your Mac or PC. The interface is the middle man. The same applies to studio monitors which also plug into an audio interface.
As a point of clarification, people often confuse interfaces with mixers but they're two completely different things. While you plug instruments and microphones into both, mixers are used more for live performances and don't have extra connections like USB, XLR, or MIDI ports. On the other hand, a digital interface usually does have those ports and is used in a studio setting to connect your computer with your instruments.
Who Uses The Scarlett 6i6?
Bands and recording artists who have a home studio love the Scarlett 6i6. It's a fan favorite because of its versatility; the audio interface allows for more than one instrument or vocalist to record at a time. Similarly, two producers can listen in simultaneously.
In total, the Focusrite Scarlett 6i6 2nd gen has:
4 analog inputs

4 main outputs which can be mono outputs or stereo pairs

2 natural sounding mic preamps

2

¼ inch jacks that can take a balanced or unbalanced connection

1 MIDI in and 1 MIDI out

1 SPDIF in and 1 SPDIF out
It also features a large level-control knob for adjustments to your monitor levels. This is especially helpful when you have your hands full with an instrument and need to make a real-time change.
Why We Love The Scarlett 6i6
There are a few key reasons why people keep coming back to the Scarlett 6i6 (and Focusrite) for their audio interface needs. First and foremost, of course, is quality. The 6i6 has class-leading digital conversion at up to 24-bit/192kHz.
Second, it's incredibly intuitive. The interface is straightforward and the device itself is ready to use almost immediately after being plugged in. However, the winning combination that makes this a wise buy is the Focusrite 6i6 in conjunction with its accompanying software.
Bonus Plug-ins
When you purchase a Focusrite Scarlet 6i6 you also get Ableton Live Lite, Avid Pro Tools First Focusrite Creative Pack, Loopmasters, Focusrite Control, XLN Audio Addictive Keys, Focusrite Red Plug-in Suite, and the Softube Time and Tone bundle. That's everything you need and more to start recording and editing immediately.
XLN Audio Addictive Keys
The average piano keyboard usually has a few different profiles like electric, grand piano, and synth. On the other hand, Addictive Keys connects with your digital keyboard and offers dozens of piano profiles and a seemingly endless list of granular adjustments to your sound.
Avid Pro Tools | First Focusrite Creative Pack
The First Focusrite Creative Pack is an entry-level music-making bundle for novice producers, instrumentalists, and singer-songwriters. It includes Pro Tools First, Eleven Lite, Black Op Distortion, Gray Compressor, Five-band Graphic EQ, Flanger, Vibe Phaser, Roto Speaker, Sci-Fi, Studio Reverb, Tape Echo, and InTune.
Loopmasters
The Focusrite Scarlett 6i6 comes with 2GB of royalty-free sample libraries from Loopmasters. The site provides sample audio libraries for producers and musicians who need additional professional assets to round out their sound.
Focusrite Control
Each output of your Focusrite audio interface has its own individual mixer. Focusrite Control is the software that lets you create custom mixes for each of those audio interface outputs. From Control, you can work with output levels, control mute and dim, metering, and a whole lot more.
Softube Time and Tone bundle
The Softube Time and Tone bundle is made up of four plug-ins: a reverb, a delay, a mastering tool, and distortion. Use these plug-ins with the other software that accompanies the Scarlett 6i6 to bring a new layer of professionalism to your mixes.
Ableton Live Lite
This program is a DAW (digital audio workstation) primarily utilized for track creation and live performances on MIDI pads. Ableton Live Lite, which—while lacking some of the functionality provided by paid versions of Ableton Live—does an amazing job. This is especially true if you're just starting out in electronic music.
Focusrite Red Plug-in Suite
The Red Plug-in Suite replicates the functionality of Focusrite's Red range equalizer and compressor. This suite gives you detailed, dynamic and tonal control of your mix without buying the additional hardware.
Focusrite Plug-in Collective
Not to be confused with the Red Plug-in Suite, the Focusrite Plug-in Collective is your portal to exclusive deals, tutorials, and the latest editing software from Focusrite and the Focusrite community.
Look & Feel
Quite frankly, the Focusrite Scarlett 6i6 looks good on your desk. It shouldn't matter but it does. The device ways in at 1.22kg and is 5.0cm x 19.5cm x 21.2cm (H x W x D). Plus, it adds a little pop of color to your workspace with its signature brushed red aluminum finish.
We hope this overview of the Focusrite Scarlett 6i6 2nd gen helped you in your search for the perfect audio interface. Let us know if you have any questions in the comments below!
Regular price: $269.99

Regular price: $209.99

Regular price: $229.99

Regular price: $119.99