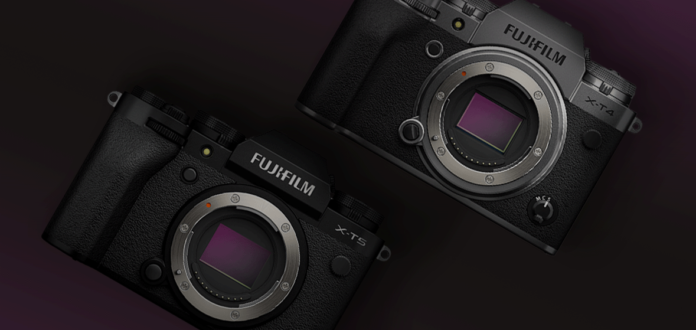 Last year we saw the release of the new Fujifilm X-T5 mirrorless camera, only to be awed by its note-worthy photography and video capabilities. However, its predecessor, the X-T4, still remains a fan favorite for plenty of photographers and videographers. If you're trying to decide which Fujifilm X series camera is right for you, you've come to the right place. Today we will compare Fujifilm's X-T4 vs. X-T5 and see which camera is right for you.
What were our first impressions of the Fujifilm X-T5 mirrorless camera? Watch this video and find out. 
Table of Contents
| Specs | X-T4 | X-T5 |
| --- | --- | --- |
| Price | $1,549.95 | $1,699.99 |
| Price (with lens bundles) | $2,049.95 (XF 16-80mm f/4 lens) | $2,099.00 (XF18-55mm f/2.8-4 R LM OIS lens) |
| Weight | 557g | 607g |
| Dimensions | 134.6 x 92.8 x 63.8mm | 129.5 x 91 x 63.8mm |
| Pixels | 26MP | 40MP |
| Sensor | X-Trans CMOS 4 | BSI X-TRANS CMOS 5 |
| Sensor size | APS-C | APS-C |
| Processor | X-Processor 4 | X-Processor 5 |
| Maximum burst rate | 15fps (M) 21fps (E) | 15fps (M) 13fps (E) |
| Max IBIS | 6.5EV | 7EV |
| Max video rec | 4K/60p | 6.2K/30p (1.23x crop), 4K/60 |
| Battery | 500 / 500 | 580 / 590 |
| Storage | 2x SD/SDHC/SDXC UHS-II | 2x SD/SDHC/SDXV UHS-II |
Build
Regarding the Fujifilm X-T4 and X-T5 build, both cameras share some similarities in design, but there are a few key differences to consider. Both cameras have a vintage, and classic SLR look, but the X-T5 (557g, 129.5mm x 91mm x 63.8mm) is a smidge smaller and about 50g lighter than the X-T4 (607g, 134.6mm x 92mm x 63.8mm). Regarding the handheld look and feel, the X-T5 is designed with a more pronounced finger-shaped groove and relaxed slope to the viewfinder hump, giving it a slighter ergonomic design than the X-T4. Other than this their physical features are virtually the same.
Both cameras have dedicated dials for shutter speed, ISO, and exposure compensation, and a pair of command dials that can be configured to match existing camera layouts. They both maintain a micro HDMI port for video output as well.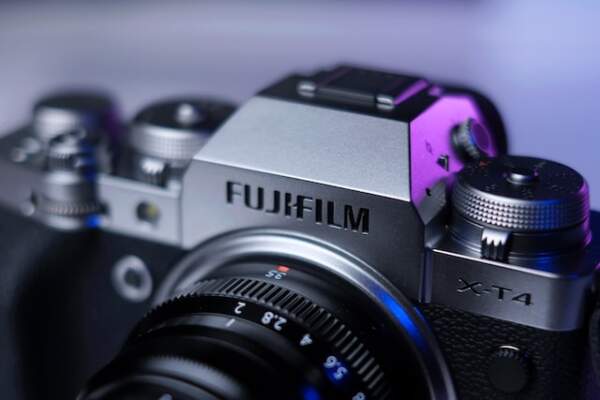 Viewfinder & LCD Screen
The X-T5 uses the same 0.5-inch 3.69 million dots OLED color viewfinder as the X-T4 but has the added benefit of higher magnification optics, giving it an impressive 0.8x magnification. As for the LCD monitors, the X-T4 comes with a 3.0-inch LCD screen maintaining a resolution of 1.62 million pixels. Whereas the X-T5 has been slightly improved with a higher resolution of 1.84 million pixels.
Both screens can be adjusted to allow for the camera to be held at unique angles for obscure angle shots. However, the X-T5 mimics the X-T3's three-way tilt design, which unfortunately eliminates the ability to perform 180-degree screen rotations for self-filming and vlogging. This is unlike the X-T4's more versatile vari-angle monitor, suggesting that the X-T5 is geared more towards photographers than videographers.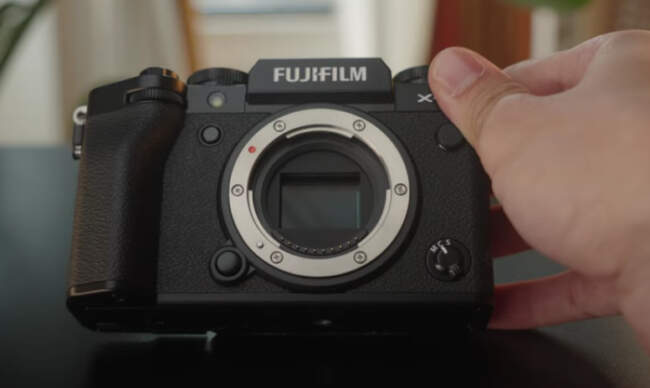 Battery (Vertical Battery Grip)
Both cameras use the same NP-W235 batteries. For the X-T5 this provides about 590 shots per charge using the viewfinder or 580 shots using the rear screen. As for the X-T4, this offers a slightly lower rating of around 500 shots per charge.
However, unlike the X-T4, Fujifilm has chosen to get rid of the vertical battery grip feature for the X-T5 by eliminating the contacts on the bottom of the camera. Nevertheless, if the camera body alone feels too small to hold comfortably, you can purchase the optional MHG-XT5 metal hand grip as an alternative.
Image Sensor & Processor
One of the biggest changes in the X-T5 is the new BSI X-Trans CMOS sensor. This sensor has been completely redesigned from previous models and, as a result, gives the X-T5 a higher resolution at a whopping 40.2MP compared to the X-T4's 26.1MP. This puts the newer camera's sensor on par with the X-H2. Additionally, the X-T5 is equipped with the X-Processor 5, which is twice as fast as the one found X-T4. The new sensor on the X-T5 allows it to take in more light and produce better image quality. This is thanks to the improved pixel structure of the X-Trans CMOS 5 HR sensor.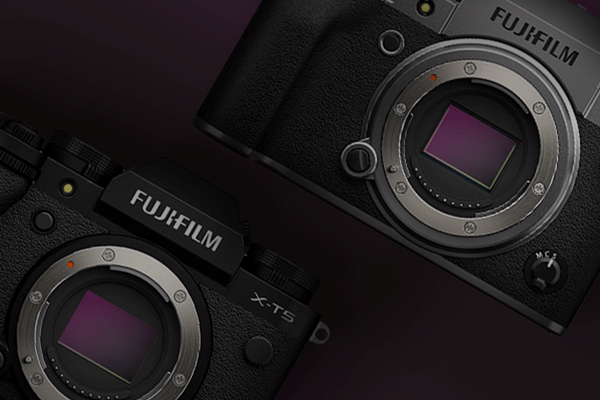 Image Stabilization
Regarding image stabilization, the Fujifilm X-T4 and X-T5 feature 5-axis In-Body Image Stabilization (IBIS) to help minimize camera shake. For stills, The X-T4 offers up to 6.5 stops of exposure compensation. On the contrary, the X-T5 has received a modest upgrade offering a maximum of 7 stops, putting it on par once again with the X-H2 and X-H2S for the best exposure compensation provided by any current Fujifilm cameras.
When it comes to image stabilization, the most significant difference between the two cameras is the Pixel Shift Multishot feature. Out of the two cameras, only the X–T5 contains this feature which allows the camera's IBIS system to precisely shift the sensor, recording 20 separate frames with one press of the shutter release. The resulting files are combined using Pixel Shift Combiner software to quadruple the camera's resolution and produce a detail-rich 160MP file.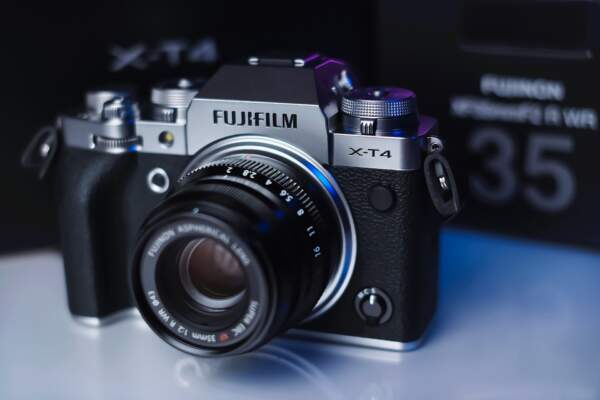 AF Functions
Fujifilm has enhanced the X-T5's autofocus system over its predecessor thanks to the integration of Deep Learning technology. The X-T4 and X-T5 use a hybrid autofocus system, which combines phase and contrast detection, but the X-T5 goes a step further by incorporating advanced algorithms. These algorithms help detect moving subjects such as cars, motorcycles, trains, birds, and airplanes. The X-T4 is only able to detect human faces and eyes. On top of this, the X-T5 has more phase detection autofocus points (3.3 million) compared to the X-T4 (2.16 million).
Continuous Shooting
Fujifilm's X-T5 camera offers a maximum shooting speed of 20fps when using the electronic shutter, which also comes with a 1.29x crop applied. Interestingly, the X-T4 can shoot at 20fps with no crop when using the electronic shutter. But, if you increase the speed to 30fps, this will apply a 1.25x crop.
Both cameras feature the same 15fps continuous shooting speed when using the mechanical shutter. Pretty impressive considering the X-T5's new image processor and increased resolution.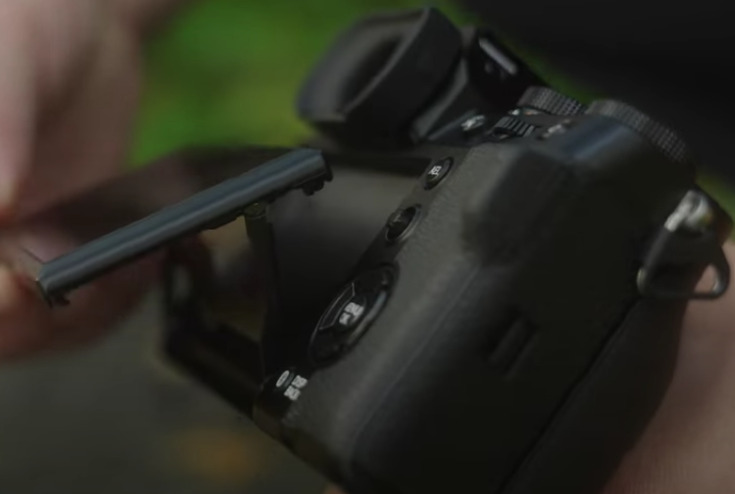 Video
Regarding video improvements, there are a handful of upgrades that separate the capabilities between Fujifilm's older and newer models. Yes, both cameras support DCI 4K/60p recording. However, X-T4 does so with a 1.17x crop factor. The X-T5 camera also boasts a high-quality recording rate of 6.2K/30p and can record 10-bit 4:2:2 internally, as opposed to the X-T4. Although, it is also essential to point out that X-T5 does have a 1.23x crop when recording in 6.2K/30p.
Both cameras can capture 1080/240p slow-motion footage and have HLG and F-Log. But in addition to this, the X-T5 also offers the new F-Log 2 profile with up to 14+ stops of dynamic range. Furthermore, you can connect the X-T5 with a compatible HDMI recording device from Atomos or Blackmagic Design to output 12-bit RAW video and record it as Apple ProRes RAW or Blackmagic RAW. Lastly, the X-T5 also has a digital zoom function that can deliver up to 2x zoom with minimal loss in resolution when recording video in 4K.
Verdict
Both the Fujifilm X-T4 and X-T5 are excellent cameras that share many similarities in design and functionality, but there are still key differences to consider. The X-T5 is slightly smaller and lighter, with a more ergonomic design (although some photographers prefer bulkier cameras). The X-T5 also features a higher resolution viewfinder and LCD screen and a new BSI X-Trans CMOS sensor with faster processing.
Despite both cameras providing impressive quality, speed, and stabilization. The X-T5 seems geared more toward photographers that desire those extra top-notch image quality and stabilization features. In contrast, the X-T4 can be considered slightly more versatile for vloggers and videographers with its vari-angle screen, not to mention its vertical battery grip capabilities. Ultimately, they're both great cameras, and whether you choose Fujifilm's X-T4 or X-T5 will depend on your specific content creation needs, including what you value most in a camera.
Which Fujifilm X series camera do you prefer? 
Regular price: 2,099.00

Regular price: $1,549.95