First, Sony charmed vloggers with the ZV-1 (2020), next came the impressive ZV-E10 (2021), and now (*insert drumroll), we have been graced with the new, budget-priced ZV-1F (2022). The compact, pocket-sized, cheaper vlogging camera with a flip screen gives content creators yet another sleek, cutting-edge camera to indulge in. Sadly, anyone as indecisive as me probably suffers from a mild to severe case of "choices." Now, with three quality cameras for content creation, it's only fitting to decipher the most significant difference between the ZV-E10 vs. ZV-1 vs. ZV-1F. 
So, grab your pen and pad as we break down the essential differences between these well-established cameras for vlogging and content creation. Helping you decide which one's right for your next video or stream.  
ZV-1F / ZV-1 / ZV-E10 Specs
| Specs | ZV-1F | ZV-1 | ZV-E10 |
| --- | --- | --- | --- |
| Price | $498.00 | $748.00 | $798.00 (w/ lens), $698.00 (body) |
| Lens Mount/Type | Fixed lens: ZEISS Tessar T* Lens, 6 elements in 6 groups | Fixed lens: ZEISS® Vario-Sonnar® T* Lens, 10 elements in 9 groups | Interchangeable lens: Sony E-Mount |
| Sensor Size | 1" (13.2 x 8.8 mm) | 1" (13.2 x 8.8 mm) | APS-C (23.5 x 15.6 mm) |
| Sensor Resolution | 20.1MP | 20.1MP | 24.2MP |
| Sensor Type | Exmor RS CMOS | Exmor RS CMOS | Exmor CMOS |
| Aperture (max) | F/2.0 | F/1.8 | F/3.5 (lens kit) |
| Image Stabilization | Electronic | Optical & Electronic | Electronic |
| ISO (max) | 12800 | 12800 | 32000 |
| Headphone Jack | No | No | Yes |
| Microphone Jack | Yes | Yes | Yes |
| USB Ports | USB-C | Micro USB (USB 2.0) | USB-C & Micro USB |
See more specs: ZV-1F, ZV-1,  ZV-E10
Camera Builds & Features
A few obvious physical differences stand out instantly when holding and viewing each camera. Regarding weight and dimensions, the ZV-E10 is the heavier and bulkier option out of all three cameras at 343g and 115 x 64 x 45mm. The Zv-1 vs. Zv-1F dimensions are similar at 106 x 60 x 46mm (ZV-1F) and 105x69x44 (ZV-1). However, they vary more in weight, as Sony has made the ZV-1F about 40g lighter, emphasizing its compact and lightweight features. 
Each device is built with creators in mind and are fitting vlogging cameras with fully articulated flip screens for easy self-capture. They all contain 3″ LCD screens with all touch panel responses for seamless, user-friendly recording. For the ZV-1 and ZV-1F, the camera flip screens apply a red recording indicator around the border. Lastly, all these cameras lack an electronic viewfinder.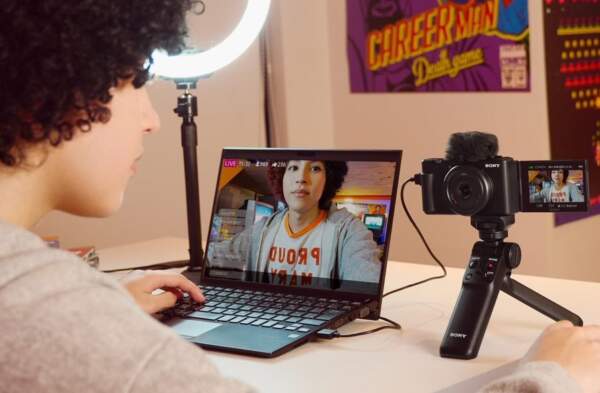 Shoe & Flash
The ZV-E10 and ZV-1 both contain built-in flashes and hot shoe features. This gives photographers more of an edge in creating content to sync audio, flashes, and more. As for the newest camera, it does not have a built-in flash and only contains a cold shoe, which is understandable for the low price it's being marketed for.  
Battery
The ZV-E10 uses an NP-FW50 battery for the most extended runtime of about 80 min of video recording (125 min recording continuously) or 440 shots. The two other cameras use the same battery, an NP-BZ1. However, the ZV-1F can last a bit longer with 60 minutes of video recording (90 minutes continuously) and 360 shots. ZV-1 is around 45 min (75 min cont.), with 260 shots.
Image Sensor & Display Screen
As you might guess, like the ZV-1 and ZV-1F dimensions, both cameras have the same 20.1 MP 1″ inch Exmor RS CMOS image sensors. If we're discussing sensor size, the ZV-E10 easily wins in this department with a 24.2 MP APS-C Exmor CMOS sensor. The ZV-E10 masterfully infuses the vlogger-friendly features of the ZV-1 with the high-quality imaging capabilities of the Sony A6100.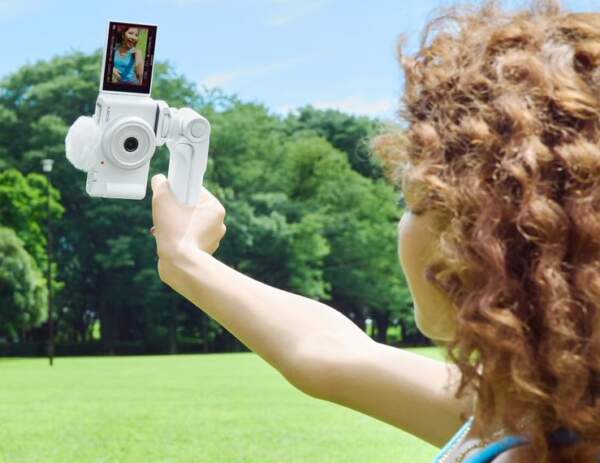 Camera Lenses
Another substantial physical difference that justifies the higher pricing of the ZV-E10 is that it's the only interchangeable lens here. The lens mount is compatible with Sony E-Mounts, and the kit includes a 16-50mm standard zoom lens for an additional $100. This can be suitable for multiple scenarios, like giving videographers more creative control over close and wide shots or a shallower depth of field with enhanced focus (using an ultra-wide lens).  
The ZV-1 and ZV-1F have fixed lenses. However, there are a few notable distinctions. The ZV-1 uses ZEISS Vario-Sonnar T* zoom lenses with 24-70mm focal length. The ZV-1F has abandoned the zoom function for a standard prime lens focal length of 20mm. The Zv-1F lens gives vloggers great close-up usage while maintaining a wide field of view for less cramped-looking videos. 
The ZV-1F ultra-wide angle was built to embrace that professional streamer or vlogger camera perspective. In addition, the camera has a minimum aperture of f/2, so low-light scenes aren't a vast production factor. Making it just as versatile as the more expensive ZV-E10 kit lens aperture of f/3.5 and ZV-1 f/1.8-2.8.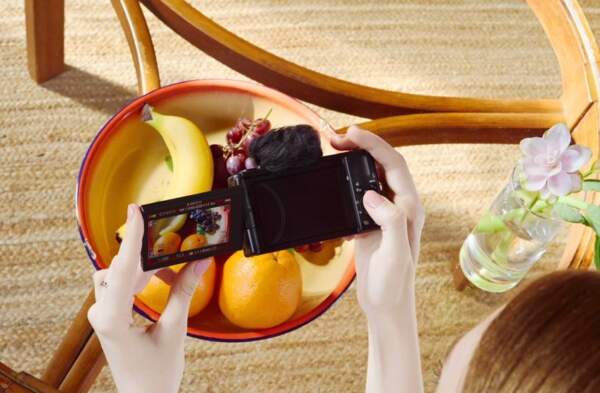 Image Stabilization & Focus
One of the more disappointing features of the ZV-1F is that it doesn't have any mechanical stabilization features. Like the ZV-E10, the newest camera relies on digital/electronic image stabilization (EIS), whereas the ZV-1 uses optical and electronic image stabilization hybrid. The ZV-E10 makes up for the potential loss in quality with its bigger sensor for higher resolution and detail. However, the ZV-1F takes a harder hit regarding quality in this category. 
Missing the hardware pieces to perform OIS can lead to potentially distorted or lower-quality imaging. This is due to the digital zooming and cropping software properties influencing the original shot. 
Regarding focus points, the ZV-1F and ZV-E10 have 425 AF points, while the ZV-1 slightly lacks 315. Unfortunately, none of these cameras are equipped with a viewfinder. Still, they all have two unique vlogging camera features that are great for videos or streams: the Product Showcase feature and Background Defocuser.  
The Product Showcase mode, as it implies, helps keep the focus on the product you place in front of the lens while blurring the background. It does a great job at automatically switching to close details of the object and changing back when it is pulled. Similar in concept, the Background Defocuser controls how blurry you can contrast central subjects with what's behind them.
The AF for all cameras is great, even with lesser stabilization capabilities. You have your standard Eye AF and Face-priority AE. Helping to make sure your videos are well exposed and properly focused.
Photos
As you might've guessed, all three cameras are primed for content creation videos, whether it'd be vlogging, streaming, or as a webcam. The still photography features are good but far from their most vital selling points. 
However, it's important to note that each camera has a different set of continuous burst speeds. Starting from lowest to highest, the ZV-E10 reaches 11fps, the ZV-1F 16fps, and for the ZV-1 an impressive 24fps. As for max shutter speeds, the ZV-E10 doubles the other two cameras (1/ 2,000 s) at 1 / 4,000 s. However, if photography is your primary use, we recommend the Sony A6100 instead.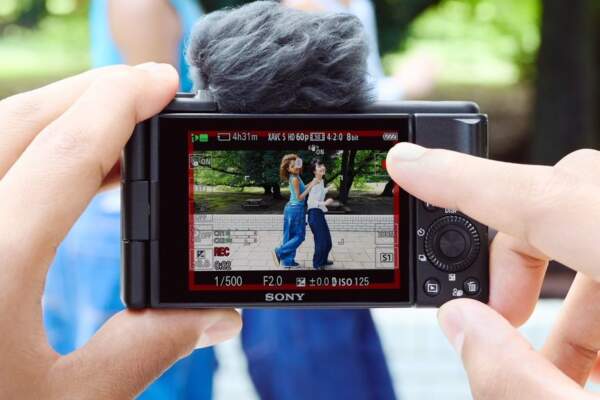 Video
All cameras offer UHD 4K recording up to 3840 x 2160 video resolution at 24p, 25p, and 30p, in addition, to supporting Hybrid Log Gamma (HLG) and S-log 2/3. This is typically better for more experienced content creators who wish to experiment with a color grade in post-production. Unlike the ZV-1 or the ZV-E10, the newest camera does not have RAW format shooting capabilities. 
Another feature that helps distinguish these cameras as vlogging-specific is the Still, Movie, and S & Q (Slow & Quick) modes. Each dedicated mode allows you to apply your desired settings for whatever project you're about to embark on. For the S&Q mode, you can perform slow-motion or time-lapse video directly to your camera, adding your creative options. 
A cherry on top for social media influencers specializing in vertical videos is that all cameras cater to this. The ZV-1F continues the tradition of adapting to social platforms like Instagram and TikTok by supporting the 9:16 video format. 
Exposure & Filters
A few elements will separate these cameras when it comes to lighting for your videos. One is the Neutral Density (ND) filter. The only camera on this list that has a built-in ND filter is the ZV-1, making it optimal for creating blur motion effects or color experimentation.   
It's important to remember that the ZV-1 has the widest lens aperture (f/1.8). But, the ZV-E10 (f/3.5 with kit lens) bigger sensor makes low light capturing and hi-res detail with low noise easy to achieve. On top of this, you can swap a variety of endless E-mount lenses for better performance, and it's high max ISO of  32,000. As for the ZV-1 and ZV-1F (f/2.0), both only reach a max ISO of 12,800.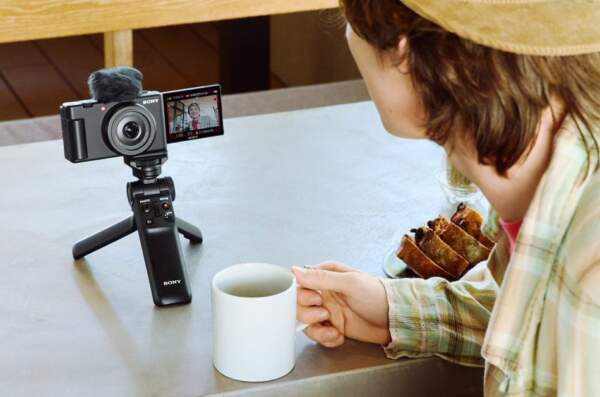 Audio
The question of audio is just as important as video, and ZV-1F, although not the best, delivers. All three cameras have built-in Directional 3-capsule microphones to capture audio directly in front of the camera. This fairs well for content creators who want to eliminate any distracting surrounding noises. 
Moreover, each camera comes equipped with a windscreen to deter wind interface while outside. The one thing to note, however, is that the ZV-1F cannot connect any external mics due to its lack of a Multi-Interface (hot) shoe.
Another small detail is that the ZV-1F is not equipped with a headphone jack input or output.
Verdict 
So we've covered just about every critical aspect there is to know when comparing each one of these vlogging cameras. But which ZV camera should you buy? Well, first things first, if your primary focus will be photography, not video, you're looking in the wrong place. The next best camera you can get, similar to the ZV-E10, would be the Sony A6100, which is more suitable for photography than these three cameras.
Realistically, the Sony ZV-E10 offers some of the best features out of all the cameras, excluding factors such as missing hardware for better image stabilization. ZV-E10 acts as a hybrid between the ZV and Alpha lines intertwining higher resolution with vlogging camera features. However, the interchangeable lens can act as a pro and a con. It gives content creators more options but at an additional cost of Sony E Mount lenses. The ZV-E10 is more viable to those well-established with vlogging cameras willing to spend the extra coin instead of maybe beginner vloggers.
If you'd rather save ($100) by not getting an additional kit lens for the E10, you're better off purchasing the ZV-1. The fixed zoom lens is a great one-time purchase, and you won't have to be concerned with other parts. Not to mention, it has the best stabilization of all three lenses and super slow motion that can be used.
Now, if you want to save a ton of money (around $300), the ZV-1F is more than an excellent choice for content creators. Its compact size and lightweight matter when you factor in hours holding up your camera vlogging or streaming on the go. The ZV-1F establishes itself as more than just a cheap camera for vlogging but a unique camera designed to be helpful in many aspects for beginner videographers. It's easy to use, cost-efficient and has properties similar to the ZV-1 and ZV-E10. 
Regular price: $748.00

Regular price: $798.00