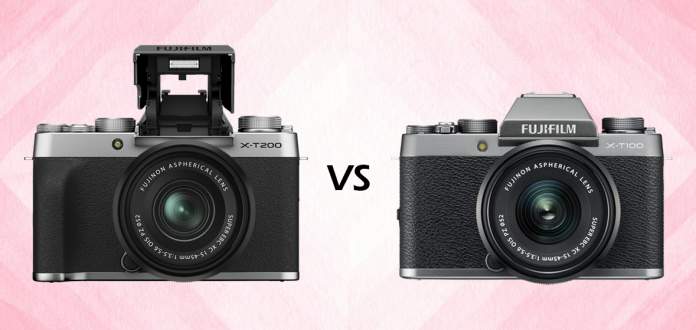 We've been big fans of the Fujifilm X-T100 since it was first announced in May 2018. It houses all of Fujifilm's reliability, quality, and style in an entry-level body. So, when they announced the new Fujifilm X-T200, we were very excited to see if the new model lived up to its predecessor's hype. In this post, we do an in-depth Fujifilm X-T200 vs X-T100 comparison including specs, features and physical characteristics.
You can pre-order your X-T200 here.
Fujifilm X-T200 vs Fujifilm X-T100
Upgrades & Additions
Look and Feel
Let's take a moment to acknowledge the obvious differences between these two models. First, the Fujifilm X-T200 comes in champagne gold, dark silver, and silver (the last iteration has a black option instead of silver). This is not an earth-shattering change but it does add a little more variety to the lineup.
Second, we have size and weight. The X-T200 is both smaller and lighter than its predecessor. In fact, it's almost 80g lighter than the X-T100. This is especially impressive when you factor in the new model's larger, more versatile screen.
Finally, the X-T200 is equipped with a vari-angle 3.5" LCD screen with a 16:9 aspect ratio. It's an intuitive touchscreen that can be opened and closed between 0° to 180° and rotated between -90° to +180°.
Processing
When you first glance at its specs, the X-T200 doesn't seem significantly more powerful than the X-T100. However, its high-speed APS-C 24.2 MP CMOS utilizes copper wiring to optimize the camera's performance. As a result, it's able to process data 3.5x faster than the X-T100. This is great news for those of us who hate waiting and love a higher frame rate.
Autofocus
Three factors come together to improve the X-T200's autofocus and face/eye detection: quicker processing (as mentioned above), on-sensor phase detection, and an entirely new AF algorithm.
Often, due to the processing power found in many entry-level cameras, there's a lag when you're using autofocus on an LCD monitor. According to Fujifilm, this doesn't hold true with the X-T200. Instead, focusing on both individuals and groups is nearly instantaneous. That speed works in conjunction with features like main subject recognition to effectively track, frame, and capture your human of choice.
Video
Fujifilm is really trying to give you everything you need to quickly edit footage within your camera without the help of a computer. We have to assume this is aimed at influencers who rapidly produce and post content on-the-go.
The X-T200's updated gyro sensor improves both electronic stabilization and HDR video, reducing the effects of camera shake while you record. Speaking of that new HDR video feature, it makes recording footage in high-contrast situations much easier. These two additions in conjunction with the X-T200's in-camera video editing allow for clips to be quickly trimmed, resized and shared.
Fujifilm X-T200 | Product Images
Film Filters
For years Fujifilm was a leader in film photography—you actually can't spell Fujifilm without the word "film." Then, the dawn of digital photography came about and the company pivoted away from yesteryear and towards the future. Rightfully, most of their contemporaries did the same. Film was out, digital was in. We continued to progress as a society, years pass, etc.
Enter Instagram and its original set of filters.
For better or worse, the image-sharing platform sparked a remarkable challenge in the tech community: how do we make our digital photographs look like film without actually going through the trouble of shooting film?
Hundreds of apps now exist with names like "8mm Vintage Camera" and "Filmm" that promise effortless nostalgia.
It was only a matter of time before the professionals stepped in and said, hey, we can do this better.
Using their extensive experience in the industry, Fujifilm recreated 11 of their most iconic films and pre-loaded them onto the Fujifilm X-T200. According to their press info:
"Images made with these film simulations carry the look and feel of the actual films that inspired them, which are a great building block to sparking creativity in image-making. In addition, 20 advanced filters, which includes the new, 'Clear Filter', give even more creative possibilities to image-makers as they seek to express themselves artistically."
This is not the first time Fujifilm included this feature in a digital camera. They first added "film simulations" to the (gorgeous) X-PRO3. 
That sums up our overview of the X-T200 vs X-T100. Are you going to upgrade? Let us know in the comments below.