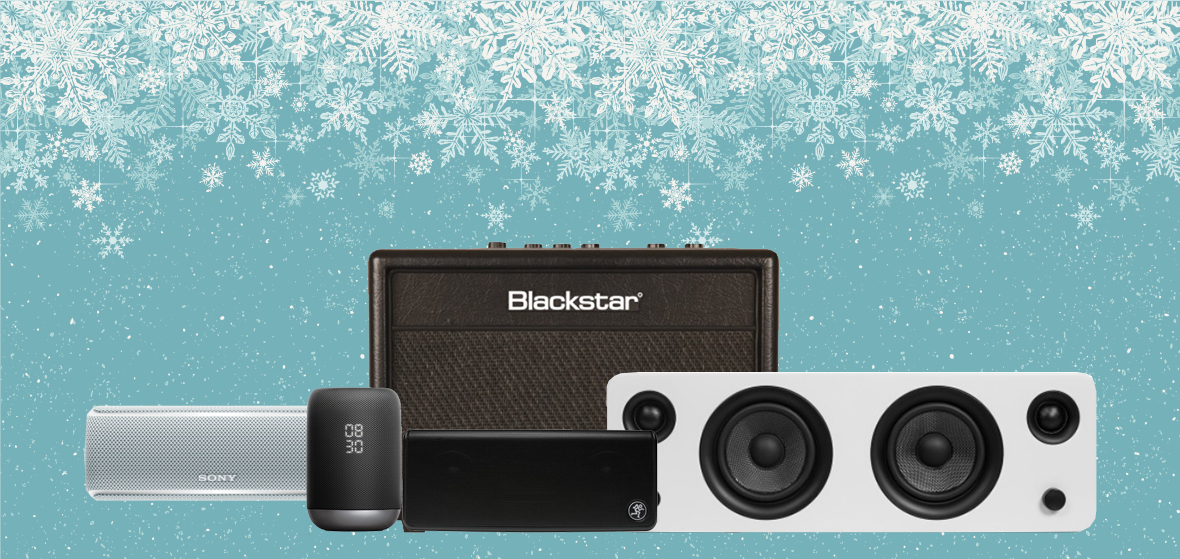 The end of the year is a very music-centric time. The reemergence of holiday songs, festive parties, and Spotify's end-of-year roundup have us inundated with audio. Whether you're planning a casual dinner or an epic New Year's Eve party, this roundup details the top corded and portable speakers for every kind of holiday event.
1. On-The-Go | Mackie FreePlay Go
This speaker is for everyone whose New Year's resolution is to be more adventurous. The Mackie FreePlay Go Ultra-Compact Portable Bluetooth Speaker is a great choice for a beach bonfire, rooftop party or backyard bash. As you can guess from the name, the Mackie FreePlay Go is Bluetooth enabled and hyper-portable—its built-in rechargeable lithium-ion battery lasts up to 15 hours which is more than enough party time. The power doesn't stop there; the Mackie FreePlay was tuned by pro audio engineers for clear, strong sound. Those experts also included dual passive radiators for enhanced bass and headroom. Are you trying to simultaneously have a party in both your yard and on the roof? You can use the FreePlay Connect app to link two speakers, thus achieving a bigger, multi-space listening experience.
2. Holiday House Party | Sony SRS-XB21
The Sony SRS-XB21 Portable Wireless Bluetooth Speaker is great for a gift exchange, cocktail party or a mixture of the two. You can connect up to 100 of these true wireless Bluetooth speakers and put them in every room of your home. That is not a typo—you can link 100 Sony SRS-XB21 wireless speakers. The person casually DJing from their smartphone has never wielded more power. This portable speaker lasts up to 12 hours and features extra bass and live sound modes. In case things get a little rowdy, it's also waterproof, dustproof and rustproof.
3. Dinner Party | Sony Google Assistant Built-in Wireless Speaker
The holidays are all about bringing your loved ones together, reflecting on the year to come, and eating more than your body ever wanted or expected. It's also about showing your family that, actually, you do have your act together. What better way to combine these two things than a dinner party?
The Sony Google Assistant Built-In Wireless Speaker is the perfect addition to your kitchen. It has an IPX3-rated splash-proof design, features touch-free gesture controls and responds to "OK, Google" Voice commands for all of the burning questions that come to mind when you're elbow deep in a turkey. When it's time to eat, place this portable Bluetooth speaker anywhere in your dining room, living room, or kitchen to play plays music with 360-degree omnidirectional sound.
4. Blowout New Year's Eve Party | Blackstar Bluetooth Amplifier
It's the morning of December 31st. You wake up, stretch and think to yourself, "self, I want every single person I've ever met in my life to assemble in my home tonight and celebrate the dawn of 2019." Then, you set up this amplifier.
The Blackstar Bluetooth Amplifier is a fully functioning Bluetooth speaker. It comes equipped with six different electric guitar voices as well as two bass, two acoustic and two acoustic simulator voices. It's also worth noting that it is insanely loud while still providing incredible music playback. Have a great time and make sure you invite your neighbors.
5. Party For One | Kanto SYD Powered Speaker
During a hectic holiday season, the best gift you can give yourself is time alone. We recommend the Kanto SYD Powered Speaker if you want to take a break from the madness, binge-watch Game of Thrones or lounge around and listen to your favorite records.
This sleek speaker is equipped with aptX technology so you can transmit high-fidelity audio from your smartphone, TV or other Bluetooth enabled device. Alternatively, hook it up to a record player with SYD's built-in phono preamp. Regardless of your self-care methods, the Kanto SYD provides great audio quality and looks good doing it.
Regular price: $149.99

Regular price: $58.00

Regular price: $198.00

Regular price: $289.99

Regular price: $329.99