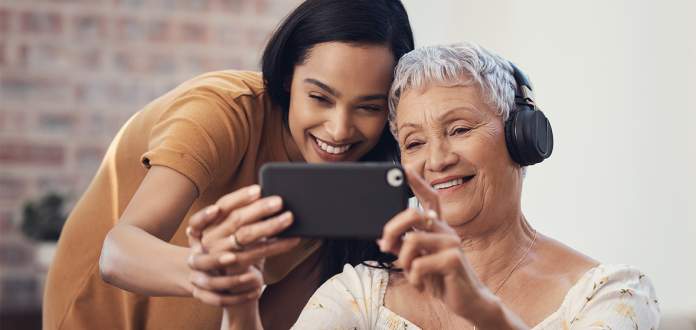 Still, trying to figure out when Mother's Day is? How about struggling to find the perfect Mother's Day present? Stay calm; we won't tell mom we're here to help you. This post will prepare you so that when Mother's Day hits, it'll be one she won't forget. Mother's Day is on the second Sunday in May – as it is every year. If your memory is as bad as mine, it might help to write the date down (wink).
Moms are special. They sometimes take on multiple titles and help us grow into the best version of ourselves. They are worthy of being commemorated every day. However, Mother's Day is a better opportunity for children, family, and friends to show their complete love and support. How will you show your support?
Go beyond the classic Mother's Day brunch or Mother's Day date, which is nice but cliché and short-lived. Instead, get her something that'll last a bit longer or a device she can enjoy in her leisure. These Mother's Day presents will make your mom smile with delight and think of you every time she uses them. Whether she's into hobbies like photography, listening to music, or even exercising, we've got a gift for every mom.
Beyerdynamic DT 990 Premium Edition Headphones
Is your mom a music enthusiast? Then get her something that will support her taste for music with the Beyerdynamic DT 990 over-ear headphones. Beyerdynamic is known for making excellent audio accessories like headphones and headsets. Your mom might not be a gamer (if she is, though, check out these great headsets), but everybody loves music. Get mom some of the best over-ear headphones on the market.  
Beyerdynamic Headphones produce high-quality Hi-Fi sound for an authentic and unrivaled listening experience. Whether she wants to jam out to disco, be soothed with classical music, or tune you out, she can.  
Do one better and go the extra mile with the Beyerdynamic premium edition headphone mount bundle and save $100.  
Sony Alpha a7 III 24.2MP Full-Frame Mirrorless Digital Camera 
Photography is an art of beauty and wonder, just like all moms – which is why the Sony Alpha A7 III mirrorless camera is a great Mother's Day present. It's okay; you can use that line when you give this to her. Thank us later when she's bursting with happiness. This camera is extraordinary, with a brand-new image sensor and processing system for top-tier image quality. Its processing speed is almost double that of the a7 II, with high sensitivity, low noise performance, and a wide 15-stop dynamic range. If your mom is into photography, the Alpha a7 III mirrorless digital camera is a no-brainer purchase decision.
Sony WF-1000XM4 True Wireless Noise Canceling In-Ear Headphones
Maybe mom loves music but prefers over-ear headphones and headsets. If it's a question of in-ear headphones vs. over-ear, your solution is Sony's WF-1000xM4 wireless noise-canceling in-ear headphones. The Focus bundle includes a silicon case or power bank (portable charger).
Moms are always on the go or taking care of everyone and everything – they're super but still human. Give mom a chance to wind down, sit back, and listen to what she loves. The high-performance noise-canceling features let mom filter out the chaos around her and regain a sense of peace and serenity, ma-maste.
Fujifilm Instax Link Wide Instant Smartphone Photo Printer
Even if your mom is not into mirrorless digital cameras, it doesn't exclude that she may be into smartphone photography instead. Using smartphones for photography is very common and accessible to many people today. The Fujifilm Instax Smartphone photo printer takes excellent advantage of this by allowing anyone to print from their smartphone instantly.
Whether you were getting ready for prom or on a family vacation, you might be familiar with your mom repeatedly announcing, "wait, let me take a picture!". The Fujifilm Instax fast print capabilities will have her saying, "wait, let me print it!" also. This might sound not very pleasant for you, but it's all about mom and making her thrilled.
Philips Audio W6205 Wireless Home Speaker
You could skip the headphones altogether and get mom some good ole Phillips Audio W6205 Wireless Home Speakers. She'll be able to listen to her favorite podcast or music throughout the house no matter what she's doing. Its Play-Fi app makes it easily compatible with a multi-room audio systems or other speakers.
Philips speakers can handle any streaming service, so mom is never shy of playlist options. Although it may be easy to forget, mothers want to have fun too. These speakers let her add whatever ambiance she wants for a blast of a time for gatherings or any occasion.
Fujifilm Instax Square SQ1 Instant Camera 
What's cute, easy to hold, and fun to play with for mom? Besides, you as a baby – the Fujifilm Instax SQ1 Instant Camera. The SQ1 Instant camera is a hit among those who love taking photos but want an easy-to-use camera. Save money with our Instant Camera starter set, accompanied by an adorable matching case with a shoulder strap for the camera and film. When Mother's Day comes, help mom stay fashionable and creative with one of the best instant cameras.
Garmin Forerunner 45S GPS Running Watch 
Is your mom into fitness? Would you like her to be into fitness? Whatever you want, the Garmin Forerunner 45S running watch is your answer to mom's fantastic fitness journey. This running watch with GPS is sleek and lightweight and has a silicone band to prevent chafing. Go for the bundle, and it'll include a coach-free training plan support, heart-monitor strap, and wireless headphones.
No matter what fitness stage your mom is at, this smartwatch is everything she needs in one. Keep mom happy and healthy with the Garmin 45S GPS running watch this Mother's Day.
ZEISS 8×25 Terra ED Pocket Binoculars 
Does your mom like adventure, sightseeing, or bird watching? Give mom something nice to look at other than that radiant face of yours, and purchase Zeiss 8×25 Terra ED pocket binoculars. They're light, compact, waterproof, and enhance any scenery with beautifully vivid images. She can use them at the park or on her next vacation in the daytime or even in low light.
The Terra ED pocket binoculars have stunning visuals, crisp picture quality, and 100% pure and natural colors. With a good enough view, it's enough to melt your mom's heart into a puddle of pleasure.
Logitech POP Keys Wireless Mechanical Keyboard with Emoji Keys 
Does your mom work on the computer often? Does she talk about how everyone used typewriters back in the day? The Logitech POP Keys Wireless Keyboard with Emojis might be the Mother's Day present you've been searching for. This keyboard with emojis is a flawless fusion of nostalgic aesthetic and wireless technology.
It may be modeled after the vintage typewriter, but it has cutting-edge and user-friendly features. It poses 12 new FN shortcuts featuring Voice-To-Text activation, snip screen, and keyboard emoji shortcuts. The POP wireless keyboard with emojis has Easy-Switch Keys, so mom can pair it with up to 3 devices, a computer, tablet, phone, you name it.
Kingston 1TB DataTraveler Max USB 3.2 Gen 2 Type-C Flash Drive
This item is yet another ideal gift for all the tech-savvy moms doing their thing. Even if she isn't as affluent with tech, running computer storage problems is very common. Help mom save all those Mother's Day brunch pictures with the Kingston 1 TB DataTraveler Type-C flash drive. It was designed for massive data storage while still being efficient, portable, and convenient.
The Kingston 1 Tb flash drive is smooth on laptops and desktops and has a fantastic read and write speed of up to 1,000/900MB/s. Don't miss out on the opportunity to receive an additional storage drive and USB OTG cable for essentially half the market price before it's too late.
Take Away
Mothers are a special type of breed, they are the backbone and core of many families, and their care and support know no bounds. This year, go above and beyond with Mother's Day presents guaranteed to cheer up mom for days to come.
No present or date needs to be perfect and you don't need to spend all your money finding the right gift. The main idea is to show that you care, show that you appreciate all she's done and that her compassion has not gone unnoticed. Do this, and no matter what gift you choose, your mother will feel celebrated and loved.