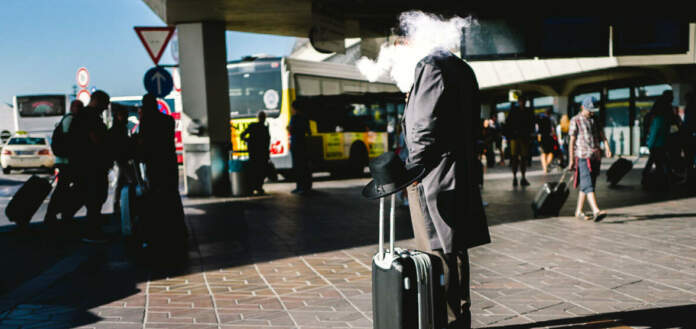 Jonathan Higbee's book Coincidences is now available.
Midtown Manhattan during the holidays is a festive hellscape. A canopy of lights festoons buildings, trees, telephone poles and anything else that remains still long enough to be decorated. Down below, thousands of frenzied tourists and New York natives sip hot chocolate from The City Bakery, stroll through various gift-centric villages and (valiantly) try to have a lovely, relaxing holiday alongside over a million other people. In the eternal words of Tiny Tim, God bless us, every one.
So, when photographer Jonathan Higbee kindly requested we meet in Manhattan for our interview—the halfway point between his home in the Upper West and Focus's office in Brooklyn—I was a bit nervous. I knew what awaited us and suggested the lobby of The Ace Hotel. The space is arguably the most comfortable, sprawling public workspace in the area and conveniently houses a Stumptown Coffee.
Sure enough, after being hip-checked by no less than three rogue Santas, I walk into the Ace to find it relatively calm. Jonathan follows not long after and we wedge ourselves into one of the comfortable leather couches in the back of the room.
Love Letters To New York City
Jonathan Higbee is a veteran photographer with credits including Vice, Buzzfeed, The Daily Mail, Colossal, and several international showcases. He is best known for his street photography, most notably his Coincidences series; these photos are Jonathan's self-professed love letter to New York. Their purpose is to capture the moments that keep so many of us in awe of this city, the magical instants that make dealing with overly-aggressive Santas worthwhile.
In spite of the series' name I have to ask, "how many of these photos are posed?"
"None of them," he responds with a confident smile. "I love that. I get asked [this question], of course, all the time. At first, a few years ago, it made me feel insecure and terrible but I love it now. I work so hard on them—sometimes I wait up to four months for one of these shots. The fact that they look perfect enough to be posed or staged gives me a sense of accomplishment." He pauses, considering a world made up of posed coincidences. "I don't think it would work well for the series. I don't think it would have the same dimension and story to it if it was a mix of posed and candid shots."
As you might imagine, waiting for coincidences to present themselves is a long process. Fate isn't known for keeping a tight schedule. It's only now, five years after he started this project, that Jonathan feels he has enough content for a Coincidences book (currently slated for fall 2019).
The remarkable thing about this work isn't just the optical illusions, it's also the color. New York City is notoriously a film noir set come to life. We're not exactly Venice Beach, but you wouldn't know that viewing Jonathan's work. "I want bold colors," he asserts. "And, admittedly, it is super hard to find in this city. But when you do it's a treasure… It's just as much a real facet of the city as that drabness is."
In short, just like anything else worth finding in New York, you have to dig for it. If you really want it, eventually you'll get it.
California Dreaming
Jonathan imported his colorful sensibilities from California where he started his career at the now-defunct Instinct Magazine. He was hired as an editorial assistant and quickly rose the ranks and became a travel writer. Thereafter, he was a writer and photographer.
"[The magazine] was print back when print was starting to die, so the budget was shoestring," Jonathan explains. "We weren't able to send a writer and photographer on trips anymore so I had to be flexible." And that's how Jonathan Higbee found himself with a dream job traveling the world, writing, and learning how to shoot photography. His favorite international shooting location? Bangkok, Thailand.
"The color and the people and the light are the best in the world that I've come across," he says, glancing wistfully at a pile of parkas stacked next to him on the couch. "I absolutely love Bangkok, but we also explored the border with Myanmar. And that was just a whole different world to shoot."
A self-professed Leica fanboy, Jonathan's go-to camera of choice is the Leica Q. He also favors the Leica M10 with the 28 mm f/5.6 Summaron, and Fujifilm X100F. "I have a bit of a gear problem," he chuckles amiably. "Well, I don't know if it's a problem. Let's…. Let's call it a hobby. I have a gear hobby."
With so many incredible cameras and lenses on the market, Jonathan contends that choosing one should be about how it feels in your hand. "It's important, especially when you're doing street photography. In my opinion, you want the camera to kind of disappear, you know?… You really need to be in the moment. If you have a cumbersome camera or one that you're not even happy with, then it adds such a delay to everything. It takes you out of it."
This disappearing act is far more literal in his next project.
Forbidden Cities
Forbidden City was born from Jonathan's love of street photography and frustration over stringent travel restrictions in places like Russia, Egypt, Tunisia, Ghana, and the United Arab Emirates. Using Google Maps, Jonathan Higbee clicks through the streets as he would stroll through them in real life, snapping photos when he finds an interesting scene or person. The only difference, of course, is that he's taking these photos from his home in the Upper West Side, not on an abandoned road in Dubai.
"A lot of folks think that you can't call it photography and that it's all stolen work. I love the conversation that starts and the philosophical exploration you can do with that." He has a glint in his eye that I recognize. It's the look of someone who wants to drop everything they're doing and start something they believe could be truly great.
"Some people call it curation rather than photography—which I think is a good word for it—but I stick by it. I still call it photography. You're in a 3D world looking and hunting for these moments that aren't easy to find. But you have all the time in the world to get the perfect shot because it's frozen. I'll be debating this for years and I love it."
The semantics of formal photography aside, Jonathan continues to see success from his work. After ten long years of practicing his craft, he's happy with what he's created as well as his current direction. "It's rewarding because I never studied [photography] in school and I took a chance by quitting a good job to do it. But it all worked out. It's really rare to be able to make a living off of street photography so I realize every day how fortunate I am." He grins at me sheepishly. "I always want to say hashtag blessed, but I just can't bring myself to it. But that's the subtext."