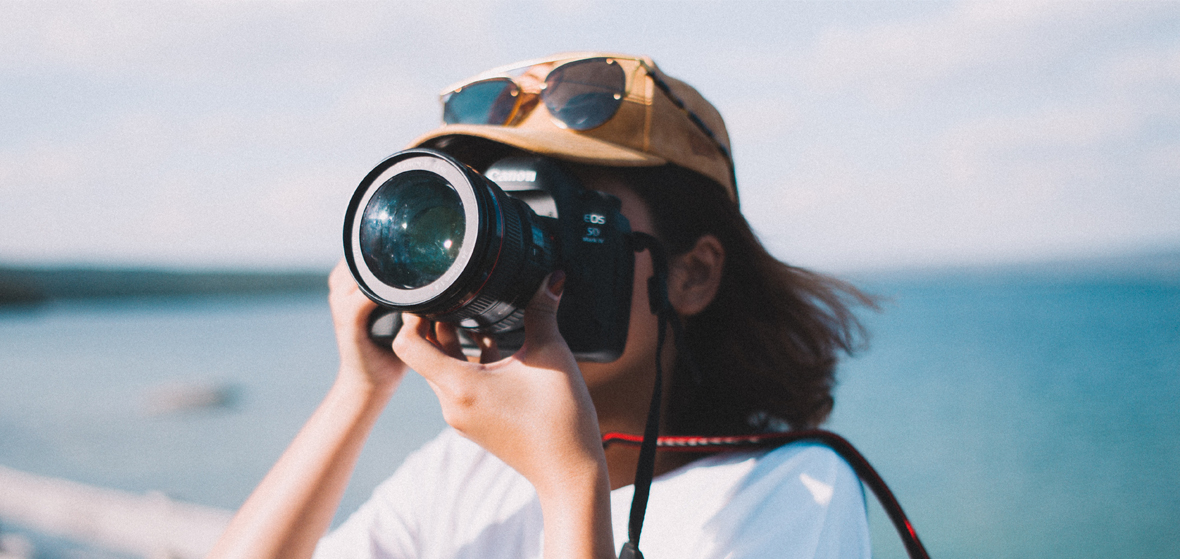 There's something for everyone this summer! From indie videographers to backpackers and weekday commuters, we've put together photography kits to suit your every need. If you want to get started right away without doing all that tedious research, check out our complete bundles below.
Backpacker
The backpacker goes where the rest of us only dream. From mountain heights to deep sea depths, he or she is driven to capture the extremes of this world – camera in tow! The GoPro Hero6 Black is the latest in the GoPro lineup, complete with slow-mo, advanced image stabilization, and the best image quality yet. If you're more of a mirrorless fanatic, the Sony a7RIII with a FE 16-35mm f/2.8 GM Wide-Angle Zoom lens is a light, versatile combination to help capture the glory of nature. The Manfrotto Befree Advanced Aluminum Travel Tripod Lever Lock with Ball Head is easy to tow for stabilized shots, while the Manfrotto MBOR-ACT-BP Lightweight Off road Stunt Backpack is gentle on your shoulders.
Family Photographer
This documentarist is a pivotal memory maker. Whether with a small mirrorless or refurbished Polaroid, the family photographer captures candid moments with intimacy and affection. Start with the Impossible Project Polaroid 600 with accompanying 600 type film to create beautiful, nostalgic analog images for scrapbooks and photo albums. For beginner digital photographers, the Sony a6000 is an intuitive starter mirrorless with Manfrotto PIXI EVO 2 Section Mini Tripod for stable portraits. To get in on the action yourself, try out the Knox Gear Wired Selfie Stick!  Then, the Ape Case ACPRO720W Metro Collection Standard DSLR Camera Case bundles it all together for easy storage and transportation.
Indie Videographer
What this filmmaker lacks in Hollywood producers, he or she more than makes up for in vision. The Indie Videographer knows the ins and outs of video, audio, and story. Capture sound with Rode Microphones VideoMic Pro-R+ Compact Directional On-Camera Microphone and Rode VMPR Deadcat Furry Wind Cover to mute wind interference. Swivel with smooth movements using the Manfrotto XPRO Monopod+ Aluminum Video Monopod. Meanwhile, the Panasonic Lumix DC-GH5LK w/ Leica DG 12-60mm LENS & Rokinon 3-Lens Cine Bundle is a key director's tool for video.
Commuter Pro
Whether whizzing down bike lanes, gliding through subways, or even trudging across town with traffic, commuters are professionals who don't work in a fixed space. They're digital nomads! With an Apple 13.3″ MacBook Air Laptop, Sony h.ear in Wireless Headphones, and LaCie Rugged Hard Disk Drive, this kit features the basics for working on the go. The Canon EOS 5D Mark IV DSLR with two workhorse lenses and one 50mm prime lens offers diversity and adaptability of performance for all kids of photography. Plus, the Manfrotto Manhattan Changer 20 3-Way Shoulder Camera Bag offers 3 carry options (bag, backpack, tote) for cameras with a 70-200mm workhorse lens attached.
Weekend Warrior
Just because you keep your day job, doesn't mean you don't love photography. Weekend warriors are out shooting when the rest of us are lounging at home like potatoes. The Nikon D7500 is an enthusiast DSLR with Sigma 17-50mm and NIKKOR 70-300mm lenses to cover a whole range of shooting options. The Vortex High Country Tripod with Quick Release Ball Head is a lightweight aluminum model with flip locks for fast deployment, so you can set up quickly. (We know you're short on time!) Use the portable Nikon SB-700 AF Speedlight Flash to light your scene and the Vanguard Adaptor 46 Daypack Backpack to carry your gear – with extra space for your computer! Ya know, if you need to get some Sunday work in.
Whether you're a backpacker, weekend warrior, indie videographer, family photographer, or commuter, these kits are designed to help get you started on the road to creative success.