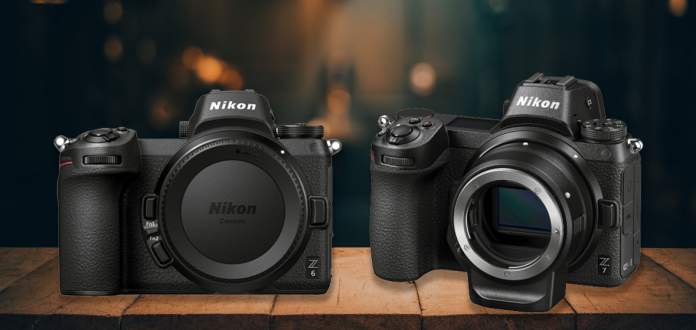 The long-awaited full-frame mirrorless Nikon Z series is finally here! With one high-end and one mid-range camera, Nikon offers limited but impressively solid and elegantly durable options for Nikon users and perhaps even a few converts.
As the 'all-arounder,' the versatile mid-range Nikon Z6 comes with a 24.5-megapixel BSI CMOS sensor, 273-point autofocus, and 100-51,200 ISO that does well in dim light. The 'perfectionist' Nikon Z7, meanwhile, features a 45.7-megapixel BSI CMOS sensor, 493-point autofocus, and 64-25,600 ISO that fairs better in bright light. Both come with the latest EXPEED 6 image processor.
Build
Modeled after the ultra-popular D850 and other high-end DSLRs, the Nikon Z7 is extensively weather sealed with a nice deep grip design. At 26% lighter than the D850, it nevertheless feels comfortable and sturdy to shoot with an incredible strength-to-weight ratio.
On the other hand, the Z6 is "perhaps the most adaptable camera" Nikon has ever created. Similar to the D750, it also comes with weather sealing in an ultra-strong Magnesium Alloy body. Smaller and lighter than the D750, it nevertheless yields outstanding handling and balance with comfortably placed buttons and dials.
Autofocus
The 493 autofocus points cover 90% of the frame on the Z7 and lock onto subjects quickly. It also automatically switches between focal-planephase-detect AF and contrast-detect AF using an AF algorithm optimized for the FX-format sensor.
Additionally, the new subject tracking follows the subject's face smoothly, even in a sea of other faces for both the Z7 and Z6. With the Z6, 273 on-sensor autofocus points cover 90% of the frame, while switching between focal-planephase-detect AF and contrast-detect AF for fine-tuning.
Image Stabilization
Both the Z7 and Z6 feature up to 5 stops of VR image stabilization. Applied to whatever NIKKOR Z lens you use, the Z series cameras stabilize in up to five 5 directions: yaw, pitch, roll, X and Y.
Plus, optical VR combines with electronic VR (e-VR) for steadier shots while shooting video footage. As an added bonus, F-Mount NIKKOR lenses can benefit from in-body 3-axis VR. 
Lenses
There are also four new NIKKOR Z lenses to choose from: three primes and one zoom. The 58mm f/0.95 S Noct is the fastest NIKKOR lens ever with the largest maximum aperture. Thanks to its vast depth of field control, this camera is perfect for gorgeous portraiture and bokeh, as well as low-light performance (including astrophotography). It's expected to land in early 2019.
The classic 35mm f/1.8 S and iconic 50mm f/1.8 S are both fast primes redesigned for the Z system. Plus, the workhorse 24-70mm f/4 S sweeps from wide-angle to close-up in a usable everyday zoom.
Inspired by past cameras but built to take Nikon into the future, there's a lot of promise in the new Nikon Z series system. At $3,400, the Z7 ships at the end of September, while users will have to wait until late November for the $2,000 Z6.
Regular price: $696.95

Regular price: $496.95

Regular price: $996.95