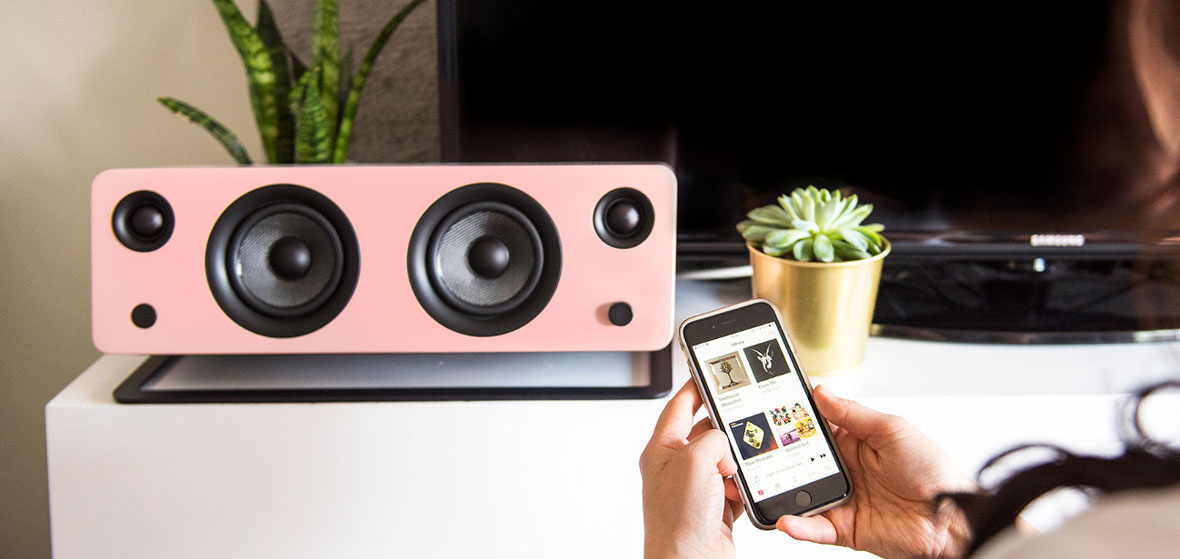 For the audiophile who craves an immersive listening experience, Kanto Audio Speakers deliver higher sound quality in compact, fun, and creative designs. Founded in 2007 by a group of dedicated professionals with years of experience designing and manufacturing CE products, Kanto has since burst onto the scene as one of the most reliable, highest quality names in speakers and stereo systems. Understanding that passion and knowledge are the two best tools they have, Kanto is committed to raising the bar when it comes to giving you outstanding audio and superior sound. Their design aesthetic is centered on two key principles: simple form factor and the use of premium materials, giving you stylish designs to fit your digital lifestyle.
Kanto has excelled at crafting high-quality, high-fidelity speakers and subwoofers that don't break the bank. Style is just as important as quality to Kanto as they continuously strive to bring you better audio equipment. Whether you're looking for speakers to play music, to use for gaming, or to connect to your turntable, Kanto have quite a few options.
Kanto Audio's commitment to complete customer satisfaction has driven them to fine tune and design some of their best sound systems to date. Inspired by an equal appreciation for sound and design, their colorful selection of powered desktop speakers, bookshelf speakers, and sealed subwoofers have really caught our eye. Here's a look at some of Kanto Audio's best speakers and subwoofers:
Kanto YU2 Powered Desktop Speakers
The smallest offering in Kanto's YU line of powered desktop speakers, YU2 desktop speakers are compact, colorful, and creative. A perfect size for desktop speakers, the YU2 produces a warm sound through the 3" composite material woofer and a ¾" silk dome tweeter. The built-in soundcard streams high quality audio from the source by directly connecting via USB or 3.5mm AUX input. A small DAC (digital to analog) converter changes the signal to analog and passes it directly through the built-in amp for a clean and simple signal path that doesn't skip a beat.
These powered speakers mark a significant improvement over your built-in computer speakers, however given their smaller size, they could do better with the base. Available in bamboo, gloss black, gloss white, gloss teal, gloss red, matte black, matte grey, and matte white, the YU2 powered desktop speakers are any color you need to match your digital lifestyle.
What We Liked: Major improvement over your computer's built-in speakers. Connects via USB or 3.5mm AUX input. Available in a wide variety of colors. Built-in amp.
Kanto YU4 Powered Desktop Speakers
Packed with features, including larger speaker drives and a beefier amplifier, the Kanto YU4 marks major improvements over its little brother, the YU2. The YU4 upgrades to a 4" Kevlar driver with a 60Hz frequency response and a 1" silk dome tweeter for clearer sound and superior sound imaging. The Kanto Audio YU4 powered speakers and built-in amp will surround you with sound, creating an incredible soundstage all around you. Featuring two sets of optical inputs, two sets of AUX inputs, and a subwoofer out, you'll be connecting quickly right to your sound source. Bluetooth with Qualcomm aptX technology will have you instantly enjoying high quality streaming with the YU4 powered speakers.
A simple user interface and great, colorful designs define the look and feel of the YU4 powered bookshelf speakers. A dedicated remote control gives you ease of use and access. With a more powerful natural bass than the YU2, the Kanto YU4 could still use a boost in sound quality from Kanto sub6 subwoofers. Available in classically simple and colorful designs, the YU4 bookshelf speakers will quickly become a must have for your digital lifestyle.
What We Liked: Marks a major improvement over YU2 speakers. Connects via 3.5mm AUX input, optical inputs, and Bluetooth technology. Built-in phono preamp. Available in wide variety of colors.
Kanto YU6 Powered Bookshelf Speakers
A must have for any true audiophile; the Kanto YU6 Bluetooth Speakers pack a serious punch. With 5.25" Kevlar drivers and a 1" silk dome tweeter, sound will be injected into every inch of surrounding space. The Kanto YU6 powered speakers' formidable Class D amplifier pumps out up to 200W of power, completely covering you in high quality sound. Connect via optical inputs, 3.5mm AUX inputs, an RCA connector input, and Bluetooth with Qualcomm aptX technology to quickly connect any way you want.  You'll be feeling the pulse pounding bass and incredible sound imaging that comes with the YU6 bookshelf speakers.
Continuing the classically simple design of the lesser YU powered speakers, YU6 bring a simplistically savvy user interface and bright, fun colors to make these Bluetooth speakers a focal point of any room. A user friendly remote gives you complete control even when streaming via Bluetooth. The YU6 pairs perfectly with Kanto subwoofers like the sub8 so you can boost that bass and add phenomenal overall speaker value for your listening experience. If you crave an ultra-immersive listening experience then the Kanto YU6 powered speakers were built just for you.
What We Liked: Deep bass. Powerful audio. Class D amplifier. Built-in phono preamp. Connect via optical inputs, 3.5mm AUX inputs, an RCA connector input, and Bluetooth. Classic YU colors.
Kanto sub6 Powered Subwoofer
Looking for a bit more boom? The Kanto sub6 Subwoofer is adding deep bass tones to your speaker set-up. A perfect companion with the Kanto YU2 powered speakers, the sub6 powered subwoofer seamlessly connects to any speaker setup through the RCA input, instantly adding 200W of power to your audio arsenal. An adjustable low-pass filter and a phase adjustment switch give you complete control over every decibel of sound. The 6" paper-cone driver enables true bass reproduction with real weight. Available in Gloss Black, Gloss White, Matte Grey, Matte Black, and Matte White, the Kanto sub6 powered subwoofer is a stylish addition to any room in your house.
What We Liked: Adds deep bass. Connects to any speakers system through RCA input. Fun and simple style.
Kanto sub8 Powered Subwoofer
Precision control. Modern design. Bass that you can feel. The Kanto Audio sub8 Subwoofer is perfecting your music or home theater experience. Compatible with any speakers (including a perfect pairing with the YU6 speakers) through the stereo inputs, you'll never have to sacrifice quality for convenience. An additional 250W gives you pulse pounding bass that is always clean and controlled. The sub8 has an acoustic MDF (medium-density fibreboard) enclosure that was engineered to reduce undesired resonance and reverberation inside the box to provide clean, deep bass and sound. The Kanto sub8 subwoofer employs an 8" paper cone driver to enable true sub-bass reproduction with real weight and resonance. Phase adjustment, power saving modes, and full L/R line level input in a fun, stylish, and high performance design make this subwoofer a must have for any music lover.
What We Liked: Deep bass tones. Compatible with any speaker. Powerful 250W and 8" driver. Acoustic enclosure.
Kanto SYD Powered Speaker
A dynamic all-in-one stereo music system, the Kanto SYD Powered Speaker will fill your whole house with sound. A true stereo device, the SYD is powered by a Class D amplifier that utilizes a pair of 4" Kevlar cone woofers and a pair of 1" silk dome tweeters to bring you clean, high-fidelity audio. A total of 140W peak power output gives you a 60Hz-20kHz frequency response for a wide range of tones and sounds. The Kanto SYD connects easily to most media sources with its wide selection of inputs, including Bluetooth with Qualcomm aptX technology, an optical digital input, a 3.5mm AUX input, and a set of RCA stereo audio inputs. Optional subwoofer outputs give you the option to attach a subwoofer to your powered speaker system. A built-in phono pre-amp ensure you get those deep tones and high quality audio when listening to vinyl.
Kanto Audio is supporting your digital lifestyle with the sleek and simple design of the SYD Bluetooth speakers. Continuing the classically simple design of other Kanto speakers, the SYD is available in pink, black, white, and burgundy. An easy-to-use remote control has complete access to every feature you would ever want from an audio system. Perfect for those who crave a complete stereo system in an intelligently designed package, the Kanto SYD speakers were made just for you.
What We Liked: All-in-one speaker system. Powerful bass and high-fidelity sound. Connect via optical inputs, 3.5mm AUX inputs, an RCA input, and Bluetooth. Stylish design.
From dynamic all-in-one sound systems to perfectly paired speaker and subwoofer combos, Kanto Audio has you covered. Upgrade your desktop audio with the YU2 speakers. Fill your life with sound with the YU4 and sub6 speaker/subwoofer combo. Immerse yourself in the music with the powerful pairing of the YU6 speakers and sub8 subwoofer. Bring it all in home the SYD stereo system. Whatever your needs, Kanto speakers are bringing you incredibly designed stereo equipment that is here to excel in your digital lifestyle.
Regular price: $229.99

Regular price: $399.99

Regular price: $329.99

Regular price: $289.99