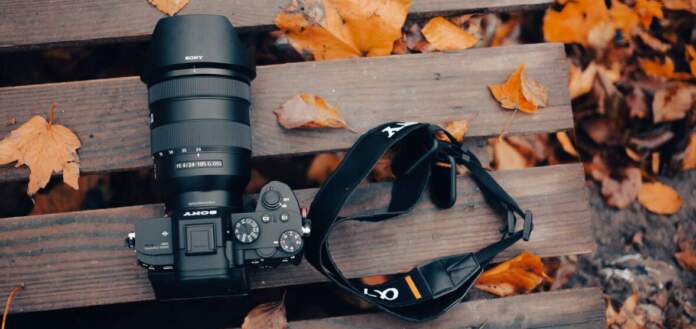 If you're looking to trade in a camera or lens and save big on your next upgrade, right now is the best time. From March 3 – 31st, you'll have the opportunity to save up to $500 with Sony's popular lens and camera Trade-In, Trade-Up offer. It's super easy to qualify, and the form only takes a few minutes to complete. You can save hundreds on exceptional Sony Alpha cameras and G/GM lenses (for full-frame and APS-C) if approved for Sony's instant rebates. We'll cover how it all works and what cameras and lenses are available so you can kick off spring with your dream camera or lens at an affordable price.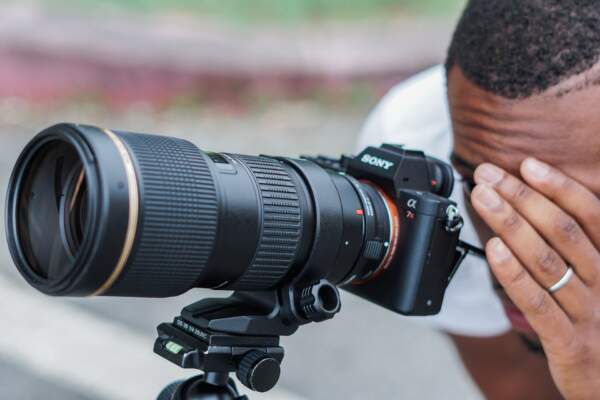 Sony's "Trade-In, Trade Up" offer is a limited-time deal that grants you bonus credit on Sony gear purchases when you trade in an eligible camera or lens. For each approved lens or camera you trade in, you'll have a chance to earn up to $500 in bonus credit on Sony's Alpha series cameras. As for Sony's top-of-the-line G/GM lenses, you can earn up to $200 in bonus credit with an approved trade-in.
Available
 Cameras and Lenses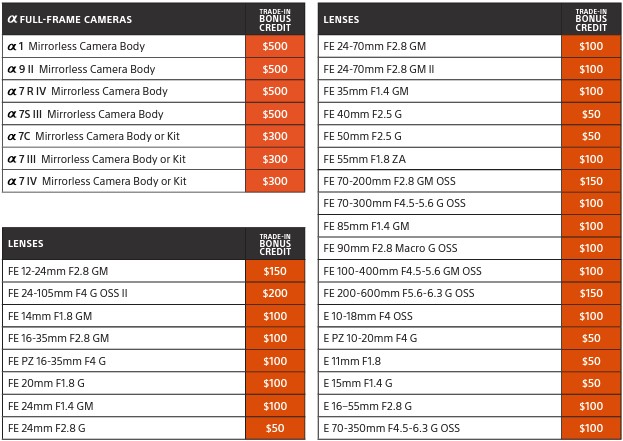 There's a camera and lens for every type of photographer and videographer (check out the list shown above). You'll find precisely what you need from E Mount to FE Mount and G/GM lenses. You can get wide-aperture night photography lenses, fast precision telephotos, ultra-wide angle lenses for interior photography, and ideal lenses for portrait and landscape. As for the Sony Alpha cameras, you can save on everything from the award-winning Sony a7 IV to the versatile Sony a7R V. 
How Can You Save Even More?
If you want to save even more money on top of the instant rebates, go to focuscamera.com to see if the Sony camera or lens you want already has a deal already taking place. Then cross-check the trade-in list (above) to see if it's one of the available Sony products. If it is, and your gear is approved for the Trade-In Trade-Up instant rebates, you'll be able to stack on savings to an already great offer. 
For example: the Sony E 10-18mm f/4 OSS Wide-Angle Zoom Lens is already $300 off (for a short time), and that's without the instant rebate trade-in offer. Meaning, if you qualify for full trade-in credit, you'll save over $400 on this lens, which equals out to a whopping 50% off. 
Can You Only Trade-in Sony Gear to Qualify?
Sony is letting creators trade in a wide variety of cameras and lenses from any brand. Whether you own a digital or film camera, as long as it's in a good enough condition to be accepted, you'll earn bonus credit.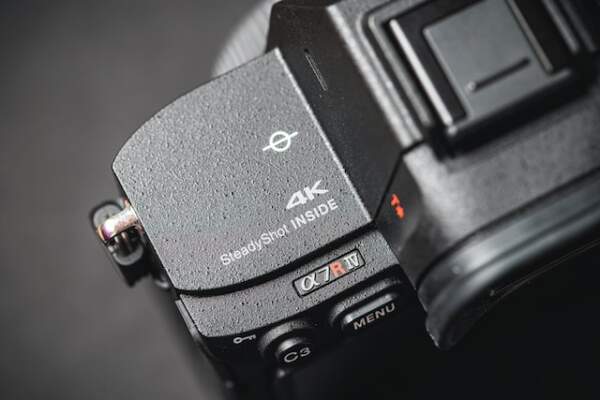 How Does the Trade-In Process Work?
The trade-in process is an easy and painless procedure. You can follow the steps below to find out if your eligible for any instant rebates:
To receive a quote, complete the trade-in form. You can select the brand and model from the dropdown menu or just type in your information.

After, we will email you a free US shipping label so that you can send us your equipment. We will contact you once we've received it.

After you submit it, we will evaluate the equipment and contact you with a final offer via check, Paypal, or store credit toward the new Sony gear. If you decide not to proceed with the trade, no worries! We send your equipment right back at no cost.
That about covers everything for the Sony rebates cashback offer breakdown. If you still have question's regarding the Sony offer or want to know more about the process, visit our FAQ page. Visit our dedicated Sony page for all things Sony, or explore all the available cameras and lenses you can trade-in and trade up for today. 
Which camera or lens will you save on?
Regular price: $1,698.00

Regular price: $1,998.00

Regular price: $1,798.00

Regular price: $1,998.00