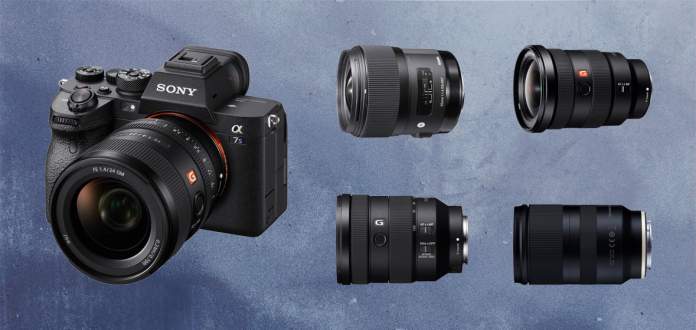 Since its release in July, the Sony a7S III has proven to be one of 2020's most popular cameras. When comparing it with the a7s II, we declared it worthy of the hype it's attracted, citing a powerful full-frame sensor and remarkable 4K video capabilities. However, a camera is only as good as the lenses you use it with. Here's a roundup of the 5 best lenses for the Sony a7s III. 
Leading third-party lens brands have made a concerted effort to release high quality lenses to pair with the powerful, full-frame mirrorless cameras that are now on the market. Sony a7S III shooters certainly have plenty of e-mount lenses to choose from. Despite the plethora of options, we've identified five specific lenses that we think will help you get the most out of your camera. 
Without further ado, here are our picks for the 5 best lenses for the Sony a7S III. 
Sony 16-35mm F2.8 GM
 All photographers and videographers should have a wide-angle lens in their camera bag. If you're shooting with a Sony a7S III, the Sony FE 16-35mm F2.8 GM lens is a great choice. 
The Sony 16-35mm is a well-built lens. The metallic body has strong weather sealing, and ring movement is smooth and precise. There's an AF/MF switch on the side of the lens, along with a focus hold button that can be assigned to other functions via the camera. 
Internally, the lens has a first-rate construction. Two XA (extreme aspherical) elements minimize distortion and field curvature, which can sometimes occur with wide-angle lenses. They also complement the lens' wide aperture and 11-blade diaphragm to produce smooth, beautiful bokeh. The lens has two DDSSM systems as well, which help it achieve sharp focus quickly and quietly. This is particularly helpful if you're shooting video and need the autofocus to work continually without making any noise. 
Sony's G Master lenses tend to be pricey, and the 16-35mm is no exception. A more affordable alternative is the Tamron 17-28mm F2.8 di III RXD, although there is a small sacrifice in overall quality.  
When you're using this Sony lens with your a7S III, you should have no trouble capturing razor sharp imagery with beautiful bokeh and corner-to-corner resolution.
Sony FE 24mm F1.4 GM 
The Sony A7S III and the Sony FE 24mm F1.4 GM lens make a fine marriage. As a prime lens, the Sony 24mm is small and light, yet highly capable. 
The lens is particularly well suited to landscape photography. Like the Sony 16-35mm above, the 24mm has 2 XA elements in its construction that reduce distortion, as well as 3 ED elements for suppressing chromatic aberration. The 1.4 aperture means the lens works great in low-light, while the 11-blade diaphragm produces smooth, pleasing bokeh. 
The lens has a great autofocus performance, and like the 16-35mm, has an AF/MF switch and a programmable hold focus button on the side. Unlike the 16-35mm, the Sony 24mm has an aperture ring, a nice touch if you like to adjust F-stop using the lens. A click switch enables you to decide if you want the ring to move smoothly, or if you want to feel each rotation.  
The Sigma 24mm F1.4 DG HSM is a cheaper alternative. However, it's also considerably heavier, with an arguably less impressive performance and build. The compact Sony 24mm F1.4 is a powerful lens, and an excellent partner to the a7s III. 
Sigma 35mm F1.4 DG HSM
The Sigma 35mm F1.4 DG HSM is a popular lens, and for good reason. Firstly, the 35mm focal length means it offers the best of both worlds when it comes to wide-angle versus telephoto lenses. You can use it for almost anything. It's wide enough for landscape photography, yet tight enough that it avoids distortion.
With a wide 1.4 aperture and 9-blade diaphragm, this Sigma lens works great in low-light, and can generate some really nice bokeh. SLD and FLD glass elements in the optical construction also reduce chromatic aberration, a common issue with wide aperture lenses. Meanwhile, the lens' hyper sonic motor system provides fast, accurate autofocus.
The build of the lens is also strong. The focus ring moves smoothly with appropriate resistance, and there's an AF/MF switch on the side, and a distance scale on top of the lens. 
The Sigma 35mm consistently produces sharp, well-toned imagery. Given its capacity for low-light shooting and robust focal length, this is a lens that will complement your a7S III nicely.
Tamron 28-75mm F2.8 Di RXD III
The Tamron 28-75mm F2.8 Di RXD III is a high quality, great value lens. The versatile focal length means it's a comfortable choice for a range of styles, from landscape to portrait photography. The lens consistently produces sharp, high-contrast imagery at all focal lengths, while the autofocus is fast, reliable, and quiet. It has reliable weather sealing and a lens coating that effectively minimizes ghosting and flare. 
Although the Tamron 28-75mm doesn't feature buttons or switches, and has a less complex construction than some of its competitors, it doesn't translate to a weaker performance.
We recently compared the Tamron 28-75mm to the Sigma 24-70mm F2.8 DG DN Art lens and found that the Tamron lens delivers an equally powerful performance to the Sigma lens, yet it's considerably lighter and more affordable. The Tamron also holds up performance-wise when compared with the Sony FE 24-70mm F2.8 GM, a lens at a considerably higher price point. If you're happy to buy a third-party lens, you could use the savings to purchase another lens from this list. You won't regret choosing the Tamron 28-75mm F2.8 Di RXD III. 
Sony 24-105mm F4 G OSS
The final lens in our list is the Sony 24-105mm F4 G OSS. The focal range of this zoom lens means it's a comfortable option for everything from landscape to macro photography. Depending on what you're shooting, it's also arguably the best lens for video. It's a great all-rounder to fill out your collection of lenses for use with the Sony a7S III. 
The look and feel of the Sony 24-105mm matches its high quality construction. The body is well-weighted, and the focus and zoom rings have nice grip and movement. The lens also has a focus hold button, AF/MF switch, and a switch for enabling the built-in image stabilization.
The built-in image stabilization is one of the lens' best features. It allows you to shoot handheld with the a7S III and still end up with usable footage. The autofocus performance of the lens is also great – it's quiet, fast, and accurate. 
The F4 aperture means the Sony 24-105mm is not as reliable in low-light as other lenses in the list, but that's okay. Despite being a zoom lens, the Sony 24-105mm can deliver imagery with remarkable sharpness and contrast throughout its focal range, as well as nice bokeh.
The Sony 24-105mm is the only E-Mount lens with this focal length, so it doesn't have many direct competitors. The closest would be the Tamron 28-75mm, which we already recommended above as another great lens to use with the a7S III.  The performance, build, and overall quality of the lens means the Sony 24-105mm is a worthwhile investment.
That concludes our list of the 5 best lenses for the Sony a7S III.  Is there another lens you like to use with your a7S III? Let us know what you're shooting with, and why you love it, in the comments below! 
Regular price: $2,198.00

Regular price: $1,398.00

Regular price: $1,398.00